The Giving Season
December Men's Room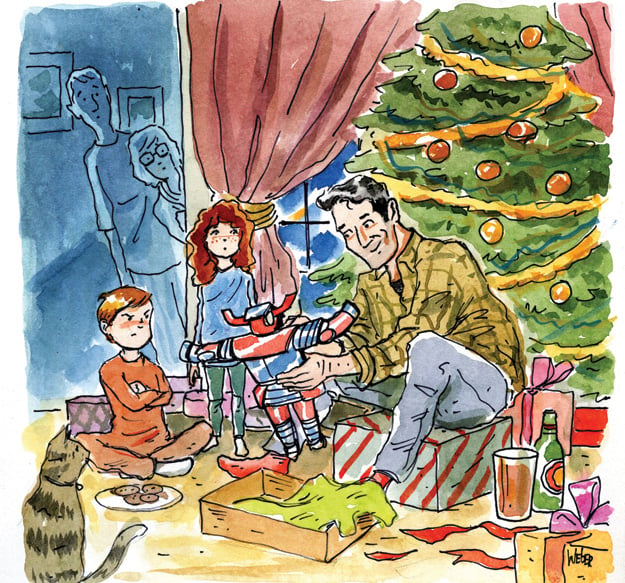 DYLAN PATTERSON is a writer and filmmaker who teaches English at Cape Fear Community College.
During the holiday season, much is made of the importance of inspiring a sense of wonder in our children. This year, my friends will work tirelessly to ensure their young children accumulate both a wealth of new toys and a wellspring of special memories care of the lights of Enchanted Airlie, the Independence Mall Santa, and that crafty Elf on the Shelf.
I am concerned, however, that my friends' preoccupation with their children's happiness distracts them from an equally vital aspect of the holiday season. This is, of course, the importance of inspiring a sense of holiday wonder in their middle-aged guy friends without young children who are currently between relationships.
Full disclosure: I am a middle-aged guy without young children who is currently between relationships, but do not let this distract you from the very real and widespread problem of the unmet emotional needs of this demographic (to which I just happen to belong) during the holidays.
As this is the season of giving, I'd like to do my part by offering a few ways parents can make this a magical holiday season for their middle-aged guy friends without young kids who are currently between relationships:
• When planning festive outings, include your special friend! It may be the one holiday-themed event he goes to all year, so it's sure to be special. When you pick him up, surprise him with a thermos of coffee with Baileys or a pint of cheap bourbon with a green bow. If it's late in the season, spoil him with a holiday tin of baked treats (especially those you dislike or are allergic to) regifted from friends or family.
• Invite your special friend to kid-friendly holiday parties. Sure, all his attempts at social connection will be sabotaged by attention-starved toddlers, but he's sure to enjoy the Christmas decorations that his efficiency apartment almost certainly lacks.
• Call your special friend on Christmas morning. He'll be happy to get a break from the awkwardness inherent in being forty-five and opening presents alone with his parents and will welcome the chance to get out of their house even if it means helping you assemble your kids' new trampoline in subfreezing temperatures. Have some eggnog waiting. The grocery store brand will do. He's a middle-aged single guy on Christmas morning for Christ's sake; he's not picky!
• Giving to their special "uncle" teaches kids the real meaning of the season. Have them make him a card or decorate a cupcake for him. If they resist, say, "Imagine you had to sleep in that apartment all alone on Christmas Eve. Isn't that sad?" Even the most spoiled child couldn't help but melt into a warm puddle of holiday spirit.
This list is far from exhaustive. It's meant, merely, to exemplify a spirit of giving that I hope will be contagious this year. With your help, Wilmington's middle-aged guys without young children who are between relationships can have a happy and fulfilling holiday season. God bless them, every one.
To view more of illustrator Mark Weber's work, go to www.markweberart.blogspot.com