The Endless Summer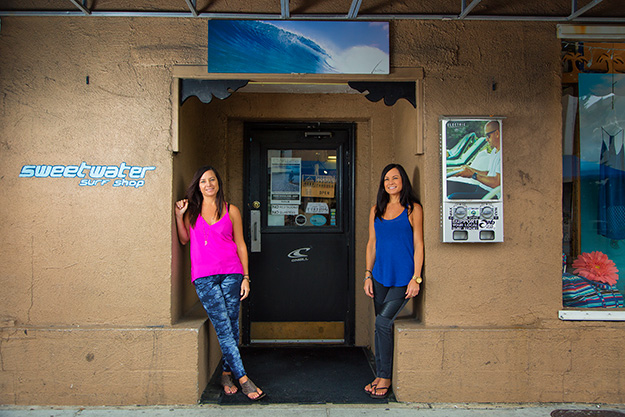 If you have visited Sweetwater Surf Shop, you have probably seen identical twin sisters Danielle and Shana Bourgeois. The managing partners have their hands in virtually every aspect of the family-owned, Wrightsville Beach surf shop from fashion buying to customer service to operations.
Danielle and Shana have worked for the family business for twenty years, having started the summer after their freshman year of college. Both women hold degrees in business management from University of North Carolina Wilmington.
Danielle is a buyer for the store's entire women's line, including clothing, swimsuits, accessories, and shoes. She also handles receiving of goods, operations management, and hiring and supervising employees, which plays to her interest in fashion and strong organizational skills.
Shana also buys for the women's line in addition to buying for the children's department, including clothing, swimwear, shoes, and accessories. Being a "numbers person," she also handles the store's accounts payable and payroll, splitting her time between the office and the sales floor.
When asked about their favorite part of the job, both sisters point to fashion buying and keeping up with fashion trends.
"It is so fun to go out to trade shows and see what is new and up and coming," Danielle says.
The Bourgeois sisters regularly attend the Surf Expo trade show in Orlando, SwimShow in Miami Beach, and smaller fashion trade shows.
"It's interesting to see all the new trends," Shana says. "We have good relationship with the sales reps that we work with at the trade shows."
Sweetwater carries all the surf brands, but they also set themselves apart by offering fashion trends not typically found at most surf shops.
"We search out the new and up-and-coming brands that aren't so well known, which makes the store more interesting than the basic, mainstream surf shop," Shana says.
Women's clothing and swimwear remains a large part of their business. They buy six to eight months in advance, and as of press time, they had already ordered for spring 2016.
Like many businesses on Wrightsville Beach, Sweetwater's busy period falls during the heavy tourist season from Memorial Day to Labor Day. But the store is closed only two days of the year. Beyond the surf community, the store is popular with college students. Sweetwater has a strong base of local customers who shop there year round, and they reward their local customers with special discounts.
The Bourgeois family moved to the Wilmington area when the sisters were ten. The twins' younger brother Ben is a pro surfer who has surfed on the world tour and won many top competitions. Their father, Chuck, formerly owned a sports goods/surf shop in New Jersey, so he is familiar with the industry.
When Sweetwater became available for sale in 1995, the Bourgeois family recognized an opportunity that was a natural fit for them.
Sweetwater operates with the philosophy of providing excellent customer service. "We want it to be a casual, easy shopping experience at your neighborhood surf shop," Shana says.
The store enjoys a strong repeat customer base, including vacationers who order Christmas gifts and other items throughout the year.
"Some of the people who vacation at Wrightsville every year have been coming here for years. We get to watch their kids grow up, and it is fun to have that relationship," Danielle says.
Another aspect that sets Sweetwater apart is its ideal location in the heart of Wrightsville Beach's small downtown. Surrounded by popular restaurants, the store receives a lot of foot traffic.
Shana notes that they have a great relationship with the neighboring businesses. "We all watch out for each other and help each other out," she says.
Most of the family lives in walking distance of the store.
"I love the small town of Wrightsville Beach," Danielle says. "I hardly ever drive over the drawbridge," she adds, laughing.
The family business extends to Shana's two children, ages nine and seven, who have been coming to work with their mother since they were babies. Shana's daughter visits the store after school and in the summer to unpack shipments, clean, and straighten merchandise.
Not only do Danielle and Shana work together every day, but they also spend a lot of time together outside of work. "We have always been very, very close," Danielle says.
As for future plans, the Bourgeois sisters say they hope to continue the business' success and stay relevant to what their customers want.
"I feel like you can always keep learning," Danielle adds. "There are always people to learn from and ways to improve your business."
To view more of photographer Chris Brehmer's work, go to www.chrisbrehmerphotography.com