The Dating Game
Scene stealers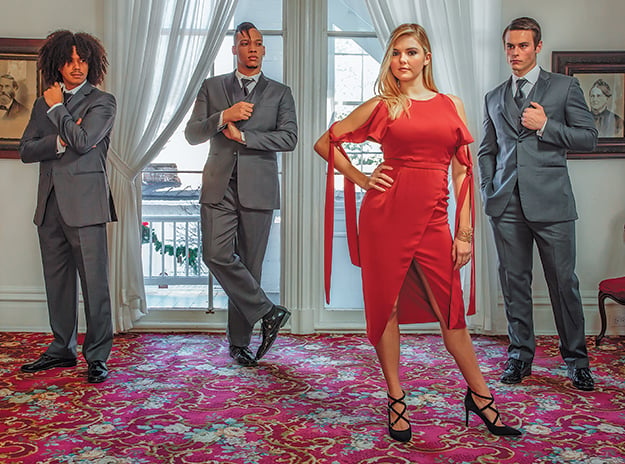 TV dating shows have come a long way since the ´60s, and The Bachelorette is no exception. Featuring broken hearts, cliffhangers, and happy endings, the show also touts plenty of killer outfits along the way.
This Valentine's Day, make an entrance with bold takes on these romantic hues and get ready for your own final rose ceremony.
This asymmetrical cocktail dress (above) is sure to turn heads with its unique structure. It's simple, yet at the same time, guaranteed to stand out in a crowd.
Rust keepsake DRESS ($165) and SHOES by Vince Camuto ($70), both available at elle; bracelet ($6), available at Charlotte Russe
Even in romantic shades of blush pink, pantsuits are great for pulling off strong looks that demand attention.
Love Lost blush BLAZER ($180), and Love Lost blush PANTS ($140), both available at elle
All tuxes c/o Cape Fear Formal Wear
You can never go wrong by taking a romantic approach when the time has come for a date or even when attending a formal event during the month of February. Gowns are perfect for the occasions, and adding delicate embroidery puts the final look over the edge.
Red GOWN with gold embroidery ($149.95), available at Lure
MODELS: Caroline Simpson, Brandon Cagle, Jovan Comeaux and Tanner Junker
STYLISTS: A'ngelia Fonville and Jessica De Vault
PHOTOS: Chris Brehmer
HAIR: Kate Bailey
MAKEUP: Danielle Forte
LOCATION: Bellamy Mansion Museum, 503 Market St.