The 2016 Women to Watch Award Winners
Announcing this year's WILMA Women to Watch Award winners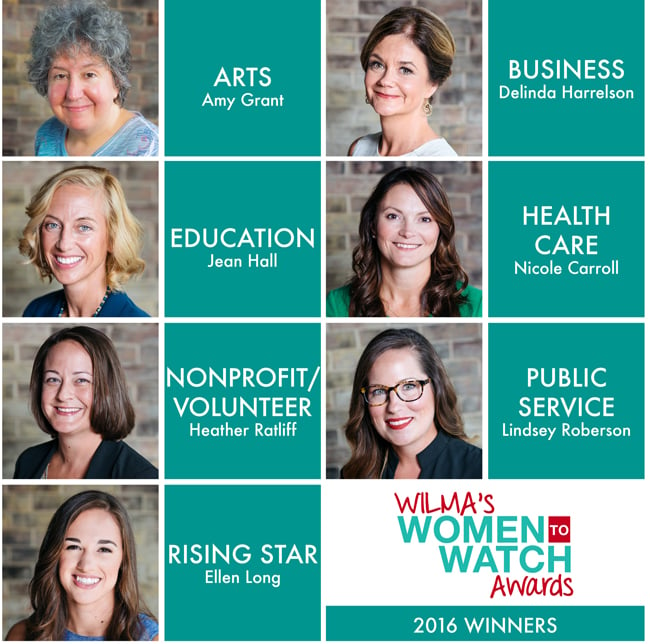 The fifth annual WILMA's Women to Watch Awards took place October 21 at CFCC's Union Station to announce this year's winners.
Hundreds of friends, family, and colleagues filled Cape Fear Community College's Union Station to support the thirty-five finalists in this year's awards, which seek to highlight up-and-coming women in the community. Winners in the seven categories were introduced and received their Women to Watch Award — a custom-designed bracelet from local jewelry designer Linda Lawrence Neustadt.
A panel of judges chose the winners, as well as the thirty-five finalists, out of hundreds of nominations submitted this year for area women excelling in their fields and poised to have a leadership impact in the area during the coming years.
Also at the event, WILMA distributed scholarships to University of North Carolina Wilmington students Christina Davillier and Tini Howard and CFCC students Amanda McMullen and Jazzmin Yvonne Moore.
Congratulations to this year's WILMA's Women to Watch Award winners.
Arts: Amy Grant, Owner of Art in Bloom Gallery (Read more about her work here.)
Business: Delinda Harrelson, President of Home Solutions Group Inc. (Read more about her work here.)
Education: Jean Hall, International Baccalaureate Coordinator for Hoggard High School (Read more about her work here.)
Health Care: Nicole Carroll, OB/GYN Physician at Wilmington Health (Read more about her work here.)
Nonprofit/Volunteer: Heather Ratliff, Executive Director of Child Development Center (Read more about her work here.)
Public Service: Lindsey Roberson, Associate with the McGuireWoods LLP law firm (Read more about her work here.)
Rising Star: (for women under the age of thirty) – Ellen Long, COO of Long Business Advisors (Read more about her work here.)
To view more of photographer Erik Maasch's work, go to www.ejmphotography.org