Testing the Waters
Vendor markets let some business owners work out retail concepts before striking out on their own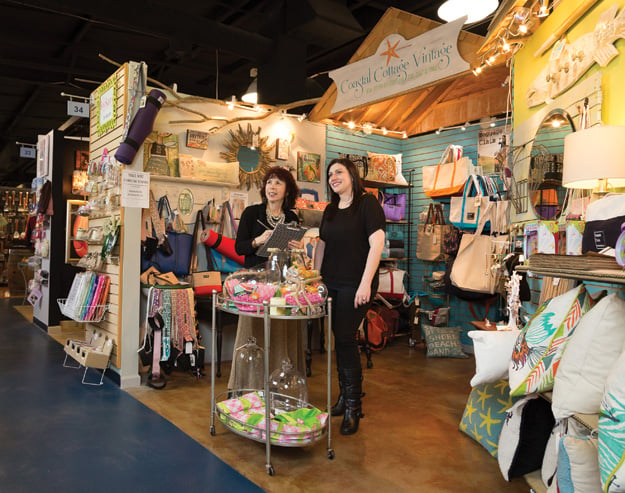 Thinking of the experiences that lead to starting her own retail store, MICHELLE CONELY remembers some advice her dad gave her.
"He always said to really understand a business, you need to work in it for at least two years, hands-on," Conely says.
Her father, who worked for IBM, died in December, but his words came to mind recently as Conely talked about GOING LOCAL, a store the Wilmington resident opened in Raleigh in September that features the work of seventy-five artists, including her own and that of other Port City residents.
Conely is one of several local women who graduated from renting space in one of Wilmington's many retail vendor markets to opening her own brick-and-mortar store. Local businesswomen who had previously used vendor markets opened a store on Market Street in July, while another Wilmington resident who had space in BLUE MOON GIFT SHOPS was preparing to open a children's clothing store at Mayfaire Community Center this spring.
In Conely's case, she sold handcrafted jewelry in a vendor space at and was also an employee of TICKLED PINK, a gift store at Lumina Station, 1904 Eastwood Road.
"I think I learned a lot about people skills and understanding the needs of the artists to succeed through doing shows, as a vendor myself, and working there and seeing how everything operated," says Conely, whose Raleigh store requires that items be made in North Carolina.
In Wilmington, the owners of HIGH TIDE HOME got their start at UPTOWN MARKET, a retail cooperative at 8086 Market Street that mostly includes vendors who sell furniture.
Opened in July by EMBER ROBERTS and AMY FISHER, High Tide Home at 6721 Market Street sells furniture and home décor with a coastal flair that they make or refurbish themselves.
They knew each other from church and the church's preschool that their children attended together, but they connected even more closely at Uptown Market.
Roberts began selling handmade signs at Tinkled Pink in 2011 and then expanded to Uptown Market. Fisher used to sell the furniture she started making in 2003 to different stores around town before expanding into space at Uptown Market.
"We definitely learned what sells, so that's influenced what we've brought into the store," Roberts says of their vendor experiences.
At first, they didn't plan on opening their own establishment.
"We didn't go into it thinking, 'I'm going to learn how to do this business so that I can open my own store.' That was never on our radar," Roberts says.
Fisher adds, "It was, 'We can sell our stuff in this store and not have to be part of running it.'"
But when they decided to lease a place where they could work on creating their merchandise outside of their homes, they also decided it would be a good idea to sell their work in the same location. They hired two employees who could run the store for them most days.
For vendor market owners, it can be gratifying to see people moving on to expand their businesses.
"We have been able to watch and personally take part in the dreams and visions of others," says Shanda West, owner of Tickled Pink. "As we plant the seeds here, it just takes off, and they grow and are able to have their own brick-and-mortar."
As they embarked on their own endeavor, Roberts and Fisher soon found out the differences between vendor space and ownership.
"It's different when it's yours. It's hard to walk away. It's never done," Fisher says.
"Even if we get our list for the day checked off, there's still such a projection of where we want to go with it that really, that list is never done."
Fisher jokes that sometimes it would be nice to have as many arms as the wooden cut-out octopus signs High Tide Home sells, for those times when the ideas come flooding in.
For Lily Nicole & Co. owner Valerie Smith, one of the stops along her path to opening a store in new space at Mayfaire Community Center was vendor space inside Blue Moon Gift Shops, 203 Racine Drive.
While Smith expected to open a brick-and-mortar store anyway, selling children's clothing, products, and accessories at Blue Moon "gave me time to research brand names and how to shop and go to expos, how to negotiate," says Smith, whose Lily Nicole & Co. store was on track to open soon at 6800 Parker Farm Drive.
Having research time is critical, says Mary Ann Masucci, owner of Blue Moon.
"Retail is an animal of its own because there's so much to learn," Masucci says.
Conely of Going Local says while she understands retail is tough, "I have so much fun when I'm there. I just love it … It's our first six months, but I've seen it continue to grow in a positive way, and I like a good challenge."
To view more of photographer Mark Steelman's work, go to www.marksteelmanphoto.com.