Tee Time
Cape Fear's youngest golfers play a round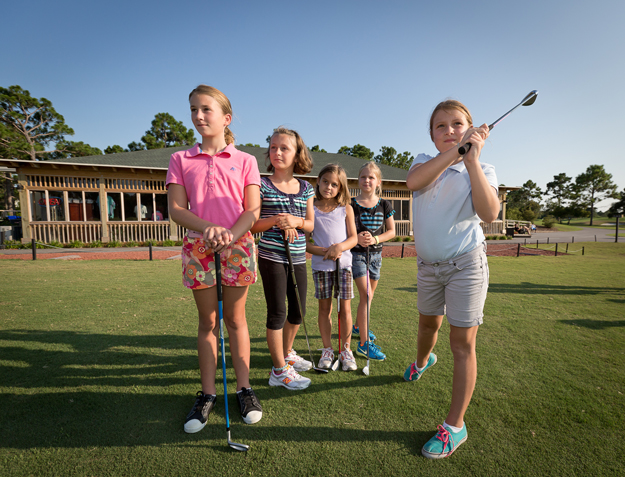 This summer, twelve-year-old Bre Borroneo learned how to golf with marshmallows and water balloons. It was through the FIRST TEE, a national youth golf program that offers golf lessons to elementary and middle school youth year-round. Its curriculum centers around nine core values: respect, courtesy, responsibility, honesty, sportsmanship, confidence, judgment, perseverance, and integrity. Each lesson is designed to incorporate one of these values into its instruction of golf skills, rules, and mechanics, all geared for young people seven years old and up.
Borroneo lights up when she describes the lessons.
"We were pitching with water balloons to learn how to sink a chip," she explains. Her fellow golf classmates Kiersten Downing and Grace Holcomb giggle as they recall the water balloons exploding.
"We were hitting marshmallows on the driving range. When you hit the marshmallow, it doesn't go very far, but the ball does." The point was to show the difference in how the ball will travel after it lands, she says.
The girls are quick to connect the program's value to their lives. Holcomb feels that sportsmanship is really important.
"If you get grumpy, then the rest of your game is really bad. So controlling your emotions is really important," she says.
While the program is not a junior golf league, the girls are eager to develop as golfers and dream of playing professionally.
"I'll pretty much play until I'm really old," Borroneo says. "My dad wants me to make a living that way."
First Tee offers golf programs in seven Wilmington elementaries: Pine Valley, Wrightsville Beach, College Park, Codington, DC Virgo, St. Mark's, and Anderson. Local executive director E.B. BARTLETT's goal is to offer lessons through First Tee in every New Hanover, Pender, and Duplin County elementary school, making the sport accessible to at least 20,000 more youth. In addition, he would like First Tee to open its own facility in the region within the next three years.
Bartlett has been an avid golfer since the age of 10, when his father introduced him to the game.
"Anybody that knows me knows that I love golf just as much as anything else. I've always loved the game. I love what it teaches you about yourself, about character," he says.
Bartlett left his sales job in Greenville, N.C. to expand the Brunswick County First Tee program into the Cape Fear region about a year ago. In addition to the in-school programs, he offers four afterschool programs. He launched the newest at Pine Valley Elementary School this semester.
So far, the feedback from students and teachers has been positive. He recalls the transformation he sees in the students as they go through the program.
"The kids would come up to you before you start the class and go, 'Hey coach, how you doin'? I'm really looking forward to class today.' Shirts tucked in, hats on square, it was life changing. It really was a cool experience," he says.
To raise funds, the organization will host the "Future Generations Golf Tournament" at Porters Neck Country Club on Nov. 2. All donations are welcome.
To view more of photographer Mark Steelman's work, go to www.marksteelmanphoto.com