Tectonic Shifts
Dory Weiss moved into the tech world and hasn't looked back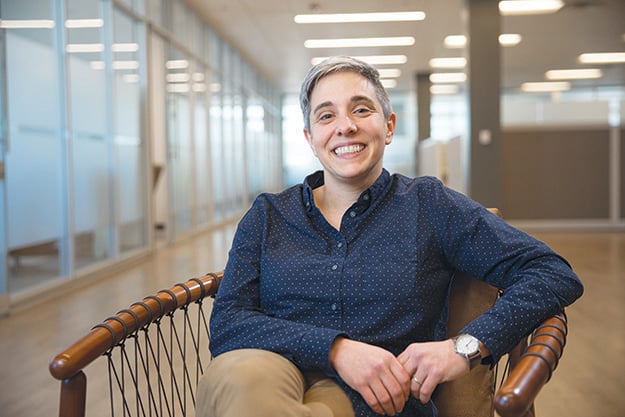 Try as we all might to plan our lives to a T, rarely do our blueprints ever hold true. DORY WEISS, vice president of engineering at nCino, a locally based, rapidly growing banking software firm, says that whenever she's tried to forecast her future, she's always gotten it wrong.
So, over the years, Weiss has learned to stop setting rigid expectations for herself. Instead, she spends that energy trying to live in the moment.
Growing up, Weiss aspired to become an English professor. As a voracious reader with a passion for textual analysis and literary discussion, it seemed like the perfect fit. But, during her graduate studies, Weiss became disillusioned about what it meant to be a professor in the research-focused world of academia.
After earning a master's degree from the University of Iowa, Weiss landed a job as a visiting professor of English at her alma mater, Earlham College, but she knew that she had not yet found her true niche. When the yearlong gig was up, Weiss moved to Austin, Texas, with no clear plan for what came next. After applying to some teaching and academic publishing jobs, Weiss' friend told her about a six-month program at the University of Texas that paid people to learn how to write code, with the promise of a software developer job at the university for those who made it through the program.
"I didn't know anything about what it meant to be a software developer," says Weiss, "but I was intrigued enough to apply. Getting into the training program was almost as hard as getting a fellowship, and it was both exciting and terrifying to step into something so unknown."
As it turned out, Weiss loved the work and found she had an aptitude for it. Only four years after she began her unexpected career in software, Weiss had been promoted to senior software developer/analyst at the University of Texas at Austin.
She shares that software development is about uncovering the most important need for a customer and finding the simplest but most effective way to solve the problem.
"You've got to dive into a problem even when it's huge or you don't fully understand it," she says. "You've got to empathize with your customers so that you're building the right things for them, and you've got to be comfortable trying and failing over and over again until you get it right."
This work has taught Weiss that it's normal to be afraid, and that being afraid of something isn't a reason not to try.
"The trick is to spend your time right up on the edge of what you don't know how to do yet," she says.
In keeping with her adventuresome spirit, Weiss packed her bags yet again in 2012 and moved to Wilmington to be with her girlfriend, Katie, who is now her wife. Weiss was able to bring her work with her, operating remotely in the Port City, until she came across an opportunity with a young banking software company called nCino. Over the course of five years, Weiss has served as nCino's senior software developer, lead developer, development manager, and director of engineering. She is now the firm's vice president of engineering.
nCino, which is headquartered in Wilmington and has another office in London, creates software that enables banks to originate financial products.
"nCino creates a single place for a bank to originate all of its products," Weiss says. "That means that all of the information about their customers is in a single system so that a person doesn't have to tell the bank the same piece of information, or send the same tax return, over and over again. It also means that the bank can look at a 360-degree view of their customers and use that complete picture to offer their customers the products that make sense for their personal situation."
In her current role, Weiss oversees the technical teams that build the product – software developers, quality assurance engineers, DevOps engineers, the release team, and their managers – about 80 people in total.
"We've grown so quickly over the past six years, and there is still so much runway ahead of us," she says. This makes for an exciting "sense of endless possibility," but it also means high stakes.
"This is our chance to create a company 'the right way' and make sure that it's the kind of place that we believe in," she says.
In November, Weiss received the VPE Award at the national Women Who Code #ApplaudHer Awards in San Francisco, where she shared the room with leaders and senior technologists from companies such as Netflix, NBC, and Capital One.
"It helped me appreciate the magnitude of what we're doing at nCino," she says.
A week later, Weiss and her colleague Mike Bonner spoke at the Cucalorus Connect conference in downtown Wilmington. They presented on the importance of investing time and thought into workplace culture and the formation of teams. Drawing from sociology, psychology, and neurology research, they discussed strategies to hire diverse teams and create a supportive environment.
"To be successful, you have to invest as much time in your people as you do in your product," Weiss says. "The most important contributing factor to a team's success is having a 'psychologically safe' environment – one where they can be their authentic self in the workplace."
Weiss and her team aim to cultivate such an environment at nCino, one that balances individual expectations with a fun, cooperative environment, that frames goals in terms of group achievements, and that gives motivated employees the space they need to do their best work.
For now, Weiss says her goals are simple: continue to challenge herself, spend time with the people she loves, and participate in causes she cares about.
"It's important to measure success in terms of the happiness of your everyday life," she says, "not by whether or not you achieve grand milestones … I've stopped trying to predict where my life will take me. I just know when it feels right."
Read more about Dory Weiss' thoughts on working in the tech field in the February issue of WILMA's Take 5 feature.
To view more of photographer Chris Brehmer's work, visit chrisbrehmerphotography.com
Take 5 with Dory Weiss
Did your academic background in English help you in the software development field?
(Weiss holds degrees in English and considered a career as an English professor.) "Absolutely. A language is a language is a language, to misquote Gertrude Stein. Whether you're writing code or a textual analysis, the goal is to express your thoughts to another person in clear, concise, and well-organized language."
What's the coolest thing in nCino's office?
"Just this morning two of our engineering managers, Candace Guido and Cassidy Lamb, assembled a huge, remote-controlled shark balloon, and it's pretty awesome. I'm also a big fan of the kegerators in our kitchen, especially because they're usually stocked with local beer."
How can the tech industry encourage more women leaders?
"I think our culture has idealized the wrong stereotype for someone in the tech industry – that image of the socially awkward-but-brilliant guy, who just wants to be left alone to code all the time. The stereotype holds too much sway, even subconsciously, when it comes time to hire and promote. As an industry, we have to intentionally set our expectations so that we're valuing a broader – and, in my opinion, more valuable – set of skills. There's a lot of research that shows that tech companies with more women produce higher quality products and are more profitable. So, we have look for diversity in our candidates and see that as a potential strength, rather than dismissing those same candidates because they don't look fit our preconceptions for the field."
What's the best thing you've read lately?
"I'm currently reading Manhattan Beach by Jennifer Egan and really liking it."
What are the last three apps you used today?
"Spotify, Instagram, and Slack."