Tech Savvy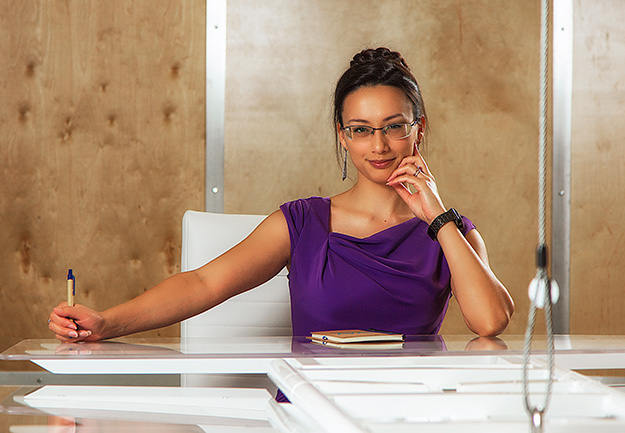 Emilyanne Atkinson has been interested in computers and science since she was a child. She got her degree in computer engineering technology from Cape Fear Community College and has been the senior database administrator at CastleBranch Corp. for seven years. She knows firsthand that the technology field is not overwhelmed with women.
While Atkinson is working with WILMA on a new project to bring together local women in technology, it is not her first time helping form a dedicated group from the ground up.
Atkinson was responsible for Cape Fear Hackerspace (along with Jason Righter) in 2011.
"We liked the idea of a community-ran group where people with similar STEM interests like us could get together and make things," she says.
She and Righter wanted a 3-D printer, but those were out of their price range at the time, so it seemed wiser to build one on their own. To do so they formed the Hackerspace.
"Together with a bunch of the other IT professionals, we took turns hosting the meetings in our houses," she says. "Kitchen tables were transformed into our workspace as thousands of nuts, washers, electrical wire, and metal rods sprawled out on every free inch. It was clear none of our houses were going to be big enough to house all of us and our projects."
Then in 2014, she met Edward Hall through the University of North Carolina Wilmington's Center for Innovation and Entrepreneurship, and he had news about a new company that was a makerspace.
"I knew it'd be the perfect home for the Cape Fear Hackerspace group and would provide us with the space we needed," she recalls. "Ed introduced me to Andrew Williams, and I began working with them both as the program director of the Elite Innovations Makerspace. I'm very passionate about turning ideas into realities, and Andrew's initiative is very much in that vein so I wanted to help out however I could."
Atkinson shares that same passion about helping to get even more women connected to the local tech community.
"A lot of times, I'll attend local technology events, and there'll be one other woman in the room among a sea of men," she says. "These kinds of demographics are just reflective of the fact that technology is a male-dominated sector. So, it takes a little more effort to find other women in the same field. (Cape Fear Women in Tech) is something the community has needed for a long time."
Cape Fear Women in Tech is a new professional women's group created when WILMA's Women to Watch Leadership Initiative asked Audrey Speicher, then-director of tekMountain, if she'd be interested in starting a women in technology group. Speicher, who now is partnership manager at CastleBranch helping startups at tekMountain roll out their technology products, then approached Atkinson and asked if she'd like to partner with her.
Atkinson says about the goals of the group: "To support a thriving tech community with a focus on women helping other women. We want to advance women in technology in the Wilmington, North Carolina region by offering educational and mentoring resources, networking, and other opportunities. By championing and developing our local talent today, we hope to inspire more women to chose careers in technology tomorrow."
Though the official launch party for Cape Fear Women in Tech (WIT) will be July 28 at tekMountain from 4:30 to 6:30 p.m., it's already had a successful introduction to the community, organizers say.
"Our first introduction to the community was at the WILMA Women To Watch kick-off on June 18. It was very encouraging to see the amount of interest in WIT. Many others saw the need for this group so they were very happy about its formation," Atkinson says.
The group will post updates about upcoming events on its LinkedIn page, and Atkinson says she can add interested members to a mailing list if they email her Emilyanne@eliteinnovationsllc.com. The group is working on a website, which Atkinson says will be up and running soon.
The group will hold an open-to-the-public event every second-to-last Tuesday of the month at tekMountain, Atkinson says.
"We hope to get feedback from the people that attend to find out the kinds of things they are interested in getting out of the group," she says, "and we will help facilitate that."
To view more of photographer Chris Brehmer's work, go to www.chrisbrehmerphotography.com