Tasting Notes
Local experts share their summer wine picks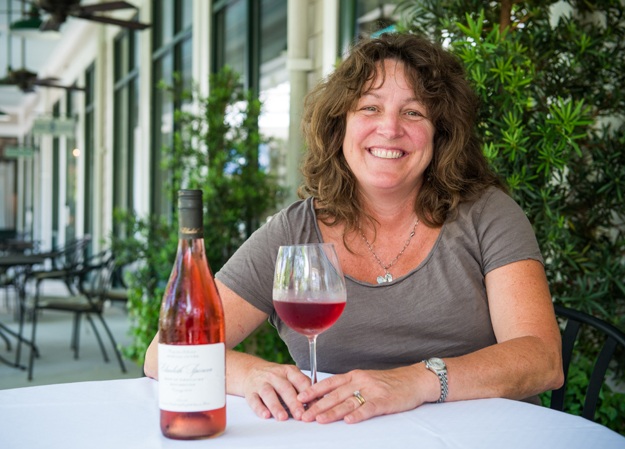 Who doesn't love an ice-cold beer on a hot summer day? But for wine enthusiasts there is no time like summer to explore new varietals that beg to be enjoyed on the porch, on the beach, poolside, or on the boat. WILMA asked several local restaurants and wine shops for their top summer picks. There's much more to savor than just pinot grigio or chardonnay when the temperatures rise.
Updated Rosé
2013 Elizabeth Spencer Rosé of Grenache (Mendocino, California $28 bottle)
"My clear winner for summer wines are rosés," says PORT LAND GRILLE co-owner ANNE STEKETEE. Unlike their pink predecessors of the past, todays rosés tend to have a robust fruit forwardness and a silky smooth dry finish, complementing the intense flavors of grilled marinated meats and vegetables. "Rosé wines are summer in a glass," Steketee adds, "perfect for picnics or barbecues, and when served ice cold they go with just about everything. I would happily pair this rosé with our Signature Crab Cake and Butter Beans with Bacon Vinaigrette, a Port Land Grille specialty."
2012 Charles & Charles Rosé (Columbia Valley, Washington $8 glass)
"The wild berry flavors and silky smooth finish of this syrah, mourvedre, cinsault, and grenache blend are anexcellent pairing for anything from our grill: steaks, spicy sausages, barbecue chicken, grilled salmon, or pork chops," Steketee says.
Port Land Grille
1908 Eastwood Road, Suite 111
www.portlandgrille.com | 256-6056
Berries and Citrus
2012 Villa Wolf Rosé de Pinot Noir (Germany $11.99 bottle)
From the Rhine River Valley, this pink wine showcases bright berries and red fruits against a clean, refreshing, dry finish. FERMENTAL owner STEVE GIBBS suggests that it is delicious on its own or works well when paired with grilled vegetables, poached salmon, or manchego cheese. At 11.5 percent alcohol by volume, this rosé is an easy summer libation that offers both complexity and simplicity from the hands of renowned German winemaker Ernst Loosen.
2013 Ranga Ranga Sauvignon Blanc (New Zealand $11.99 bottle)
"A classic example from the Marlborough region: big, bold citrus undertones alongside wild herbs, melon, lemongrass, and a touch of pepper," Gibbs says. Sustainably grown in the coastal region, this white wine takes its name from the Maori word for gentle breeze, just what's needed on a warm summer day. "It pairs well with spicy Asian or Indian dishes as well as a fresh fruit salad or Gorgonzola cheese," Gibbs says. "Ranga Ranga's citric essence is well rounded and not overwhelming, perfect for that enchanted evening on the Carolina coast." Fermental's wines and beers are available to go, on premise, or at its beer garden.
Fermental
7250 Market Street
www.fermental.net | 821-0362
Summer Fruits
2013 Protea Chenin Blanc (South Africa $15.95 bottle)
Protea chenin blanc, available for sale at Taste the Olive, is a great alternative to your usual porch-sippers. This South African wine offers a crisp medium body with aromas of pear, citrus, and honeysuckle. "It offers a beautiful balance of fruit and acid, which makes it a delicious pair with a creamy goat's milk cheese such as bucheron," says RYANN HARRIS, manger of OLIVE CAFÉ AND WINE BAR.
2012 Oh Be Joyful Dornfelder (Germany $11.95 bottle)
"Summertime begs for red wine that is much lighter than what we like to curl up with during colder months," Harris says. Taste the Olive has found the perfect warm-weather red in Oh be Joyful dornfelder. Dornfelder, a popular German varietal, is often vinified into a wine with a touch of residual sugar and is best when served with a slight chill. Its silky smooth mouthfeel complements flavors of bright cherry and blueberry. Harris suggests that the wine's bountiful fruitiness as a complement to the decadent Recchiuti Chocolate Truffles available at the Olive Café and Wine Bar.
Olive Café and Wine Bar
1125-E Military Cutoff Road
www.olivecafenc.com | 679-4772
California Labels
NV Schramsberg Blanc de Blancs (Napa Valley, California $15 glass/$29 half bottle/$56 full bottle)
"I have always enjoyed bubbles, especially in the summer," says FORTUNATE GLASS owner Celeste Glass.
"The blanc de blanc is 100 percent chardonnay, which makes it more crisp and refreshing compared to a typical cuvee that uses chardonnay, pinot noir, and pinot meunier. I also like the idea of drinking a sparkling wine made in the Champenoise method from the United States – perfect for 4th of July."
2012 Skylark Pinot Blanc (Mendocino County, California $9 glass/$36 bottle)
Sourced from old pinot blanc vines in Mendocino County, this clean, refreshing white is all about pure fruit flavors and balanced acidity. It has more in common with the pinot blancs from Alsace than of those from warmer climates. "Pinot blanc offers fruity aromas, often of apple, citrus fruit, and floral characteristics that I find appealing during hot summer months," Glass says, "and it pairs beautifully with seafood."
The Fortunate Glass
29 South Front Street
www.fortunateglasswinebar.com | 399-4292
Fresh Picks
2010 Domaine des Cassagnoles (Côtes de Gascogne, France $11 bottle)
This wine is composed of colombard, petit manseng, and ugni blanc. "If you like sauvignon blanc, then this wine will certainly appeal to you," says WILMINGTON WINE SHOP co-owner CHRISSY ABSI BONNEY. "A blended white from the winemaking region near Gascony that produces primarily white wines, it's aromatic, herbal, and luscious with white pineapple and grassy notes. It's a perfect pairing with a light summer salad."
Broadbent Vinho Verde Rosé (Portugal $10 bottle)
Made exclusively from red grape varietals, this Portugese wine offers fresh and fruity flavors with a subtle summer effervescence. "Summertime is a great time to explore out-of-the-ordinary wines that are friendly on the wallet, and this one would be a great companion to grilled fresh seafood and much of our local fare," Absi Bonney says.
Wilmington Wine Shop
605 Castle Street
www.wilmingtonwineshop.com | 202-4749
To view more of photographer Will Page's work, go to www.willpagephoto.com.