Taking Flight
Amelia Mason's nonprofit SkyWatch Bird Rescue soars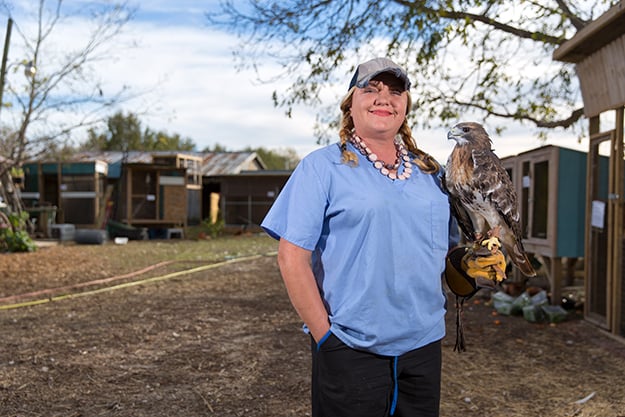 AMELIA MASON's work seems to have always involved the sky. After immigrating to the U.S. at nineteen, she began work as a flight attendant, assisting those who hoped to travel among the clouds.
Now, she's provided a home for the original atmospheric travelers who might need to spend more time on land. SkyWatch Bird Rescue, a nonprofit organization started by Mason, helps injured, orphaned, and misplaced birds of all kinds in the Wilmington area.
"I like to think of it of a retirement home for birds," Mason says.
The nonprofit took flight in 2010, after she canoed with her family at Carolina Beach State Park and encountered a great blue heron, a federally protected migratory bird, tangled in fishing line. It was the time of year when the water began to cool, so passersby showed reluctance to jump in and help the animal.
"The large majority of the birds we rescue are not here because of natural reasons," she explains. "It's often because of some interaction with humans – all kinds of ridiculous things."
After a quick conversation with the park ranger, she rescued the heron. Mason volunteered regularly at Carolina Waterfowl Resource in Charlotte before moving to the Wilmington area and planned to find a similar local organization for the heron's rehabilitation, only to realize no one in the area offered help for all birds. (A separate group, Cape Fear Raptor Center, also provides care and rehabilitation to raptors, such as owls and hawks.)
"That was a big eye opener for me," Mason says. "This area is a migratory mecca. We're by the coast, but there's no federal funding to protect these animals."
After saving the state park heron, who would have likely died from frost without Mason's motivating action, it became well-known that she provided assistance for fowls of all kinds. Yet, no local wildlife shelter existed for the birds, which required her to travel at least an hour outside of Wilmington for anything needed beyond her personal resources, while still working a full-time job at the local airport.
"That became very egregious," she says. "At that point, I knew I needed to stop completely or go 100 percent forward."
So here she is now, on ten acres of land with plans to expand SkyWatch even further beyond the small backyard operation.
"When doing birds, you have to have federal licensing," she explains. "There are minimum size requirements to be considered a flight cage."
Because of the large space requirement, she, her husband, and daughter moved to their current property about two years ago. Hoping to become open to the public, she has plans for every bit of acreage on the growing bird zoo and sanctuary.
Skywatch was recently awarded a $35,000 grant from the Women's Impact Network of New Hanover County, the organization's first financial assistance given to an environmental group. The money will benefit Mason's visions for the property, which include plans for more aquatic habitats and a waterfowl pond with a viewing deck and feeding station. In addition, the building that currently houses a rehabilitation hospital will receive upgrades to make the space more energy efficient.
Currently, more than one hundred birds take permanent residence at SkyWatch, and many more come through for assistance. The birds on the property are free to go and come as they please, though they seem to learn quickly that SkyWatch provides them all they need for a nice retirement.
To view more of photographer Chris Brehmer's work, go to www.chrisbrehmerphotography.com
Comments
comments