Taking a Holistic Approach to the Opioid Epidemic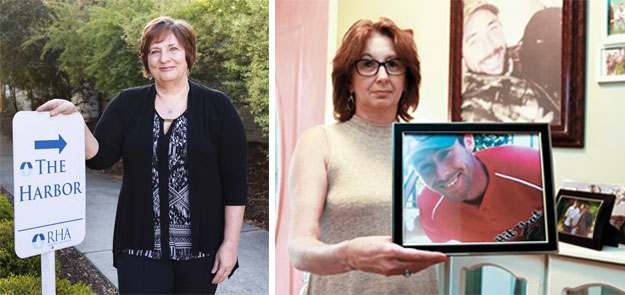 On July 4, 2015, while much of the nation was celebrating Independence Day with fireworks or a cookout, DONNA FULFORD was facing the most painful reality a parent can possibly experience.
The previous day, Fulford had found her son Trey unresponsive in the bathroom, along with a needle and signs pointing to a drug overdose.
While first responders were able to get a pulse and transported Trey to New Hanover Regional Medical Center, his brain had been deprived of oxygen for too long, and Fulford and her family said goodbye to the 28 year old.
Trey Fulford's death was one of 401 heroin-related deaths in North Carolina in 2015.
In 2016, that number climbed to 573.
From 2010 to 2016, the number of heroin-related deaths in the state grew by 1119 percent — but those statistics are not unfamiliar to many in the Cape Fear region.
New Hanover County, and Wilmington in particular, led the state in opiate and opioid-related deaths, and was the No. 1 city in the country for opioid abuse.
"Wilmington got a lot of bad press when we were named No. 1," says OLIVIA HERNDON , director of continuing education, mental health and public health for the South East Area Health Education Center (SEAHEC). "But what people don't always hear about is what Wilmington's done about it."
Herndon says the distinction was like the city getting an "ugly gold star," but that it was a major wake-up call and ended up galvanizing efforts to address the problem.
Herndon is a member of the New Hanover County Opioid Task Force, a group that includes representatives from SEAHEC, RHA Health Services, first responders, law enforcement, local elected officials and other community groups.
"[The task force] is just wonderful because everybody can just bring their expertise to the table, their thoughts, their experiences," Herndon says.
RHA worked with other task force members to seek funding for and implement the Law Enforcement Assisted Diversion program (LEAD), explains regional vice president DEBRA VUOCOLO . It is a program that attempts to intervene and get those with addiction into treatment rather than jumping straight to an arrest.
Vuocolo explains that the goal of LEAD, and the area's Quick Response Team pilot project, is to break down some of the barriers to treatment that many mired in addiction face.
"It's a holistic approach," she says, that includes finding safe housing and transportation to treatment, two things that are critical to someone successfully overcoming addiction.
Superior Court Judge OLA LEWIS  is involved with task forces in both New Hanover and Brunswick counties, and says getting the support of local and state officials has been critical to the success of the efforts.
"We have been a very integral part of lifting our voices and saying what needs to happen, not only in Brunswick County, but across our great state," she says.
Lewis cites the National Association of Drug Court Professionals' study that found for every dollar invested in treatment, communities save $9 to $20 in incarceration costs, plus the social costs such as foster care.
Judge Lewis says she is proud of the accomplishments of Brunswick and New Hanover so far, including $1.5 million in grants and a push toward treatment-focused courts.
The task force has also pursued efforts to arm citizens with naloxone, the overdose-reversal medication that has seen wide adoption as a means to help combat the rising death toll.
In 2013, North Carolina lawmakers passed a measure that allowed first responders to administer naloxone, and in 2016 passed a law allowing anyone to purchase the medication.
To Donna Fulford that was a major step in the right direction.
After losing her son and struggling to find people to talk to about it, Fulford became one of the founders of B.A.C.K.O.F.F., which stands for "Bringing Addiction Crisis Knowledge, Offering Families Focus," in Brunswick County.
Fulford says she and other members are advocates that everyone should have a naloxone kit with them at all times, just in case.
"We're doing everything we can to get it out there," she says.
Looking back, she says, if she had had a kit in her home at the time, she might have been able to give her son a fighting chance while she waited for first responders.
While she says she knows it won't bring her son back, Fulford is thankful for the efforts of the task forces to provide as much access as possible to treatment and support for those facing their own addiction or that of a loved one.
"We just want to help," Fulford adds. "We're just here for anybody that needs extra support."
To view more of photographer Terah Wilson's work, visit www.terahwilson.com.
Want more WILMA? Sign up for our WILMA Weekly email and announcements at WILMAOnTheWeb.com.