Take a Vow
Community chaplain Holli Saperstein's wedding world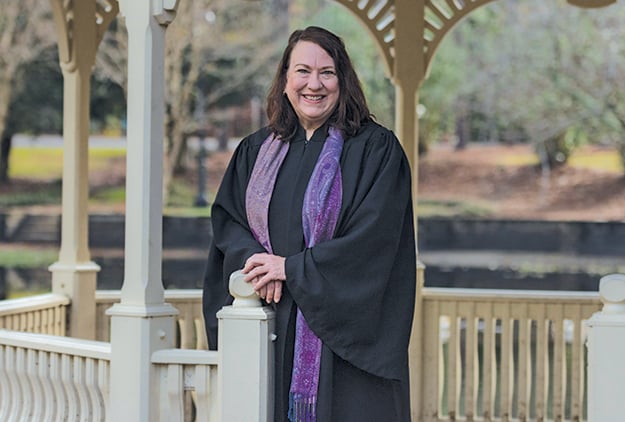 HOLLI SAPERSTEIN, a community chaplain, first had the opportunity to perform a wedding for a colleague while working in Arizona eighteen years ago.
"It was such a joyful recharge to my work and complemented the service I wanted to provide the community," she says.
Saperstein realized she was a good fit as she enjoys public speaking and writing.
"It seemed like a natural fit for me," she says.
Soon, she began offering her services to others.
Unique to other wedding officiants, Saperstein creates a custom experience for each wedding.
"I really get to know my couples," she says. She believes in serving all couples and does not discriminate. "I feel that all couples regardless of background, beliefs, sex, or religion deserve to have a wedding that is a beautiful, happy, and sacred experience."
Having performed hundreds of weddings, there are several that stand out as unique to Saperstein, but the most unique was one performed in Wilmington.
"During the thirteenth annual Battleship North Carolina Half Marathon, I had the honor of donning a tracksuit and marrying two runners during the marathon," she says. "They ran to the waterfront, paused for a few minutes while we did the wedding, and then ran on to the finish line surrounded by friends and family who ran alongside."
Originally from Arizona, Saperstein received her bachelor's degree from a Baptist university in Arizona and a master's degree from a Jesuit university in Colorado. She worked as a hospice chaplain in Arizona, before moving to Wilmington where her oldest daughter lives with her first grandchild.
Along with her work, Saperstein also enjoys involvement in local theater.
"Some couples are surprised when they do a google search of my name to see I have credits as an actress on IMDB or locally in theater," she says.
She lets them know that she has been doing weddings much longer than she has been an actress and that at the age of fifty, she decided acting was always something she wanted to do.
"It has been incredible to be able to become involved with the film industry as well as local theater," she says.
For those interested in the wedding officiant field, Saperstein suggests talking to someone who has been doing it for a while and to consider an internship to learn about the world involved.
"If you have a desire to serve others, a talent as a dynamic speaker, enjoy getting to know others, are patient and work well with lots of different types of people, it may be a wonderful choice," she says.
Saperstein's desire to connect with families moves beyond the nuptials. While the wedding is only one day, Saperstein is often contacted again from the same families to perform a baby blessing or a memorial or funeral for a loved one.
"That level of trust in me touches my heart," she says.
Performing weddings for couples is not something she takes lightly.
"When two people are committing their lives to each other and trust you to perform such an important part of their day," she says, "it is the most wonderful honor."
To view more of photographer Sherri Crawford's work, go to loudgirlmedia.com.
Want more WILMA? Sign up for our WILMA Weekly email and announcements at WILMAOnTheWeb.com.