Take 5 with Holli Saperstein
Make it official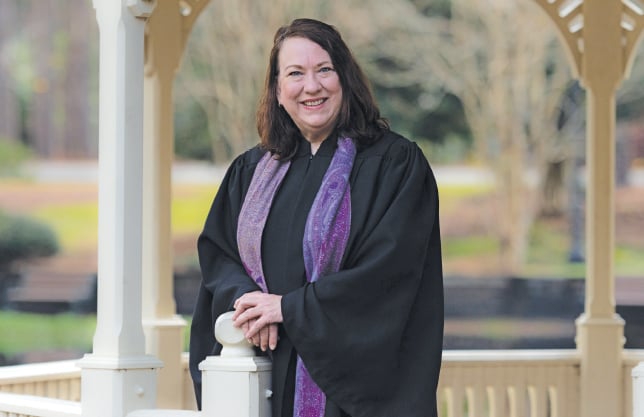 HOLLI SAPERSTEIN, a community chaplain, first had the opportunity to perform a wedding for a colleague while working in Arizona eighteen years ago.
"It was such a joyful recharge to my work and complimented the service I wanted to provide the community," she says. Soon, she began offering her services to others.
Saperstein, who now lives in Wilmington and officiates weddings in the area, creates a custom experience for each ceremony.
---
Take 5 with Holli Saperstein
Can you share a memorable wedding moment you've witnessed?
"While there have been many memorable moments over the years, one that really stands out for me is the wedding I performed for a bride who was a wounded warrior. She had been severely injured in Iraq, and she was marrying the medic who helped save her life! … Seeing her dad and her service dog walk her down the aisle to her tearful groom, who was smiling from ear to ear, has such a special place in my heart."
Where's the best place to get married around here?
"We have so many incredible venues, but you really can't beat the beauty of our incredible beaches, Airlie Gardens, or the (NHC) Arboretum here. We are so lucky to have such special outdoor spaces to hold weddings."
What's your busiest month for officiating?
"Typically, May and September are equally busy. In other parts of the country, June seems to be it."
Is it more common for couples to write their own vows or go with the traditional ones?
"Writing your own vows can be intimidating for a lot of people. I find that it is usually one person in the couple who is really enthusiastic about writing their own vows. … There are those who opt for the traditional vows, as well. I would say most go for the option of custom-written, contemporary vows that reflect who they are."
What's your favorite wedding song?
"I love the song 'A Thousand Years' by Christina Perri – just touches my heart."
To view more of photographer Sherri Crawford's work, go to loudgirlmedia.com.
Want more WILMA? Click here to sign up for our WILMA newsletters and announcements.