Tailoring PT Needs
Center focuses on women, but has expanded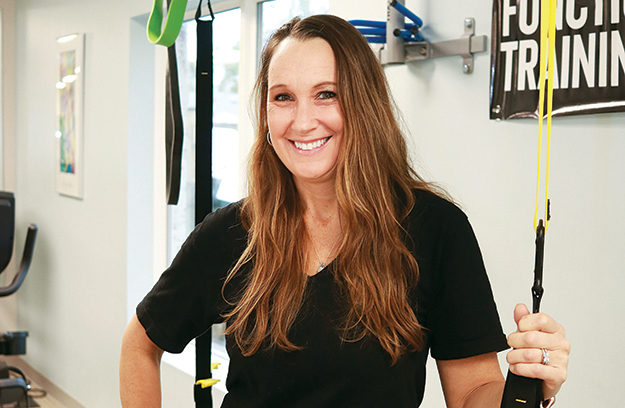 You're catching up with a gaggle of gal pals when one of them shares a coffee-spewing laugh. But, you also unintentionally release something else – a bit of urine. Many of us have laughed over such an incident, but for some, it's no joking matter.
It can prohibit you from attending social events and otherwise alter your life.
Yes, some of the problems associated, for instance, with childbearing and aging can cause embarrassment and physical pain for women.
But, there are also remedies, according to JENNIFER WHALEY SHEPHERD, a physical therapist who started PHYSICAL THERAPY FOR WOMEN Lymphedema & Pelvic Rehab Center, which was opened in 2001 as a way to serve women and their specific physical therapy challenges.
In the late 1990s, Shepherd was working at a hospital outpatient PT clinic in Western Carolina. She started a women's health program there, and it grew to include PT for women with pelvic floor issues.
"It just kind of grew by diagnosis until I really saw the need … for physical therapy for women throughout the lifespan," she recalls.
"We're unique," she says of women's needs, "and we have different changes that occur to us throughout our lives. I just felt like it was important to recognize that we need someone who is specifically trained in treating these issues – whether it's pelvic floor dysfunction or osteoporosis or everything through the childbearing years."
There was a need, and she filled it, continuing to learn so she could better serve the population with whom she enjoyed working.
Shepherd moved back to Wilmington in 2000 "and there was no one doing this in this area, and I said, 'Hey, that's something I want to provide for people in this community, as well.'"
The following year, Shepherd opened Physical Therapy for Women on Oleander Drive (they moved to their current location at 1630 Military Cutoff Road in 2015).
"I wanted to provide an environment where women of all ages, of all situations, really felt comfortable and could maximize their rehab potential and to provide an environment where they felt they could ask any questions," says Jennifer Whaley Shepherd, the physical therapist who started Physical Therapy for Women Lymphedema & Pelvic Rehab Center.
It worked, and soon she learned others needed these services, too.
"What we found is we were getting a lot of referrals for men despite the fact that it says Physical Therapy for Women," Shepherd says. "Physicians said, 'Hey, my male patients have pelvic floor dysfunctions, they're having pain during intercourse, they're having urinary leakage, they're having problems with their bowels, they're having lymphedema due to prostate cancer."
In 2015, when the center moved to its current location, the building size increased and now has two separate "wings," one for female patients and one for male patients, each with their own treatment rooms and gym space, where everything is very private.
The number of treatment rooms expanded from six to fifteen. So, rather than detract from their mission to provide quality care for women, they've enhanced it by providing services to men and children, too. She estimates women make up 90 percent of her business.
Over the past seventeen years, the company has grown in other ways, as well. Shepherd started the business with herself as the only physical therapist.
In January, there will be eleven.
Their services today include those that address: general physical therapy, incontinence, pelvic pain, lymphedema management, abdominal/breast/pelvic surgery, prenatal/postpartum issues, pediatric bowel/bladder dysfunction, osteoporosis, fibromyalgia, gastric bypass rehabilitation, and orthopedic rehabilitation.
Shepherd has also increasingly gone out into the community to perform what she sees as a vital service: educating the public about their health and their bodies, as well as the ways they can improve the quality of life by becoming informed participants in their health.
So, with the expanded audience does Shepherd plan a name change for the center?
"Although we have been known in Wilmington for the past seventeen-plus years as Physical Therapy for Women," Shepherd says, "we have considered slightly changing our name to better represent the growing number of services we provide to women, and now men and children as well."
To view more of photographer Terah Wilson's work, go to terahwilson.com.
Want more WILMA? Click here to sign up for our WILMA newsletters and announcements.