Swain's New Name
Swain Center Director Laura Lunsford is a talent development matchmaker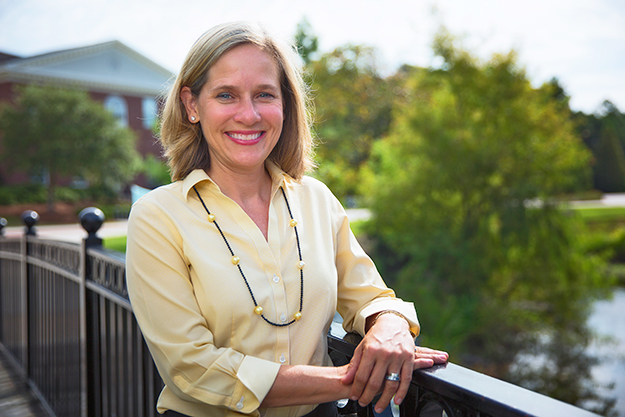 This month, LAURA LUNSFORD plans to look, listen, and assess. Then she'll work in earnest to use her expertise in leadership development and mentoring and her vast higher education experiences to improve executive education for individuals and organizations.
"I love building new programs, and there was a real opportunity to build on a great foundation here with UNCW," says Lunsford, recently named director of the university's Swain Center, which focuses on executive education, during a recent interview on day two of her new post.
"There's a lot of energy, great faculty, and terrific location," Lunsford says, who started this month.
She says she hopes to make executive education one of the best programs in the state. Lunsford studies mentoring and leadership and says she has a real commitment to helping organizations create great workplaces and develop their talent.
Lunsford's hire isn't all that's new related to the center.
University of North Carolina Wilmington Chancellor Jose Sartarelli was picked for the position in April 2015, while two months later Robert Burrus was named dean of the university's Cameron School of business, which oversees the Swain Center. Both officially started their posts July 1 of last year. And earlier this summer, Diane Durance became the director of UNCW's Center for Innovation and Entrepreneurship.
Lunsford says she is excited to be in on what Burrus has called a "rebooting" of the Swain Center.
There's a misguided notion of "pointy headed academics," and a lot of what Lunsford says she likes at the Swain Center is that faculty members do a great job of translating their work for use, which may be because they are "real-world" oriented in the business school, she suggests.
Lunsford's short-term to-do list includes meeting with the center's advisory board members and UNCW faculty as well as people interested in talent development in their organization. She will listen to their experience and try to get a handle on their workforce development needs. She plans to get the word out about the center and what it can do to help organizations "build high-performing work teams by identifying and leveraging the talent from within."
"I feel like a matchmaker," she says of her role finding the right faculty to meet the talent development demands of the community and identifying people and organizations that could benefit by the center's services.
"I really like (working with) young adults and early career folks, because I think there's a lot of room for change at that particular career stage," she says.
Lunsford consults on the topics of talent development and mentoring with clients such as top brass in the Army.
"I know how much fun it can be. People want to do well at work. Sometimes they just need some more skills to do that," she says.
Earlier this year, Lunsford's book, Handbook of Managing Mentoring Programs, was published, and she has another two books on mentoring and leadership development in the works, according to university officials.
Lunsford, a native North Carolinian (her mother was born in Southport and now lives in Mebane and came to visit when Lunsford had her job interview), earned her doctorate in psychology from N.C. State University. She also holds a master's degree from University of North Carolina at Greensboro.
Lunsford previously served as Duke University's Fuqua School of Business' first alumni relations director and established the Park Scholarships program at N.C. State, the university reported in her hiring announcement.
Prior to taking this position, she spent the past eight years on the faculty at the University of Arizona, where she was an associate professor in psychology. The new post brings her back "home" and back to an administrator role.
When she's not helping people grow and excel in the workplace, Lunsford practices and has a black belt in Shotokan karate. She and her husband, Art Padilla, also an expert in organizational leadership, like to ride bicycles around Wrightsville Beach. The pair also recently built a Japanese Zen garden. With the move to North Carolina, she's near her two stepdaughters, one of whom recently had a baby.
When asked if she was nervous about what lies ahead: "I probably should be," she jokes. But most of the jobs she's had have been startups, so this is somewhat familiar territory.
"It's something I find exciting, so maybe a little nervous but in an exciting way," Lunsford says. "The right amount of nervousness is what I have."
To view more of photographer Chris Brehmer's work, go to www.chrisbrehmerphotography.com