Sunday Bluegrass Jam
Bluegrass at Satellite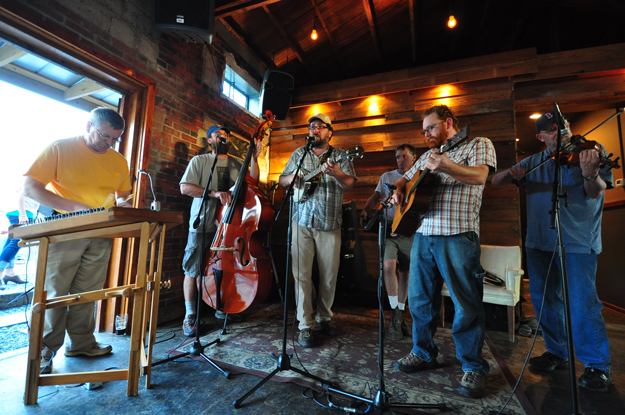 At what bar in Wilmington can you find four dogs, one baby, a fridge full of microbrews and a band of bluegrass players?
SATELLITE BAR AND LOUNGE is the place, an establishment known for its inviting quality and casual ambiance. Every Sunday evening Satellite opens its large barn doors for a bluegrass music jam where anyone can join in and play foot-tapping tunes dating back to the Revolutionary War.
On one particular Sunday, the crowd at Satellite was sparse but lively as they waited for the musicians to arrive. People of all age groups sat at the large, wrap-around bar and several lounge areas adorned with retro couches.
Local musicians Alex Hall and Jones Smith founded the Sunday afternoon bluegrass jam at Satellite.
"Sometimes it is just a handful of us up here, but sometimes over 40 people play throughout the night," said musician "Big Al" Hall.
When the players began setting up, more people arrived with more dogs. Satellite owner Dusty Ricks is a dog-lover and allows patrons to bring a pet to the bar as long as it's on a leash. A few children also joined the scene.
"Sunday is regulars' day," said bartender April Lassiter.
The band began to play around 7 p.m. with Hall on banjo, Smith on mandolin and David Schucavage on the hammered dulcimer, an ancient instrument he built himself. Two violins, a cello and a guitarist joined in. They opened with a song called "Over the Waterfall," which Schucavage said is about 200 years old.
More musicians joined including a young woman playing a washboard with two spoons. People got out of their seats and danced to songs like "Whiskey before Breakfast."
"I come for the community feel," said Satellite regular Melissa Jones, who lives across the street from the bar. "You can come here by yourself and not feel awkward. It's like family here."
Satellite was a grocery since the 1940s until Ricks bought it. Satellite's signature barn doors are made of wood from some of the original rafters and a wall was added at the back of the room built from recycled wood. Even the barstools are built from old car parts.
"I love Satellite because there are no TVs or other artificial distractions. It is just you and the atmosphere," said Samantha Herbert, another bluegrass jam regular.
Front Street Brewery's assistant brewer Christopher McGarvey recently started playing guitar at the jam.
"I came in and the atmosphere was unlike anything else. It's not a performance. It's friends getting together to play music and have fun," he said.