Summer Snapshot
A twist on the teeny bikini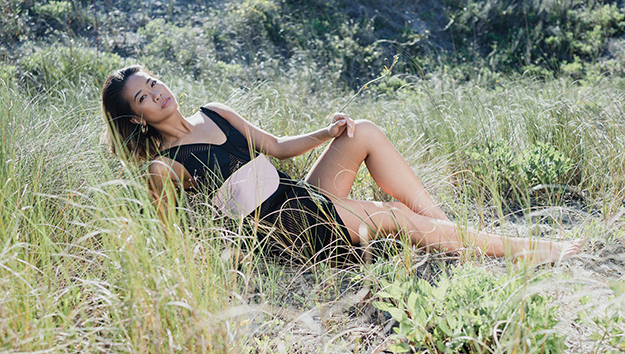 The beach is back, and this year's options are way sleeker than your typical teeny bikini. It's all about pairing surf and turf and letting your ready-to-wear and swimwear mingle.
You'll see a few twists on classic one-pieces – literally. The subtle knots, bows, and cutouts that are on the racks also pop up poolside this season. Throw on a cover-up or shirtdress, and you'll hop effortlessly from beach date to lunch date.
High-waisted or belted swim bottoms are both making waves – retro charm coupled with good coverage. And, speaking of good coverage, rock those bottoms with a 3/4-length sleeve shirt or a cropped rash guard for a sweet look and ultimate sun protection. Planning a weekend getaway? These new suits and cover-ups make packing light a breeze, doing double duty on both land and sea and creating a splash wherever you may be.
Yellow bikini bottoms and rash guard by Seea, available at Lilies & Lace
Beige linen wrap top, available at Tusc Boutique; blue polka dot, high-waisted bikini bottoms, available at Très Bleu Boutique
Black V-neck swimsuit and black maxi skirt by Shana, both available at Lilies & Lace; Sour Notes belt bag by Ruby Assata in Ultra Ultra Violet, available at rubyassata.com
Blue-and-white one-piece swimsuit by Seea, available at Lilies & Lace; maxi white button-down shirt, available at Très​ Bleu Boutique; and yellow hair TURBAN by Shhhower​ Cap, available at Blush Haus of Beauté​
MODEL: Rafaela Alyssa
HAIR: Claire Svensson (Blush Haus of Beauté)
WARDROBE: Lilies & Lace, Oliver Clothing, Tres Bleu Boutique, TUSC Boutique,
To view more of photographer Melissa Hebert's work, go to melissahebertphoto.com
Want more WILMA? Click here to sign up for our WILMA newsletters and announcements.