Stretch and Sip
Yoga classes at area breweries and bottle shops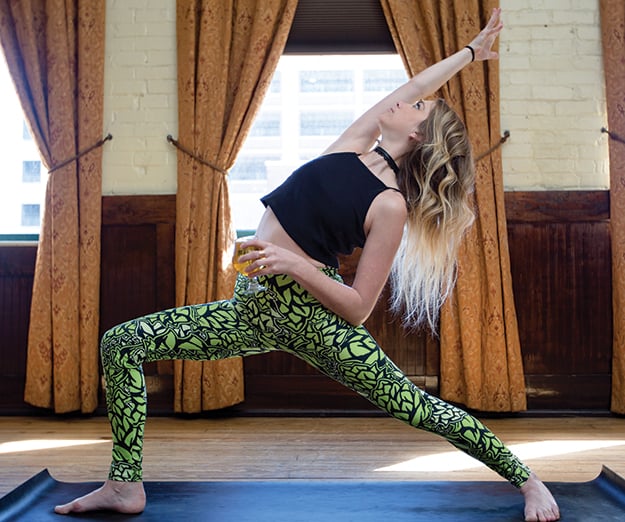 AT FIRST GLANCE, YOGA AND beer might appear to be opposites. Yoga conjures up images of healthy, sun-kissed, rubber band people, posing on the beach at 6 a.m. while the rest of us schmucks try to remember how many times we've hit the snooze button so far. And beer? Beer is the enemy of exercise, right? Beer is loads of empty carbs, late night tacos, and sleeping in till noon.
Of course, neither of those things is entirely correct. Lots and lots of different kinds of people do yoga, and quite a few of them also like beer. In a recently beer-crazed place like Wilmington, where the number of breweries and bottle shops popping up is getting set to rival the number of neighborhood churches, it was only a matter of time before beer and yoga got together. Nationally, yoga teachers and breweries have been combining forces for a few years now. KELSIE COLE (above) of Front Street Brewery thinks it's a natural fit.
"I think both people who drink craft beer and people who practice yoga have a sense of awareness of their body, and what goes in it," says Kelsie Cole, head brewer for Front Street Brewery.
"Yogis and craft beer drinkers take the time to educate themselves about the products they consume in both food and beverage industries."
Front Street Brewery has paired with local nonprofit YOGA VILLAGE to host Warriors Twos and Brews, a beer and yoga class that takes place every other Monday evening on the third floor of the brewery. Instructors are recruited through Yoga Village, which receives half of the night's donation-based proceeds. The other half goes to the charity of the teacher's choice. This means every night is just a little different – different styles, different energies, and people coming together from all different levels of ability.
"There's a saying that 'The first beer of the day is always the best,'" Cole says. "After a day's worth of hard work and an hour or so of nurturing your body on your mat, that first sip is rewarding and invigorating. We spend most of our day doing things for others, focusing our energy and time on things and people around us. That one hour on our mat is a nice way to reflect energy inwards, to finally do something for ourselves."
Yoga Village, a charity dedicated to expanding community yoga access through programs in school, community centers, and other nonprofit organizations, has also partnered with Wilmington Brewing Company to offer Wilmington OM Brew yoga classes on Tuesdays.
SYLVIA JABALEY, a co-founder of Yoga Village, has been an avid yogi for many years and found her passion in advocating yoga as a community-building tool. She finds encouragement and support in group practice. "Like many working mothers, I have not figured out how to always carve out a portion of the day for myself. When I do, by practicing yoga, I am able to nurture my needs and find quiet in our often busy days," she says. "In the group setting, I'm able to push myself to develop greater strength as well as find deeper relaxation because the teachers have all kinds of relaxing tricks up their sleeves."
LONGWAVE YOGA offers a libation-enhanced class as well. One Sunday a month, it takes over the beer garden at Lighthouse Beer and Wine in Wrightsville Beach, with part of the proceeds going to support Waves for Water, an organization working to provide clean water solutions to communities worldwide.
LEXI PAULOS, founder of Longwave, says the studio committed to a fundraising goal through Waves for Water of donating water filtration systems to a location in need within the next two years.
"Our community has been so supportive of our offering benefiting this cause that we might even be able to do it sooner," Paulos notes.
And if, in the end, beer is really not your thing, don't worry. Palate Bottle Shop & Reserve also offers Sunday morning Yomosa with RACHEL LARSEN – one hour of yoga and one mimosa (or two. But only the first one comes included.) With spring having officially sprung, now's the best time to relax and stretch in the beer garden morning sunshine. There simply isn't a classier way to day drink and feel good about it at the same time.
To view more of photographer Megan Deitz's work, go to www.megandeitz.com.