Strangers in a New Land
Refugees make the Port City home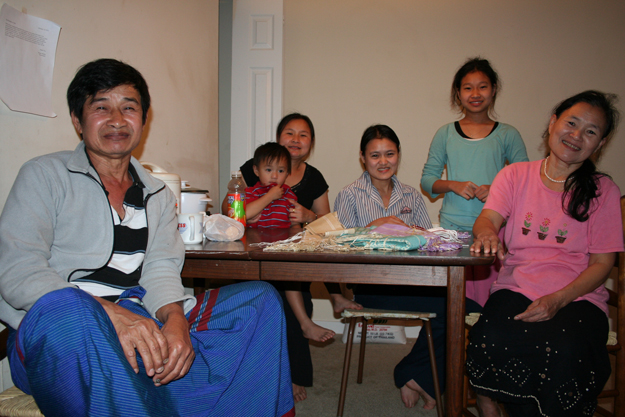 A small but growing population in the Wilmington area know that "home" is as much a state of mind as it is a physical location. This population is made up of refugees, who have navigated a long and complicated path to the U.S., exchanging everything they know for a new home that is unfamiliar but safe.
In her two years here, Burmese refugee Em Mu Tha Paw (pronounced em-moo-thaw-paw), has settled into a small apartment she shares with her parents and several other members of her extended family. She and her sister work for Molly Maid and are gradually improving their English and their familiarity with American culture in Wilmington.
Em Mu Tha, 23, and her family are among 118 refugees that Wilmington's Interfaith Refugee Ministry (IRM) has settled here since IRM's founding two years ago. For these victims of persecution, the concept of home transcends a mere place to live. It means a place of safety, a place where they can be themselves.
"When I arrived here, it's like I have freedom," Em Mu Tha said. "I can do anything I want and say anything I want."
"It is good to be free," said her father, Ywa Hay (pronounced yuu-wah-hey).
Even in a small apartment, there are amenities this family has not known before. They have running water and electricity. Instead of having to chop wood and build a fire in order to cook, Em Mu Tha's mother, Ay Kay Htoo (pronounced A-kay-too) turns on the stove or uses her electric rice cooker.
"It is so easy," she said with a smile.
The family belongs to an oppressed ethnic minority in Burma called Karen. When Em Mu Tha was a young girl, the Burmese military often made threatening visits to her village. Then, when she was 8 years old, soldiers burned her village and their crops. Her family ran into the surrounding jungle and hid for a week. Then, they made their way across the border to a refugee camp in Thailand. The camp was their home for 13 years, until they were awarded United Nations refugee status.
"There were more than 19,000 people in the camp, and ours was just one of 10 refugee camps in Thailand," Ay Kay Htoo said. Her children attended school in this community of bamboo huts; her husband, Ywa Hay, became a camp leader.
Ay Kay Htoo, Ywa Hay, their five daughters and two sons were ultimately among the fortunate: they gained refugee classification by the United Nations High Commissioner on Refugees. That status meant that the U.N. would help them find a permanent home in one of the 14 or so countries that have agreed to accept them.
Em Mu Tha's family was approved for entry to the U.S. Their first stop was New York City, where, through the Episcopal Migrant Ministry, they were connected with the Interfaith Refugee Ministry (IRM) in Wilmington.
The IRM was brand new when Em Mu Tha and her family arrived in town. The organization, which operates in a small office at St. James Parish Episcopal Church, helped the family settle in and adapt to their new hometown. The process has continued with others who have since arrived in Wilmington from Burma, Iraq and Colombia.
Housing, basic furnishings and a temporary supply of food are first on the list of necessities IRM provides, said Jamie Mills, IRM director. Next, the organization assists its newcomers with paperwork to ensure that they receive financial assistance until the adults find work – usually in three to six months.
"Even in a difficult economy, they do find jobs, because they will do work that most Americans won't," Mills said. "But they usually move up from these low-level jobs, because they work hard. We've had a number of real success stories."
Em Mu Tha found her first job at House of Raeford, a poultry plant in Rose Hill. She also worked part-time at Julia's Florist, but now she and one sister have full-time jobs with Molly Maid. Another sister, Eh Nyoe Paw, (pronounced ehh-new-paw) found work as a housekeeper at Wilmington's Hilton Garden Inn and in 2011 was named the chain's regional Housekeeper of the Year.
After two years as residents of Wilmington, Em Mu Tha, her parents, siblings and extended family still miss their homeland. Em Mu Tha said she would like to return to Burma some day and help her people – as a teacher, perhaps. Pictures taken with friends at the Thai refugee camp are taped on a wall in their apartment as a reminder of where they've been. And, day by day, they are learning English through classes and on the job and finding their place in this vast but welcoming new homeland.