Story Lines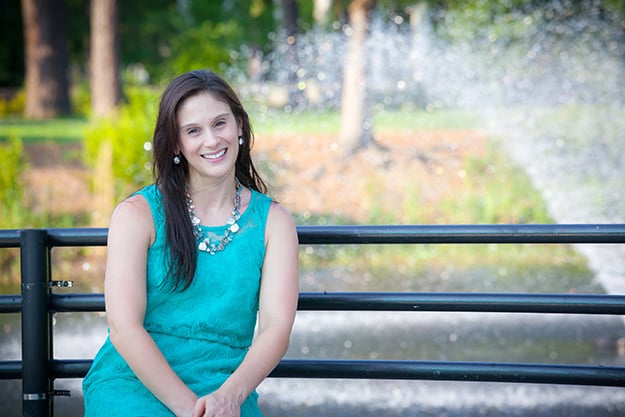 On a rainy Wednesday morning in UNCW's Leutze Hall, professor Julie-Ann Scott looks like any other young mother – a little tired, running a bit late, but bubbling with enthusiasm. In jeans and a T-shirt, with her dark, brown hair pulled up in a messy twist, her petite figure looks even smaller framed in the normal wreckage of an academic's office.
She apologizes to me as she waves goodbye to her husband, also a professor at University of North Carolina Wilmington – there was a problem with the babysitter. Even with the frazzle of the morning, her voice is clear and lilting, devoid of any trace of stress. It is one of those voices that is an instrument, and it was that voice that brought her initially into the storytelling world.
Scott is the director of Storytelling in the Community – a three-credit course offered through the UNCW Communication Studies department, in which students adapt stories to perform for elementary and middle school students across the New Hanover County school system. In the fall semester the troupe is the UNCW Storytellers, and the class focuses on adapting children's stories to perform. For the spring semester, the Hawk Tale Players interview elders in the community, and then perform those real stories in the classrooms, as if they were the older subjects themselves.
Storytelling at UNCW has been a celebrated program since the 1980s, when Carole Tallant created a curriculum around the vast tradition of Southern storytelling. When Tallant retired, she recommended the department shift its focus from literary works to the newly emerging field of performance ethnography, which could also be considered interview theater or creative non-fiction performance. The idea is that instead of teaching us to relate to each other through recitation of fictional stories, why not tell the stories of real people and real experiences?
Scott arrived in the department in 2010. Her own research has often focused on aging, memory, and physical disabilities. And under her direction, students have learned a multitude of ways to collect and understand real life stories – through performances, scripts, audio interviews, and collaborative multi-generational workshops.
Originally from Maine, Scott started off as a theater and creative writing major, and a love of reading and stories comes naturally to her.
"I did a lot of reading as a child, probably because I have cerebral palsy, and I went through a lot of surgeries as a little child, starting from three," she says. "They'd have to snip my muscles, and break my bones, and rotate things. So I had a lot of sitting around time, a lot of solo time recovering, and I ended up learning to read very, very young out of the need for entertainment. And when people would come to visit me, other little kids, I would feel this pressure to entertain them, so I got really good at reading out loud and telling stories."
Later, in college outside Boston, she worked a part-time job reenacting the Salem witch trials. Impressed by her command of an audience, the directors invited her to join a chamber storytelling troupe, where she found herself traveling around the country and the world performing stories from C.S. Lewis, Madeleine L'Engle, and other childhood favorites.
She had assumed, practically, that her speaking skills meant she should go to law school. But a professor convinced her that wouldn't make her happy. Now, many years and many miles later, she holds her doctorate in interdisciplinary communications in performance studies, with an emphasis in narrative research and storytelling. It's an intimidating title, but essentially, she is trying to teach her students a love for other people's experiences.
That afternoon, her spring class and I venture out to Forest Hills Elementary. Each Wednesday for the last half of the semester, the students travel to a different New Hanover County school, and spend an hour performing the stories of older people they have interviewed.
While it may seem a lot to expect a ten-year-old to understand that this college student in front of them is actually telling the story of a thirty-six-year-old woman traveling to Borneo and fighting off monkeys, the audience is rapt and engaged, and have all sorts of questions to ask afterwards.
One of the storytellers performs the story of a marine biology professor at UNCW, and halfway through the performance, I realize that I'm basically watching this student give the professor's lesson, which is an entreaty to the kids to learn about the dangers of plastic in the ocean. While that professor couldn't be there physically to deliver this lesson, her words are being repeated over and over again to ten-year-olds all over the county. It's a humbling thing to watch.
Of course, not everyone's story is as easy as sea turtles and plastic bottles.
"One of the evaluations at the end of the semester said, and I think this really captured it, 'This was the most terrifying, difficult, best decision I've ever made.' It's scary, and I think some students don't process how scary it's going to be," Scott says. "I had a student come to see me, and he said 'Oh my gosh, we are in an entirely African-American school, and I'm a white man about to perform the story of a black woman, and I'm terrified.' He said, 'What if I do it wrong?' And I said, 'Hey, we practiced this. What is important to remember is how are you honoring her story? How are you showing an understanding of your privilege and sharing this story so others can understand their privilege?' And he said 'All right, I can do this,' and he was wonderful."
"I think the idea of embodying another, having it be a real person that's around, who you know, that you'll see, helps students understand the ethics of what it means to take another's story," Scott says.
She has dreams of developing the interaction between the UNCW students and elementary students into even more collaborative projects, helping the kids conduct their own interviews and performances. She also teaches classes that allow students to address less G-rated, more difficult topics, such as a recent project where students performed the stories of elders with memory loss.
What's for certain is the program will never run out of subject material, and Scott will never run out of empathy, or enthusiasm, for her program.
"We want to show how there are amazing stories happening all around, and the people all around you are great. They've done amazing things and have transformed the world in different ways," she says, with earnest passion in her voice. And I wonder who will perform her story on stage one day, and if she'll recognize that's she's one of those people.
To view more of photographer Meg Beazley's work, go to www.studio133b.com