Stepping Up
Kimberly Munley continues to advocate for soldiers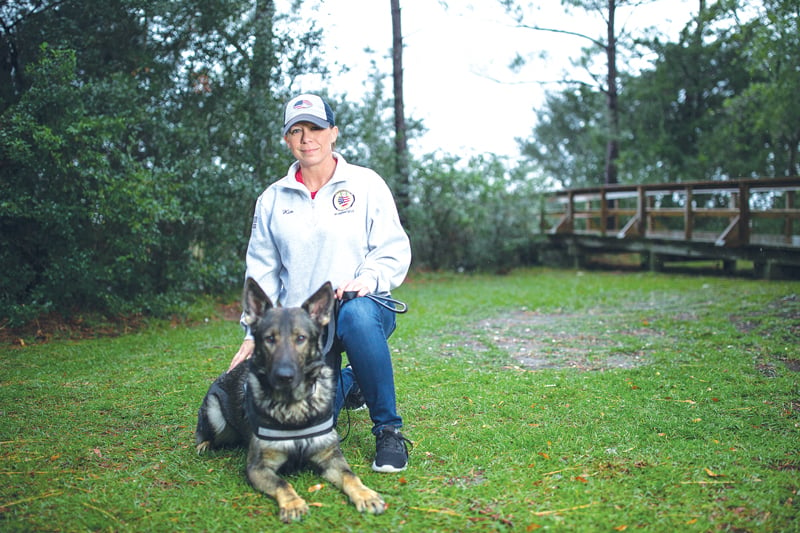 Former Fort Hood police Sgt. KIMBERLY MUNLEY always knew that she wanted to serve her community. It's what led to her far-reaching career in law enforcement, and it remains the driving force behind her current work as president of Step Up For Soldiers, a local nonprofit organization providing resources to disabled veterans.
Munley, who was born and raised in Wilmington, joined the UNCW Police Department in 1999 and the Wrightsville Beach Police Department in 2000. Four years later, Munley made a longtime dream a reality when she joined the U.S. Army.
"I decided to go ahead and complete (a) burning desire to serve my country," she says, "and at a late age – I was in my upper twenties."
In 2007, Munley received an honorable discharge for her service as a chemical, biological, radiological, and nuclear specialist. In 2008, she returned to law enforcement, joining the Fort Hood Special Reaction Team (SRT). A year later, her life changed forever when the Fort Hood Army base located in Killeen, Texas, became the site of the worst mass shooting at an American military installation, and Munley was called in as a first responder.
That day – November 5, 2009 – she had been washing her patrol car, preparing for the end of a shift, when she got the call about an active shooter and immediately rushed to the scene. Munley confronted and exchanged shots with the gunman, Nidal Hasan, and was shot three times herself.
Munley and another responder, Sgt. Mark Todd, heroically put an end to the shooting, preventing further carnage. Munley says that in Hasan's vehicle were several hundred more rounds of ammunition and evidence that he'd mapped out two other potential locations to attack next. The shooting left thirteen people dead and thirty-two wounded, including Munley whose life-threatening injuries included a shattered knee and a severed femoral artery.
Hasan was found guilty and sentenced to death.
Munley credits her response that day to the intensive training she received while on the SRT for every scenario imaginable. "It was methodical to respond that way," she says.
After the incident, she underwent a knee replacement and reconstruction and couldn't walk on her own for months afterward. To this day, Munley says, she cannot run for more than thirty seconds or fully bend her leg. She also has residual circulatory issues from her femoral artery wound, for which she had femoral bypass surgery.
Still, Munley considers herself lucky not to suffer from post-traumatic stress disorder like so many soldiers do. She admits that the experience has made her hypervigilant and says, "I have so much anxiety as to why people do what they do."
As mass shootings continue to shake the U.S., Munley says that she's "sickened" by the senseless violence. "It's inconceivable."
Despite her physical limitations, Munley returned to duty a year after the shooting, resuming her former position. Getting back to work felt natural, she says – far more so than the experience of being thrust into the national spotlight after the deadly shooting. Munley felt uncomfortable agreeing to the many media interviews and press conferences she was asked to partake in. Eventually, however, she began telling her story, using the platform as an opportunity to speak out about her anger over the treatment of the Fort Hood military victims.
"I wanted to fight for the soldiers and their rights," Munley says, "and to express my concern about the fact that (Hasan) was able to slip through the cracks."
Munley says she objected to the Department of Defense declaring the Ford Hood massacre an incident of workplace violence versus an act of terrorism, which impacted the benefits eligibility for victims and their families. As part of the civilian police force, Munley wouldn't have qualified for these benefits, but she was so impassioned about helping the military victims who would have that she made it her mission to advocate for them, fighting for a reclassification of the incident.
Munley worked tirelessly over the course of five years, making three trips to the White House and facing many rejections, until finally in 2014, Congress added domestic terrorism to the criteria for the Purple Heart, enabling the Fort Hood military victims and their families to receive the award and thereby the combat-related benefits. In April 2015, the military victims of the Fort Hood shooting were awarded Purple Hearts, and Munley was one of two civilians honored with a Secretary of Defense Medal for the Defense of Freedom – the civilian equivalent to the Purple Heart.
In addition to her fierce advocacy, Munley worked in the years following the shooting as an advanced firearm special operations instructor and a background investigations reviewer for the Office of Personnel Management. She moved back to Wilmington in 2011, and in 2012, became involved with the volunteer-based organization Step Up For Soldiers, participating in its annual Combat Mud Run.
Munley's involvement with the nonprofit only grew from there. In October 2015, Thomas Russell, the founder of Step Up For Soldiers who was readying to retire, asked if Munley would be interested in taking over as president.
"It was perfect timing," Munley says. "I was so used to fighting and doing missions for soldiers that I was kind of left with, 'What do I do now?'"
Munley's day-to-day schedule now consists of lots of meetings and planning, as she and her colleagues work to raise funds for veterans who have experienced loss of limb and mobility problems.
Founded in 2004, Step Up For Soldiers was conceived with the goal of building wheelchair-accessible ramps for two local National Guard soldiers who had lost their legs during their tours of duty. Since then, the organization has expanded to provide funding and resources to disabled veterans of any branch. Through events and fundraisers, Step Up For Soldiers seeks to enhance the lives of military personnel and their families through financial assistance, home modification, family support, and more.
Munley is now preparing for one of the group's major annual fundraisers, its Back Yard BBQ Cook-Off, which will be held at Carolina Beach Lake on March 3.
Munley is also currently working on a degree in information technology at University of North Carolina Wilmington and is in the planning stages of helping to develop a master's program in cyberterrorism at a local university. In addition, Munley is a police instructor of officer survival and anti-terrorism, and a motivational speaker. She recently spoke to a Girl Scouts troop about women in leadership roles and said, "Leadership comes with very challenging goals … but we need females to step up to the plate."
Of all that she has accomplished in her life thus far, Munley says that being a mother and setting an example for her two daughters, ages ten and twenty, is what makes her most proud.
"I can't wait to see what my daughters will accomplish," she adds.
To view more of photographer Chris Brehmer's work, visit chrisbrehmerphotography.com
Take 5 with Kimberly Munley​
ON BEING INTRODUCED TO STEP UP FOR SOLDIERS:
"When the shooting took place, Tom (Russell), the (nonprofit's) founder, he knew my father from Carolina Beach, and he'd gotten in touch with my father and aided my family getting to Fort Hood so quickly … That's how I got involved to support Step Up. They came to me (later), and Tom said he was wanting to retire."
ON RECEIVING NATIONAL ATTENTION AFTER FORT HOOD:
It was "very uncomfortable. I don't like being in the spotlight … When it all happened, and I finally started agreeing to press conferences and national media interviews, it was because out of anger and that the soldiers were not being treated like they were supposed to."
ON HER CURRENT POSITION AS STEP UP'S PRESIDENT:
It's "definitely a challenging role, but it's very fulfilling. And, I have a motto I've had way before the shooting, I pulled it off social media … 'I can lay my head down peacefully at night knowing that I've made a difference in someone else's life.'"
ON THE DAY-TO-DAY

WORK:
"(It's) constantly planning events and doing packages from home coming up and a chili cook-off coming up to honor a young man who's a double amputee that we raise money for each year."
ON HER DAUGHTERS:
"Oldest daughter is twenty, and she has a great career at Spectrum. My youngest is ten, a tomboy just like me. I can't wait to see what my daughters will accomplish. I'm not a boastful person, but proud of the mother that I am (and the) example I set to my children."