Stepping Lively
Irish dancing shines in the Port City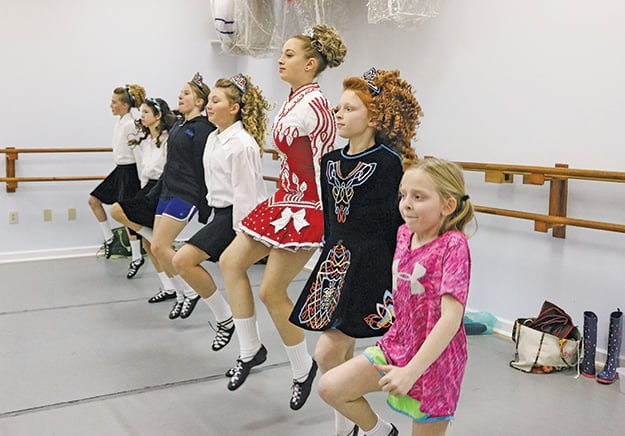 It's Saint Patrick's Day in Texas and eight-year-old MARY ELIZABETH MCQUEEN (below, right) is playing the fiddle in her father's Celtic band. She's proud of her Scottish and Irish heritage and enjoys, very much, in performing with him at various gigs.
This particular time, it's at The Mucky Duck Celtic pub. It's the place for a variety of acts to showcase their stuff. But this time, there's something new in town, something McQueen has never seen before, and it captivates her, maybe even distracts her from playing her fiddle, and makes her call out to her father, "Daddy! I want to do that!"
It was the Irish step dancers.
Down the parade, their hard shoes pounded on the pavement for what looked like a million times per second. Their upper bodies remained stiff while their legs kicked in quick precise movements. Everything moved in perfect unison. Their hair was held away from their face and curled in tight tendrils. And then there were their costumes made of velvet, sequins, Swarovski crystals, and threaded with silk. Their smiles made everything look effortless. It's a memory McQueen will never forget.
After twelve years of dedication and practice, it's no wonder McQueen is, today, an Irish dancer and an assistant instructor at Wilmington's the WALSH KELLEY SCHOOL OF IRISH DANCE.
"What I didn't know then, but realize now," McQueen says, "is that (Irish dancing) it's such a niche sport. Even when I lived in Texas, competing against some of the biggest schools in the southern region, there were so many people who would admit to me they had no idea the sport existed in their area.
"But, once they see it, or find that there are Irish dance schools and dancers in their area, those people have what I coin as, the 'I had no idea moment.'"
It's thes
e kinds of reactions that McQueen and the Walsh Kelley School thrive on, because they demonstrate a broadening shift in how the public views the Irish culture beyond the average clichés.
At the Walsh Kelley School of Irish Dance, students perform all over the region, dance at numerous high-profile events including the Charlotte Hornets halftime show, and, of course, the St. Patrick's Day Parade downtown (this year held on March 11). But, that's just the tip of the proverbial iceberg. The Walsh Kelley dancers have also shared the stage with musical greats like The Chieftains and Ian Anderson of Jethro Tull, to name a few.
Founded in 1998 by Áine Walsh Kelley, a native of Cork in Ireland, the purpose of the Walsh Kelley School of Irish Dance is to promote the art of the dance, but also, too, to enhance the skill set of each dancer.
"It's a tight cultural network, so deeply connected to Ireland," says Irish dance instructor Mary Elizabeth McQueen.
"The world of Irish dance is a family. There's a tight-knit bond between everyone who dances. Comparative to other competitive sports, it's such a small group of people. So, in a competition or age group almost everyone will know each other. Everyone roots for each other. We see each other at our best, and we see each other at our worst."
There are multiple levels to Irish dancing that one travels through, as well. It starts with what's called, Advanced Beginner. Next, is Novice. Then, Prizewinner. And finally, Championship Dancer.
These dancers are the dancers that compete regionally, nationally, and internationally. At the Walsh Kelley School of Irish Dance, classes are offered in three locations throughout North Carolina (Wilmington, Greensboro, and Charlotte) for all levels of dancers.
"The biggest thing I want to see within our students is enjoyment," McQueen says. "I want them to enjoy what they're doing. I want to see them enjoy being here, being part of the family. Next, I like to see they're actually trying. Every teacher wants to see that they care enough to try. I like to see that determination, that drive, to get things right."
The most satisfying payoff, she adds though, is knowing that Irish dance is appreciated even if it's not so much highly in demand year-round.
"There isn't a window in the community outside of Saint Patrick's Day for us to perform a lot of shows," McQueen says. "It is such a cultural sport, and it really is all about demand. Sure, once in a while we'll get hired for a birthday or visit a nursing home, but really overall our performances are saved for Saint Patrick's Day."
Irish dance, is, at its best, a peek into Irish culture. It's proof there's more to learn, more to enjoy, and more to take part in than tales of leprechauns, pots of gold, and shimmering green shamrocks.
To view more of photographer Terah Wilson's work, go to www.terahwilson.com.