Stepping In
Amanda Lee gets accustomed to new role at CFCC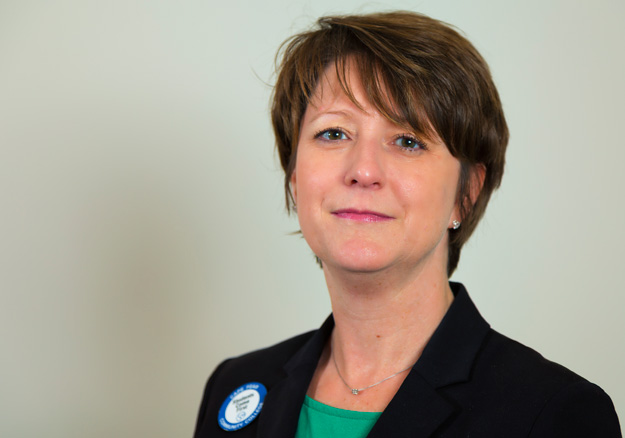 AMANDA LEE's getting used to a different rhythm than the one she had as vice president for instructional services at Cape Fear Community College, a position she's held since 2010.
But "it gets a little easier with each day" after she was an unwitting player on the stage of the unfolding drama at the college that landed her (like it or not) in the limelight last month.
Lee was first named acting president after former community college president Ted Spring abruptly resigned, contributing to a whirlwind of media speculation.
Less than a week later, Lee was unanimously approved by the college's board of trustees to become the interim president. No search for a permanent president is in the works, but if that does happen, Lee says she will apply.
In the meantime, she's getting busy learning her new job among colleagues she's worked beside since she came to CFCC as an instructor in 2003.
"In many ways, it's the same job on a bigger scale," she says of the transition from VP to president. But there are some changes, like her daily rhythm. For instance, as VP, Lee's schedule was often hijacked by unplanned events. As interim president – or at least a few weeks into the new position – her schedule has managed to stay on track.
During her decade at the college she has formed relationships that will help support her as she undertakes this new endeavor. And while Lee was very involved in many aspects of the college when she served as VP, she must broaden her perspective to more fully include, for instance, the business and financial sides of education.
Another change that comes with the interim presidency is that Lee will report to college trustees, all of whom undoubtedly have issues near and dear to them.
She's not worried, though. All boards have members that have their own personalities, interests, and agendas they hope to accomplish, she says matter-of-factly.
"I think if you're serving on a board you're doing it because you want to make a difference, and I don't think our board is unique to that," Lee says.
Working with a board, she says, is "definitely a new experience for me, but I have nothing but respect for the board members that we have, and I think that they are truly trying to do what's best for the community college and the community."
With the media attention seeming to wane, Lee wants to put the focus where she believes it's most important – the future. More specifically, she will turn her attention to matters that impact students, faculty, and staff and build quality programming and college sustainability.
She says that she has had tremendous support in this transitory time from colleagues in the North Carolina community college system. Her earlier participation in the system's leadership program, as well as her continued involvement in the system, has provided her with critical skills and a wide network of colleagues that will help her in her new role.
One of the unique characteristics of the community college system in the state, she says, is that despite there being fifty-eight colleges, they are connected and supportive and "they are rallying right now to support me, and that's not only comforting, but it's very helpful."
This support, she says, has bolstered her confidence as she moves forward.
She has been prepared for this leadership position, she says, by having formal and informal mentors, or those people she's admired, respected, and emulated, throughout her life. Chief among them, she says warmly, was her grandmother, Sarah Davidson, who loved Lee and believed in her. In addition, her father, Andy Keel, who lives in Richmond, Virigina, is an exceptional role model and an businessperson.
When asked to describe her leadership style, Lee says she hopes that people familiar with her style would say she changes it to fit the situation at hand. For instance, a person new to their job may need some more roll-up-your-sleeves, hands-on help, while someone who has grown in their position will require less direct supervisory involvement, thereby allowing them room to "spread their wings and fly".
Lee, the instructor, loves to nurture growth in students. There's nothing more gratifying, she says, than to stand before a group of students who are scared and uncertain and then, sixteen weeks later, to see them as competent, confident public speakers, because of what they learned in her class.
"It just doesn't compare to anything else I could do … I think in the community college setting more so than in any other educational setting we are building self-esteem just as much as we are teaching a discipline," she says.
Conversely, Lee the life learner, speaks about a lesson that is as relevant to her now as it was when it happened. Years ago, she had a student that Lee felt was making poor choices in her life. The student later died.
"My regret is that I did not intervene in a bigger way, and that changed my life because I had some opportunities, I feel … that maybe I could have shook her, maybe I could have done something more than what I did, and that we could have had a different outcome today," she says.
At the time, she felt like her role was to teach, and she wasn't sure how far should could cross over into the student's personal life. She's learned that sometimes the lines that separate personal and professional worlds need to be removed. The take-away: Don't miss an opportunity to do good.
Lee has stated that she wants to improve the relationship between administration and faculty, too.
She wants employees to be proud to work at the college and to look forward to coming to work.
While about two thirds of the employees were satisfied with their job in the latest survey, there's room for improvement.
To meet the needs of the students and the community, Lee will be involved in determining what new programs the college should undertake. For instance, two new programs – baking and pastry arts and interpreter education, which will prepare students to provide sign language translations of the spoken word – are being considered. There is a comprehensive process in place to determine how to meet these needs, she says, that includes looking at available jobs in the community and keeping up with regional employment trends.
When asked if she was nervous about taking the helm at CFCC, even on an interim basis, Lee says, "It is very important to me that I do not let people down and that I do the best job I could do."
To view more of photographer Chris Brehmer's work, go to www.chrisbrehmerphotography.com.