Staying The Course
Conquering chronic illness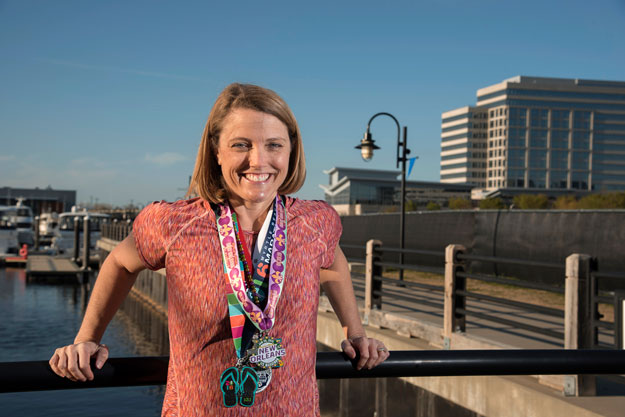 STACY JOHNSON pulls up the sleeve of her sweater to show me the insulin pump attached to her upper arm. It's a small white and blue box, innocuous. I wouldn't have ever guessed she was wearing it. She pulls out her smartphone, to show me the app she uses every day to control her Type 1 diabetes.
"The continuous glucose meter that I have sends directly to my phone. Right now, I'm at 166. Not great, but I can live with it," Johnson (above) says.
She shows me the remote control for the insulin pump. Everything is wireless now.
"When I eat, that's when I have to do the math a little bit. I have to know how many carbs are in the food I'm getting ready to eat. And this has a program, so it knows the last time I had something to eat, and can calculate that into the algorithm. It's so much more convenient than having to get the shot out. You don't have to prick your finger. That was crazy, I did that like ten times a day cause I always wanted to know. The technology is just amazing now," she says, rolling her sleeve down.
Type 1 diabetes makes up about 5 percent of all diagnosed diabetes cases in the U.S., according to the Centers for Disease Control and Prevention, and there is no known way to prevent the disease in which a person's pancreas stops making insulin.
For Johnson, it's not about just managing a chronic illness, but also maintaining an active life, both professionally and physically.
When she was first diagnosed, Johnson was an unusual case.
"Most people are diagnosed young," says Stacy Johnson. "That's why they call it juvenile diabetes, because they're diagnosed as a child. But more and more adults are getting diagnosed with Type 1. I was diagnosed at twenty-nine."
Johnson had just moved to Wilmington and was working at PPD, a contract research organization headquartered here.
"I didn't realize the symptoms, even being in the medical field," she says. "I had all the classic symptoms. I was very thirsty all the time, so of course I was also using the bathroom all the time. I lost a ton of weight just all of a sudden. You're eating a lot, because your body is craving sugar, because you're not using it."
At first, like any busy professional woman just starting her career, she chalked up feeling bad to work stress.
"I traveled a lot when I first started at PPD. I was always on airplanes, and I thought 'Oh, well I'm dehydrated cause I'm on the plane. I'm losing weight cause I'm stressed out," Johnson says.
"I remember telling my husband at one point, you know, it's the strangest thing," she recalls. "I'm eating candy bars all the time, but I'm losing weight. It's the coolest new diet!"
When she lost twenty pounds in one month, she finally went to the doctor, and her entire life changed. Monitoring carbs and sugar, carrying refrigerated insulin on the plane with her, always having food available – all these things took some getting used to. Even the act of going for a run requires bringing glucose tablets with her.
But, in general, life remains normal. She still works at PPD twenty years later, runs half marathons with her husband, cycles for JDRF, and chairs the mentoring program for the group's local chapter, pairing newly diagnosed families with support systems.
When Laura Padgett, who spent more than two decades on the Wilmington City Council, was diagnosed with Type 1 back in 1971, things were much different. The young woman, newly diagnosed at twenty-three, thought her life expectancy had suddenly been cut very short.
"I spent a good deal of the next ten to twenty years thinking that what I wanted to do with life might need to be done quicker rather than later," she says.
Padgett remembers one particularly tough year when her husband was in Puerto Rico on a study grant, and she needed to find work.
"I applied for, and wanted a job, and felt like I was definitely going to get it – until I had to reply to the health questions. Then all of a sudden the job was gone. I know that, in some circumstances, I was discriminated against because people didn't know what diabetes was," she says.
The atmosphere around the disease forty years later couldn't be more different. Johnson recalls that her workplace was actually where she learned about the Juvenile Diabetes Research Foundation, which is now called JDRF, because of co-workers who were also Type 1 and heavily involved in fundraising for the annual JDRF walk.
JDRF holds its annual fundraising gala May 20 at the Wilmington Convention Center, raising money for research and support like the mentoring program.
"I like volunteering with JDRF particularly because they're committed to finding a cure," Johnson says, shutting down her monitoring app and putting the phone away. "All these things are great, but they're not a cure."
To view more of photographer Michael Cline's work, go to www.michaelclinephoto.com.