Staying in Sync
Cape Fear River Rowing Club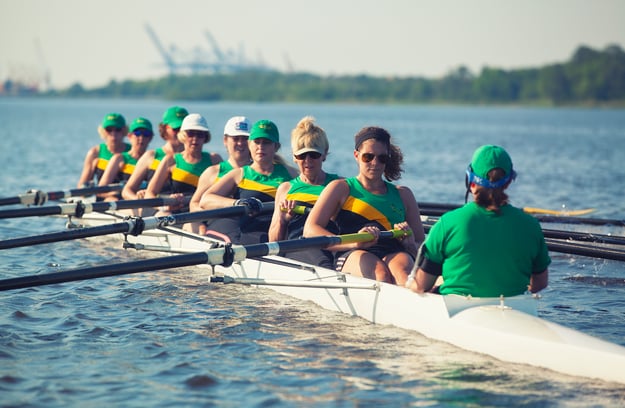 There's calmness when you are out on the Cape Fear River at dawn that only rowers can understand.
When the sun is glistening on the water, it is easy to let go of your daily troubles; your mind entirely focused on the craft at hand to stay in sync with your fellow rowers. If you fall out of rhythm, you risk slowing the whole group down. The oars make a simultaneous clicking noise as the rowers cut through the water.
MARY WOOTEN, a CAPE FEAR RIVER ROWING CLUB board member, finds the sound to be calming.
"It's really a spiritual, mental, physical, social, and emotional experience. You're on the water, and when you row no one talks – other than the person at the front," Wooten says. "All you hear is the oar click and push through the water. It's very meditative."
Wooten had always wanted to give the sport a try.
"I never experienced it until six years ago, when I was fifty-seven. To be able to find a new sport at this age and compete against people younger than I am has been really fun," Wooten says.
June is a big month for the club, with the team – nearly all women – planning to compete in races in Virginia.
One of those competitors, DANIELLE FOURNIER, first got involved with the CFRRC in the spring of 2012.
"I am originally from New Jersey and knew I would be moving to the Wilmington area after I graduated from college," Fournier says. "I had rowed in high school and college and knew that I wanted to continue the sport."
If you have never rowed before, the club suggests attending National Learn to Row Day, which takes place this year on June 7. The club participates in the national event with free activities all day.
"The purpose of this event is to bring national awareness (to rowing). Clubs from all over the U.S. participate, with competitive and recreational rowers ranging in ages from twelve years to over ninety years," Wooten says.
The introduction to the sport will help people decide if they have interest and physical exertion needed for other four-day classes held throughout the year.
TANYA MALACINSKI came across the club out of interest while searching online and went to the National Learn to Row Day and followed up with classes.
Malacinski admits she was nervous the first time she tried it out.
"I was apprehensive and afraid I would not be able to master the stroke," she recalls.
"It looks a lot easier than it is … Luckily all of the other members were also beginners, so we were all able to learn together."
National Learn to Row Day
Saturday, June 7, Wilmington Marine Center,
3410 River Road
For more info: www.capefearriverrowingclub.com
To view more of photographer Chris Brehmer's work go to www.chrisbrehmerphotography.com.