Staying Connected
Navigating relationships and deployments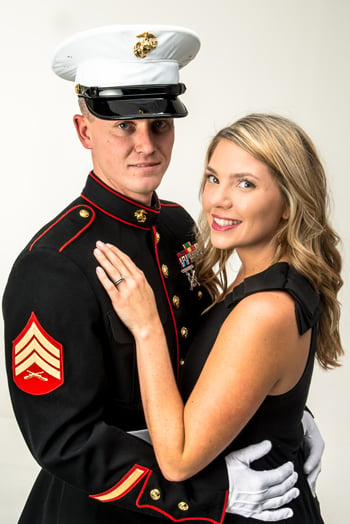 When ERIKA DORRE met the love of her life, he was dressed as Batman.
It was Halloween at East Carolina University in 2007. Erika, a native of Hampstead and a student at University of North Carolina at Greensboro at the time, was visiting her best friend, Leslie Lewis, and had come dressed as a game of Twister. The Batman in question was FRANK "MAX" DORRE, a Marine whose best friend was dating Leslie at the time.
Erika and Max, however, would not begin dating, until nearly two years later, after they walked down the aisle as groomsman and bridesmaid in their friends' wedding.
Since then, the couple also has gotten married and withstood three deployments, the first of which came just three months into their relationship when Max was stationed in Djibouti.
Despite being fresh into their relationship at the time of Max's first deployment, Erika felt that "there was just something about him."
"I wasn't really prepared, I didn't really have any other support," she says, "(But) during that time you learn about yourself. Even though you don't communicate often, when you do … you're actually getting to know the person."
As for herself, Erika says she always thought she was "a weak person" until the test of that first deployment. By the time Max returned home in the fall of 2010, not only had she begun to fall in love with him, she had discovered within a newfound strength and discipline.
Four years and a wedding later, Erika Dorre, now 25, carries that self-assuredness with a large helping of charm.
While many newlyweds spend their first year of marriage eagerly checking off firsts: first Christmas and first New Year's, first anniversary and first birthdays. But by the time Max returns in June, Erika will have celebrated many of those milestones alone.
Long and frequent deployments have become a trademark of military marriages, and the accompanying statistics can be daunting. A study sponsored by the U.S. Department of Defense found that long deployments are linked to an increase in the risk of divorce, with the rate higher for female service members. In fact, enlisted female soldiers maintain the highest divorce rate out of all members of the armed services, at 9.4 percent.
Erika says her husband recognizes that, this time around, the deployment may be harder on her than it is on him. While he is stationed in Afghanistan (his second tour in the country), she will be charged with keeping the home the two recently moved into, as well as their two dogs, and taking full time courses at University of North Carolina Wilmington to complete her bachelor's degree in psychology.
"It never gets easier," she says. "You think it would, but it doesn't."
Even with a marked increase in communication compared to his last deployments and the support of family and friends, Erika finds living in the house she shared with him particularly challenging, making his absence feel more constant than in the past. Like many couples that must live apart, keepsakes take on an added significance; little things, the evidence of the life they've shared together and to which they'll return.
"I wear his T-shirts every night and spray his cologne," she says. "I sometimes even wear it during the day. I have his dog tags that, every now and then, I hold just to carry them with me. It's like he's with me."
To keep positive and focused, establishing a routine has been helpful since the first deployment, Erika says. Military spouses left to take care of the home often find themselves with one foot in the civilian world and one in the military, needing to strike a balance between the two to care for their spouses, families, and careers.
Erika is grateful for the routine: he is able to call and Skype regularly with her on most nights, but she also has thrown herself into schoolwork and volunteering at a local retirement community, where she says the support of the World War II veterans is especially encouraging: "Every day, they tell me how strong I am."
For now, Erika Dorre is looking forward to her husband's return this summer. With three deployments over the five years they have been dating, the couple has learned to fit a lot into their time together. She looks forward to going to Texas to see family, and then spending time in California with Leslie and Blake Lewis – the couple that brought them together.
And maybe even a Batman tattoo.
"I won't get a tattoo of his name on me," she laughs. "But I would put a little Batman for him."
To see more of photographer Victor Abraham's work go to www.HeartsApart.org.