State of Mind
In her cabinet post, Susi Hamilton is in charge of North Carolina's cultural and historical offerings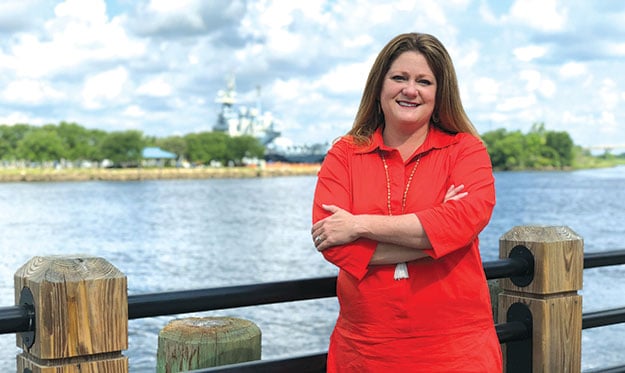 What has twenty-seven historic sites, seven history museums, two art museums, two science museums, three aquariums, thirty- nine state parks and recreation areas, the North Carolina Zoo, the nation's first state-supported symphony orchestra, the state library, the state archives, the North Carolina Arts Council, the African American Heritage Commission, and the Office of State Archaeology, along with the Division of Land and Water Stewardship?
That would be SUSI HAMILTON's office.
The Wilmingtonian has headed up the North Carolina Department of Natural and Cultural Resources since January 2017. In the job, she oversees a budget of $230 million, nearly 2,000 employees, and more than eighty boards and commissions. Each year, the agency welcomes more than 35 million visitors to its various attractions across the state.
"It's a big ship, but it works," says Hamilton, who gave up her legislative seat to take the state cabinet-level post. "We are stewards of our parks, historic sites, the zoo, the aquariums."
The department, the result of a merger in 2015 of separate entities overseeing natural resources and cultural resources, has authority over a broad range of North Carolina's treasures and is an advocate for historic preservation, environmental conservation, and recognition of the state's rich cultural heritage.
Scattered throughout the lower Cape Fear region are sites managed by the department. The most visited-ones are Fort Fisher State Historic Site, Brunswick Town, North Carolina Aquarium at Fort Fisher, the North Carolina Maritime Museum at Southport, and of course, the Battleship North Carolina, which is moored very near Hamilton's downtown Wilmington home.
The agency received $75 million of the $2 billion Connect NC Bond that voters approved two years ago.
Locally, that funding is seen primarily in two projects: installation of a wave attenuator – a device that reduces wave strength – to slow erosion at Brunswick Town and a new visitors center at the Fort Fisher site.
That visitors center is badly needed, Hamilton says, pointing to both the age and condition of the structure and to the rise in visitation.
"In 2007, Fort Fisher Historic Site had 553,000 visitors. In 2017, it had 835,000," she points out.
Of the $75 million in bond money allocated for her department, $25 million was earmarked for a major upgrade of the North Carolina Zoo, Hamilton says.
"Our zoo is the biggest (walk-through) in the world in terms of land and has one of the largest conservation programs as well," Hamilton says. "It's our job to invest in it. And look what having the zoo in that part of the state has done for the area's economy."
While Hamilton often talks about big-picture issues and projects the state agency is involved with, there is plenty of small-picture focus as well.
"In September 2017 we started, under the governor's leadership, a program called Hometown Strong. There are a hundred counties in North Carolina; eighty of them are Tier 1 or Tier 2," she says, referring to the classifications of counties' levels of "distress" with Tier 1 being the highest.
"We identified six rural counties and have taken leadership from all cabinet agencies and established an action team," Hamilton says.
That team visits the counties in the pilot project, asking them what kind of help they need to boost economic development. In addition to issues that might be obvious, such as marketing and infrastructure, some needs have been things like improved public safety and broadband service to enable students to complete their homework, Hamilton says.
"It's been transformational so far," she says. "We're using existing resources. Hometown Strong requires no extra money, no legislation. We really engage these communities. We plan to expand the program to another set of counties soon."
How does Hamilton manage a Raleigh- based job and a Wilmington-based family life? She makes the challenge sound less like a juggling act and more like a routine.
"I'm in Raleigh on Mondays and sometimes on Tuesdays; I travel most of the other days, visiting sites and making presentations," she says. "When my travels are not far away, I'm at home at night. My husband is very involved. Our thirteen-year-old enjoys it. Sometimes, when I'm traveling in the eastern part of the state, she goes with me."
Making the most of the state's natural and cultural amenities is a job that Hamilton, with her background in economic development and in the state House, clearly enjoys. She knew Cooper through party connections and expressed an interest in the position, says Hamilton, who represented New Hanover and Brunswick counties from 2011 to 2017 in the General Assembly.
"I worked for the department for more than a year in the '90s, so I was familiar with the department, and I had legislative experience, which (Cooper) valued. Early on, a couple of (Republican) senators expressed support and confidence in me," says Hamilton, a Democrat. "It sort of fell into place."
Want more WILMA? Sign up for our WILMA Weekly email and announcements at WILMAOnTheWeb.com.