Stargazers
Cape Fear Astronomical Society turns people onto the skies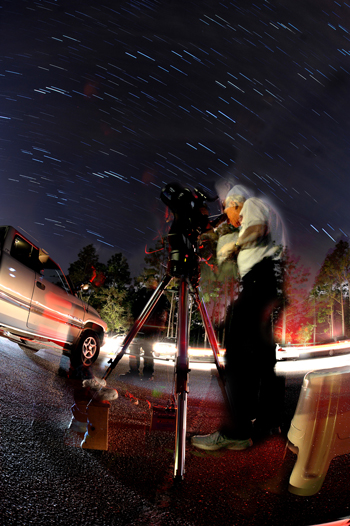 As children, most of us spent a fair amount of time looking at the night sky. We counted stars, looked for constellations, made wishes. But for many people, our interest in the cosmos didn't end as we grew up.
The crowd at the North Carolina Star Party on April 5 was a mixed bag of children and adults.
Members of the Cape Fear Astronomical Society set up their telescopes at Arlie Gardens and Carolina Beach State Park to assist attendees in viewing stars and planets with high-tech equipment. This year, the event kicked off the three-week North Carolina Science Festival.
When I arrive at the Carolina Beach State Park site, there is already a crowd gathered around two high-powered telescopes, although it isn't quite dark enough to use them yet.
Park ranger Carla Edwards herds the crowd indoors where she has free planetarium software set up on a projection screen. Children and adults name stars, planets, and constellations, and Edwards brings them up on the screen, which is positioned to show the sky at the angle we in Carolina Beach would see it.
Back outside, Cape Fear Astronomical Society President Terry Herrin positions his telescope to help a line of people view the planet Jupiter. We see the darker bands on the planet's surface and all four of its moons lined up, two on each side. For someone who's never used a high-powered telescope before, the sight is incredible.
Ronnie Hawes' more complicated set-up (a Newtonian reflector with a ten-inch mirror) is locked onto the star Betelgeuse. Betelgeuse is the eighth-brightest star in the night sky and more than 500 light years away. Viewed through the telescope, the star glimmers a spectrum of colors.
If you need proof that adults are still interested in stargazing, you only have to go as far as the nearest online app store. As we waited our turns for the telescopes, people held their smartphones up to the sky to locate astral points of interest, sharing the screens with those around them.

Cape Fear Astronomical Society member Thad Coin's
picture of M51, the Whirlpool Galaxy, taken from his
backyard in Wilmington. (Contributed photo)
The Cape Fear Astronomical Society (CFAS) has about twenty-five members and meets the first Sunday of every month – barring a holiday – at the Unitarian Universalist Fellowship church on Lake Avenue. Meetings begin with business such as observing reports and upcoming events, followed by a program or presentation of some sort. Recent presentations have included viewing City Dark a documentary on light pollution and guest speaker Tom Fields discussing amateur spectroscopy. People join "to spend time around others who share a common interest," Herrin says.
Aside from monthly meetings, the CFAS holds members-only viewings at dark sky sites such as Holly Shelter, Mooretown, or Yamacraw; public viewing events like the Star Party in and around Wilmington; and telescope clinics where people can bring their telescopes to have CFAS members demonstrate how to use them own. You don't have to own a telescope to join the society – many members do and are more than willing to share. The CFAS also hosts "gAstronomy Society" meetings where members meet at local restaurants for dinner and astronomical conversation.
To view more of photographer Jeff Janowski's work, go to www.jeffjanowski.com.