Standing Up
Assistant District Attorney Lindsay Roberson's crusade against human trafficking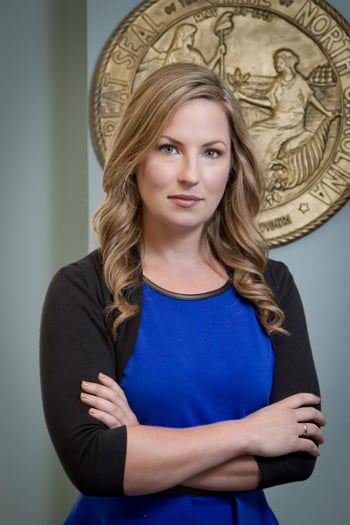 T

he young, beautiful woman sat in Wilmington Assistant District Attorney Lindsey Roberson's office and cried, tears marking her cheeks behind dark sunglasses.
The stigma she felt from her prostitution charge was weighing heavy on her mind.

"She was so articulate, and she explained the addiction of sex trafficking so well, better than I could. She said, 'He's my drug. I can't get away from him!' " Roberson recalls. "It's the trauma bonding. These girls might not be chained to a radiator, but there are still chains – invisible chains."

The elemental difference between sex trafficking and freelance prostitution is in who has the control and who is keeping the money, Roberson says. If a girl or a woman is being forced or coerced by a pimp to perform sex acts without monetary gain, that's trafficking.

Even though a pimp may beat her, sell her, and keep most of the money, the finest "crumbs of love" will make a trafficked woman stay, Roberson says.

Educating law enforcement, injecting hope for victims of sex trafficking and fear for the perpetrators of it in North Carolina has become 31-year-old Roberson's mantle.

"I have a heart for the other – people who are exploited and forgotten. These girls are hidden in plain sight in our communities," she says. "All along, God has just put people in my path to help me do this work."

State Sen. Thom Goolsby, R-New Hanover, this year in the General Assembly introduced a 37-page Safe Harbor bill (Senate Bill 683) that Roberson helped write. The bill would allow prostituted women to wipe their records clean of prostitution charges and would instill harsher penalties for pimps. It passed the Senate this spring and as of June sat in a House committee.

In April, Gov. Pat McCrory signed the Sex Trafficking/Sex Offender Registration measure into law – another issue Roberson had promoted – requiring people convicted of human trafficking to be registered in the sex offender and public protection program.

Goolsby calls Roberson "a hero in the movement to end sex trafficking in our state."

Roberson is a fast-talker, a quality to her advantage in May when she had three minutes to testify to legislators on the Safe Harbor bill. Joining her in that testimony was a woman who was trafficked as part of a porn video operation when she was in high school.

Though state officials don't know how many sex trafficking victims flow through the state yearly, the North Carolina Coalition to Combat Human Trafficking ranks North Carolina in the top 10 states for the problem. The convergence of three major highways connecting much of the East Coast, the state's large transient military population, agricultural roots, and ports in the Cape Fear region all make it attractive to traffickers, Roberson says.

But Roberson comes naturally by her steadfastness.

She grew up partly in Florida and North Carolina. After her father died when she was ten, her mother raised her alone. Roberson worked to get through college, studied abroad in Spain, and used her language skills to volunteer as a translator in a local hospital, translating in more than fifty births.

Along the way, she became a kickboxer and has a mean right hook.

But Roberson's interest in trafficking started with The New York Times columnist Nicholas Kristof and articles he wrote about sex trafficking while Roberson was at the University of North Carolina at Chapel Hill.

Once she graduated law school and went to work for a New York law firm, she represented women who had been trafficked from Mexico.

Roberson is also on the board of a new faith-based effort in Wilmington called the Centre of Redemption, which houses pregnant teens and teen moms from across the country who are also trafficking victims. And she recently spoke at a new sex trafficking rescue ministry in the area called Five14 Revolution.

In the past fourteen months in Wilmington, she's knocked on doors of police and senators, churches and judges trying to educate about the problem.

"For me, if I don't feel like I have a purpose, I'm lost," she says of her move to public service. "I have to feel like I'm contributing, and there's a purpose."

Roberson's boss, District Attorney Ben David, believes she's found her purpose here.

"What she has done, more than anything, is change the consciousness of some in the community including law enforcement to focus on this issue in a different way," he says. "When someone is being prostituted and trafficked, we should do whatever we can to prosecute the pimps. It's far worse to deal in people than in drugs. It really is modern-day slavery."

Roberson now teaches a continuing education class for Wilmington Police Department officers on spotting human trafficking in the community and has spoken across the state on the issue.

"I will try every John case until I'm blue in the face," she told members of Five14 Revolution in May. "It's hard sometimes to get law enforcement to care about arresting a pimp because they know he'll probably just get unsupervised probation."

That's why she hopes the Safe Harbor legislation provision that makes a second pimping offense a felony will help stem the flow of trafficking in the state.

Roberson acknowledges that changing the perception of prostitution is an uphill battle. But she doesn't plan to stop trying anytime soon.

"Prostitution is not just the oldest profession," she says, "but it's the oldest oppression, and it has to stop."
Comments
comments