Sprouting Up
Community gardens grow more than just fresh produce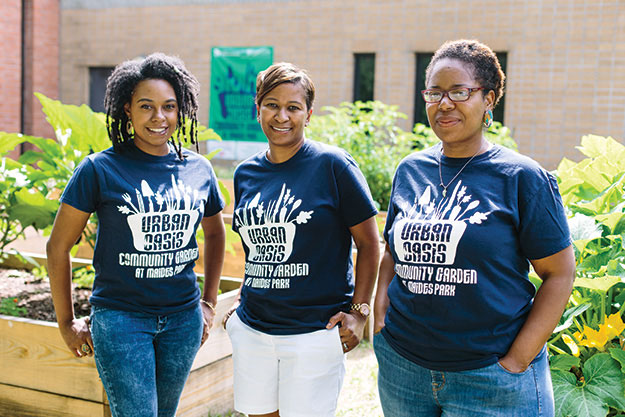 Unknown to many, Wilmington is home to numerous community gardens, each with its own unique story and purpose.
"It's been a series of miracles," says David Brenner, founder of Wilmington Green and a master gardener. According to Brenner, Wilmington Green was created in 2014 after a New Hanover County planning meeting where community gardens were discussed as a top priority. He was told that community gardens often failed after two years in Wilmington.
Det
ermined, Brenner researched several proven models to bring sustainable community gardens back to the area. With the help of donor partners such as Cape Fear Realtors and Live Oak Bank, Wilmington Green now has six successful community gardens around the city.
"I'm a mechanical engineer, kind of introverted person, never did anything like this my whole life, but it just seems like it's as easy as falling off a log because it's just such a worthy purpose," Brenner says.
One of Wilmington Green's community gardens, the Elements Garden, serves at-risk children in the ELEMENTS program, which is a project of the New Hanover County Sheriff 's Office. Another garden at Devon Park United Methodist Church serves fifteen neighboring Burmese refugee families that live near the church and "have agricultural backgrounds and really enjoy gardening," Brenner says.
"They can be just a wonderful thing for community building while making the property more valuable as well as growing the vegetables," Wilmington Green founder David Brenner says about the neighborhood plots.
The organization recently helped start a garden with New Hanover Regional Medical Center, located next to its Heart Center Outpatient Services building on Physicians Drive.
Near that garden is the SECU Family House (right), a place for guests and loved ones of patients who travel to receive their medical care at New Hanover Regional. SHELLY KINDER, the outreach coordinator at the SECU Family House, says that some of the produce goes to the families staying there.
"They really come here and don't have the opportunity to have that hearty, healthy meal while they are here because they are going out to fast food; no one wants to cook," Kinder says. "This has just been a really good thing to bring back to the house and have available for them."
She says the goal was to first reach out to the hospital's volunteers and employees so they could lead the way in growing and utilizing the fresh produce. Four volunteers currently take care of the garden on a weekly basis and, according to Kinder, the family house staff helps out often.
ANA ZELLER, NHRMC's wellness dietitian, hosts healthy cooking classes to help employees meet their nutrition goals. Zeller has been an essential part in the garden's utilization by using the fresh produce in her nutrition classes.
The next step is for clinical nutritionists at the Heart Center and Zimmer Cancer Center to incorporate the garden into their lessons with patients.
"A lot of times you know when you are recovering from heart disease and if you are battling cancer, diet is such an important part of it," says EILEEN MCCONVILLE, NHRMC's director of volunteer services.
Another recently established community garden can be found in Maides Park. Cape Fear Habitat for Humanity partnered with the City of Wilmington and local AmeriCorps representative QAILINN BOWEN to create a garden that facilitates a strong and healthy community. Organizers held a groundbreaking ceremony for the "Urban Oasis Community Garden at Maides Park" in March.
Getting access to fresh produce and vegetables is nearly impossible without a car in the East Wilmington area, says KATRINA HARRELL, Habitat for Humanity's community development coordinator. Although it is a young garden, local residents have started picking the produce and delivering it to some of the families in the community.
"We recognized that this community has a large number of elderly individuals who don't have transportation to get back and forth to grocery stores, so that coupled with just the want to create an atmosphere of engagement and community prompted us to want to create a garden," Harrell says.
Habitat for Humanity is also starting an Urban Oasis Garden Club to get nearby residents more involved. Harrell says the club's primary purpose will be to take care of the garden, create a working schedule, plan different planting seasons, and distribute food.
The nonprofit is also partnering with the North Carolina Cooperative Extension to design educational programming to teach master gardening certifications to those who are interested.
"That will allow individuals within the community to learn more about farming and how to grow your own food and healt
hy eating," Harrell says.
Perhaps the most important educational piece that the garden provides is to the young children who tend the garden during an after-school program. LATASHA SINGLETARY, recreation supervisor for the city's parks department, says it provides an opportunity to teach kids about agriculture.
"We thought," she says, "it would be a good component to get the kids exposed to things they don't normally see on a daily basis, very hands on with the planting and the harvesting."
To view more of photographer Lindsey A. Miller's work, go to www.lindseyamiller.com.