Spring Forward
Spring it on!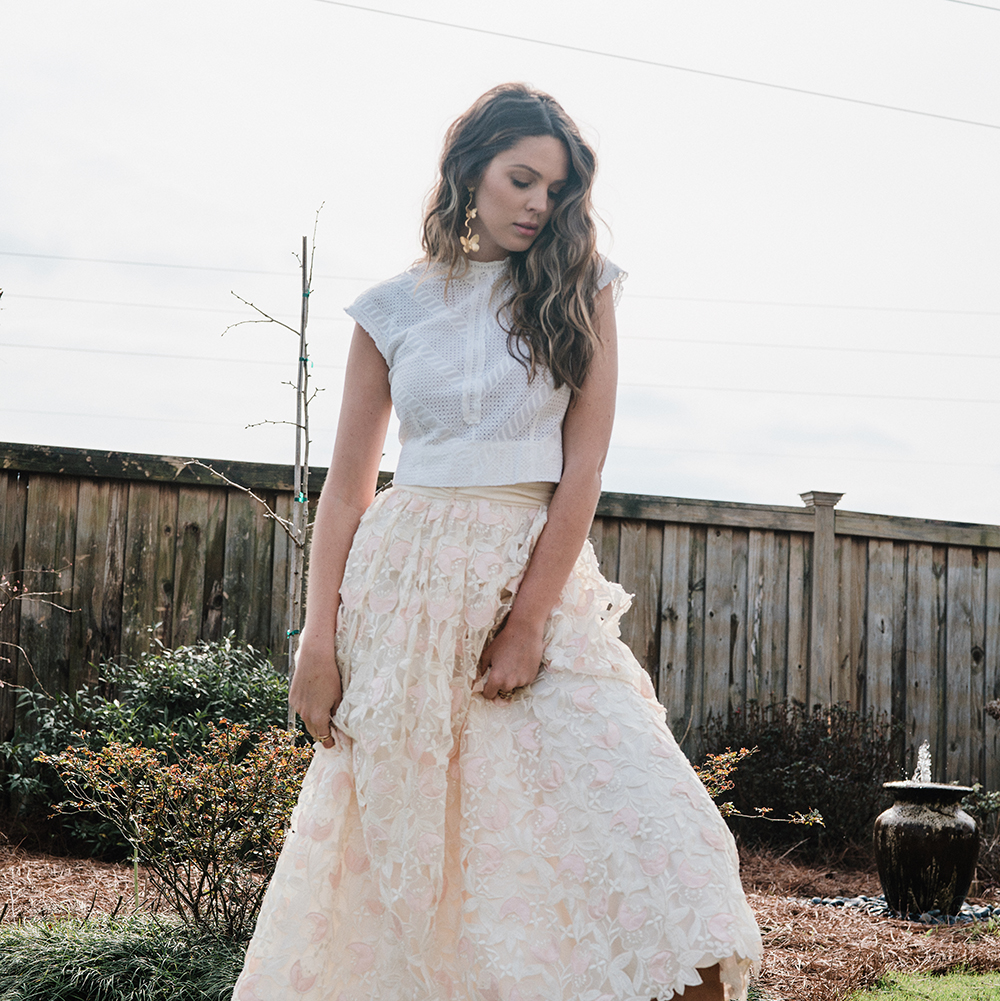 When spring finally rolls into town, we're all ready to kick off those layers and dare to bare. Playing upon the transparent trend of last fall, sheers are here to add a little lightness to your wardrobe. Pastel shades make for a feminine, elegant look, and pleated or ruffled accents can easily be dressed up or down.
For an edgier take, amp up your usual LBD with a touch of transparency. And, if modesty is a factor, try more translucent prints or textures to keep you from feeling too exposed.
Still feeling skeptical? Being chic and sheer extends past the hanger. Look for scarves, cover-ups, or even shoes that have a little peekaboo action, and you'll have this trend (un)covered.
Caballero sheer pink BLOUSE, Stateside nude BODYSUIT, and Frame high-waist JEANS, all available at Oliver; Boho Beads NECKLACE, available at Monkee's of Wilmington; Atalanka bronze bar NECKLACE, available at Hallelu
Self Portrait DRESS, available at Oliver; gemstone RINGS, gold RINGS, and gemstone NECKLACE by Melissa Tyson Designs
'60s eyelet TOP and '80s Rina d'Montella lace SKIRT, both available at The Wonder Shop; Yochi gold butterfly EARRINGS, available at Monkee's of Wilmington; gemstone RINGS by Melissa Tyson Designs
Level 99 cargo PANTS, Spell & the Gypsy penny TEE, hand-dyed peach BANDANA, Rosetta and Ocean Light NECKLACES by Spectrum, and Poppy & Co woven PURSE, all available at TUSC; Ritz Accessories Collection vintage BELT, available at The Wonder Shop
Misa Los Angeles floral DRESS and gold EARRINGS, both available at Monkee's of Wilmington; gold cuff BRACELET, available at Island Passage Lumina Station
MODEL: Hannah Hazelton (Directions USA)
HAIR: Elisha Smith (Blush Haus of Beauté)
STYLE ASSISTANT: Regan Goodnight
WARDROBE: Hallelu, Island Passage Lumina Station, Melissa Tyson Designs, Monkee's of Wilmington, Oliver, TUSC, The Wonder Shop
LOCATIONS: Pender Pines and home of Don and Laurel Senick
To view more of photographer Melissa Hebert's work, go to melissahebertphoto.com
Want more WILMA? Click here to sign up for our WILMA newsletters and announcements.