Spirit Spooks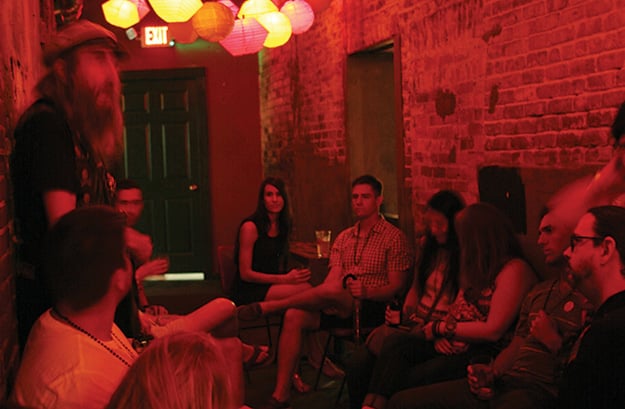 I should start off by admitting I don't believe in ghosts. When the magazine asked me to go on the Haunted Pub Crawl, I thought the best way to counteract my natural, mood-killing skepticism might be to surround myself on the trip with friends who are a bit more … enthusiastic than me about the possibility of lost souls and angry ghouls. So a particularly dark and stormy rainy Saturday night found me and four of my closest compadres waiting in a packed The Liquid Room for the ghost hunting to begin.
I needn't have worried about being surrounded by enthusiastic ghost-seekers, this town is chockful of them. The Haunted Pub Crawl evolved naturally from the more family-friendly Ghost Walks that Haunted Wilmington also runs – the company does several Ghost Walks around town a night and a Hollywood locations walk if you're more into knowing which sewers made it into the Teenage Mutant Ninja Turtles movie. The people waiting with us that evening were a young crowd: a few Marines and their girlfriends, newly married couples out on date night.
Our guide that night, John Henry Scott, is someone I know from the comedy open mics around town and his general status as a downtown wizard. One night at the Juggling Gypsy he referenced having been in a Cajun band; I don't know if that was before or after his run as America's Favorite Clown, Ronald McDonald. With his long, varied acting career, and his resemblance to a thinner Dumbledore-gone-biker-pirate, Scott seems emblematic of the spirits of Wilmington and the perfect guide to the ghosts of a Saturday night.
It's not hard to believe Wilmington is haunted. How could it not be? This was not a peaceful town of farmers – this was a bedlam port of pirates and pine tar barons. Sailors of the 1800s were not known for being nice to each other when drunk. There are a multitude of historical murders to choose from, but which ones get the ghosts?
Turns out it's the bloody ones. The ones in dark corners that, one hundred years ago, were scenes of grisly murder, but now house pool tables and Fireball paraphernalia. In between the gristle and gore, there's lots of town history and cheesy jokes thrown in the mix, to satisfy the nerd in me.
Now I swore to John Henry, somewhere in the basement of Growlers Tavern and definitely a few whiskey gingers in, that I would not, upon sacred pain of death, divulge the secrets of the Haunted Pub Crawl. So no spoilers. I will say this: The crowd was hooked early. These people were ready for ghosts. Before we'd left the first bar, people were sharing ghost videos with fellow strangers on their smartphones. By the last bar, we knew not only the names of all our ghost hunter comrades, but their marital status, places of employment, and feelings about their mothers-in-law.
From possessed disco lights, to hotel fires, to serial killers, there's something for everyone. If, like me, you bring along certain wonderful friends who have a predilection for plying you with whiskey, by the end of the night, you might fancy you're seeing some pretty strange things down brick-laid alleyways, under the lacey light of a stormy moon.
Of course, it is downtown, on a Saturday night, so strange is a matter of context.