Spelling Bee-r
Weekly Drink & Spell adds twist to bar games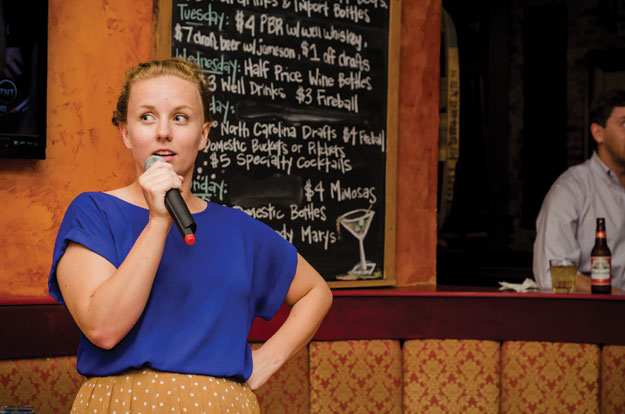 Paste. "P-A-S-T-E." Correct.
The opening word rings out in The Husk's weekly competition that marries the precision and intellect of a traditional spelling bee and the banter and jest of pub trivia: Drink & Spell.
Wilmington-native and host of each week's competition Walker Payne invented the contest while studying theater at the University of North Carolina.
While working for a bar in Chapel Hill, Payne, with a bent for the dramatic, brainstormed ways to spice up traditional bar activities.
"We decided a spelling bee in which there is drinking involved could be hilarious to watch," Payne says.
The spelling bee with a twist operates in a simple fashion: the word selection – and hopefully the drinks – get harder with each round until there is only a single speller left standing (or swaying). The first-place winner receives a $50 gift card to YoSake, the sushi bar above The Husk, and a $50 bar tab goes to second place.
As if having access to a full bar doesn't shake up the competition enough, Drink & Spell also utilizes a bucket of challenges that are handwritten by the contests, bar staff, and entertained onlookers for the participants to use as a one-time lifeline for flubbed spellings.
"I give everyone at the bar before we start a piece of paper, and I tell them to write something silly on it, like a dare," Payne says. "So anyone at the bar can write whatever they want, and the participants can do what the paper says if they get a word wrong."
Questionnaire. "Q-U-E-S-T-I-O-N-A-I-R-E." Incorrect.
The misspeller reaches into the challenge bucket: "Put lipstick on a person of your choice without using your hands."
He graciously accepts, using the bend of his elbow to apply lipstick to an innocent bystander.
"One time a guy couldn't name five African nations, so he was out," Payne says of the challenges. "But one time I had a girl actually cut her pants into shorts while she was on stage just to stay in."
The selections of words advance by grade level starting with fourth grade, and as the rounds progress, players are eliminated speller by speller.
Conscientious, incandescent, aficionado, soliloquy, cantankerous, and anachronism are all words that bring participants to their elimination round. Some are able to redeem themselves with challenges, and others chose to bow out.
One participant willingly accepts the challenge to "Do your best elephant impression," while another thinks it best to face defeat instead of "Drink ten PBRs."
The competition this night ends in the eleventh-grade round with a word that any rising senior with their sights set on college should be able to spell: baccalaureate.
Drink & Spell at The Husk, 31 South Front Street: Wednesday nights at 8:30 p.m. Register to compete 7:30-8:30 p.m. with a drink purchase.
To view more of photographer Erik Maasch's work, go to websta.me/n/emaasch