Southern Exposure
Dermatologists' tips on skin and the summer sun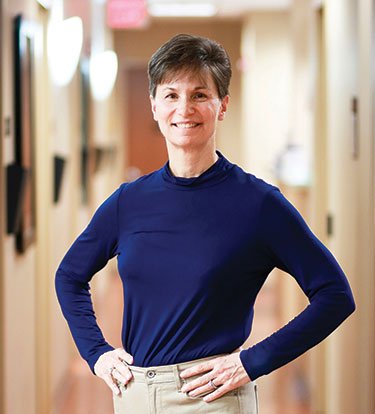 Living in a beach community, many anticipate warm summer days spent outside playing in the sand, enjoying a boat ride or relaxing poolside. While those outdoor activities are fun, they also come with the risk of sun exposure which can cause wrinkles or even skin cancer if the proper precautions are not taken.
DR. LAURA TANNER, a board-certified dermatologist at Wilmington Health, sees a lot more melanoma cases now compared to when she started practicing 27 years ago. Melanoma is the most life-threatening type of skin cancer.
A person's lifetime risk of skin cancer depends on the cumulative amount of sun they're exposed to and how they're exposed to it, Tanner says.
"When something happens over a period of time, it's hard to believe it's ever going to happen to you. So, each little exposure to the sun you get another dose of radiation that adds up to maybe being a skin cancer," she explains. "And over a lifetime, the person's individual dose of radiation depends their hereditary: the type of skin they have, how fair it is, the type of job they do, how much sun exposure they get, what they do for fun outside."
With the incidence of skin cancers on the rise, people are finally becoming more aware of the dangers of skin cancer, says DR. LINDSEY PROCHASKA, a medical oncologist with New Hanover Regional Medical Center Physician Group – Cape Fear Cancer Specialists.
"There has been a large push worldwide in regard to awareness, but of course we still have a very long way to go," says Prochaska. "There are plenty of people out there who do not understand the dangers of chronic sun exposure or UV radiation in general, which is evidenced by the fact that people are still going to tanning beds. For me, it is hard to watch because I know the morbidity and mortality that come along with skin cancers."
Doctors are not discouraging people from spending time outside, from the surf to the sand. Instead, board-certified dermatologist VAISHALI ESCARAVAGE wants people to recognize the importance of applying sunscreen before partaking in outdoor activities and remaining aware of the need to re-apply sunscreen while enjoying those activities.
"My colleagues and I at Dermatology Associates have always had the motto, 'Do what you love, but do it safely.' We completely realize and embrace that we live in an outdoor-oriented town that allows for lots of activity in the sun. I would never tell someone not to play golf or tennis or not to boat because of sun exposure," explains Escaravage, who has been practicing nearly ten years.
With store shelves displaying dozens of different sunscreen options, picking out the right one can feel daunting. Dermatologists recommend a broad-spectrum UVA/UVB sunscreen that has an SPF of at least 30. A waterproof sunscreen is key for those who plan to be in the water or participate in an athletic activity.
"Any area that is exposed to the sun needs sunscreen. In this part of the country, I recommend that people wear a moisturizer with sunscreen on the face, neck and forearms daily. Even driving in the car, we get sun exposure daily. Our warm, sunny climate is amazing, but it does mean more attention to daily sun protection is necessary," says Escaravage.
Children tend to be very active and may need more frequent re-application of sunscreen because they sweat it off or spend lots of time in the water, Escaravage says. The best practice is to apply a broad-spectrum sunscreen 30 minutes before going out and then re-applying it approximately every two hours of exposure.
"Some parents prefer 'baby' formulations of sunscreen, which can be more mineral based. I always caution parents about being more vigilant with re-application of these products because they tend to wash off more and give less protection than a combination of physical and chemical blockers," Escaravage advises.
In addition to sunscreen, dermatologists suggest wearing protective clothing, like a rash guard when swimming, sunglasses and a hat; it's also wise to stay under covered areas, like a beach umbrella, when out of the water.
"I have just as much fun being covered up as I did when I was lying out in the sun when I was a kid and didn't know better," Tanner says. "People just associate doing those things with not having as much fun. It does take time away from what you're doing to be careful, but it's your health. You see people and they have the perfect beach body but what good will it do them if they get cancer?"
To view more of photographer Terah Wilson's work, visit terahwilson.com.
Want more WILMA? Sign up for our WILMA Weekly email and announcements at WILMAOnTheWeb.com.