Soil for the Soul
Heather Kelejian looks to grow the Ability Program's reach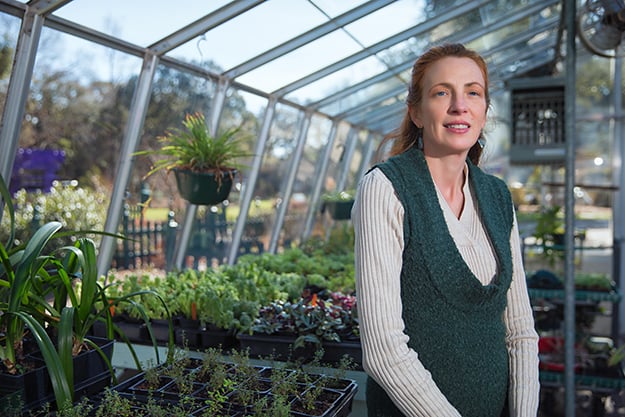 It's a rainy Monday morning at the New Hanover County Arboretum on Oleander Drive. Shielded under a gazeebo are four students gathered around a work table busy potting sage, thyme, and wiregrass.

"We get nice and messy," says Sequoia Goodwin of Mosley Performance Learning Center, who rides the bus with her classmates on Mondays to the arboretum. "We make sure the plants are nice and safe so they can be sold."
The plants are for the arboretum's upcoming plant sale, and the students each have special needs. Every week groups such as Sequoia's meet at the arboretum for gardening sessions designed just for them by nonprofit organization the ABILITY GARDEN.
The Ability Garden uses gardening, or therapeutic horticulture, to reach area youth and adults with disabilities. It's run by program director HEATHER KELEJIAN, who came on board fourteen years ago after a master gardener college course introduced her to the concept.
"I had never heard of therapeutic gardening before. It interested me, realizing you can take the love of plants and nature and share that with other people and see the impact it has on their lives," Kelejian says.
Benefits of gardening, specifically for those with special needs, are significant and can include improved motor skills, enhanced creativity, increased social skills, and improved self-confidence.
"A child with a cognitive disability can take a plant home, put it on their windowsill, and check on it every day, and it becomes their thing they did themselves," Kelejian says. "It's a sense of accomplishment, and that's something they don't usually get to have in their lives."
Digging in the dirt can also reduce stress for a child and help them cope with anxiety and frustration.
"Research shows just to have your hands in soil makes you happier. The microorganisms in the soil literally improve your mood," says Lona Popovic, an Ability Garden staff member.
"People always leave here in a little cheerier mood," adds Ability Garden therapeutic horticulturist Nicolle Nicolle.
Steve Niles is in his fifties, has autism, and is the Ability Garden's longest volunteer – at work every Thursday since 2002. Niles says working with plants keeps him busy and content.
"I do an OK job … except of course for that last plant," laughs Niles. "It was an elephant ear caladium. It got to be huge, 2 feet tall, so I switched pots. Then, it got too big for that pot, and the pot broke so I had to discard it."
Kelejian takes advantage of the arboretum's outdoor classroom and indoor greenhouse space for classes. Ability Garden programming also extends into schools for at-risk kids. Kelejian says they've had great success planting vegetable gardens.
"To watch these kids acting all tough in the hallways and then going out in the garden, you get to see the kid coming out in them. They're able to let down their guard and be kids," she says.
The Ability Garden is currently looking for board members and hopes to grow its offerings to include elderly and more autism-specific classes. Ability Garden funding relies heavily on monthly plant sales every third Saturday of the month. The next annual Master Gardener sale is in April. All plants are planted by Ability Garden students such as Niles and Sequoia.
"We take our time with it," Sequoia says. "It's just the beauty of planting!"
For more from Heather Kelejian, check out the Take 5 feature in the March issue of WILMA.
To view more of photographer Chris Brehmer's work, visit chrisbrehmerphotography.com.
MASTER GARDENER
PLANT SALE
April 19-22
New Hanover County Arboretum, 6206 Oleander Drive
798-7660, info@abilitygarden.org
abilitygarden.org
Take 5 with Heather Kelejian
WHAT'S AN ABILITY GARDEN SUCCESS STORY?
"We had a participant who had suffered a nervous breakdown. Coming out to the Ability Garden helped her get back out into the community socially; it got her confidence back. She used the Ability Garden as a stepping stone. Now, she's returned to a full life in the community."
HOW DOES THE ABILITY GARDEN HELP AT-RISK KIDS?
"We go into the schools and plant gardens. To watch these kids acting all tough in the hallways and then going out in the garden, you get to see the kid coming out in them. They're able to let down their guard and be kids. It gives them a positive space to focus on, gives them responsibility. We've had a lot of success."
HOW DO YOU RAISE FUNDS FOR THE GARDEN?
"We have plant sales every third Saturday of the month. Our big Master Gardener Plant Sale is April 19-20. All plants sold are planted by our special-needs students, and all funds raised go back into Ability Garden programming."
WHAT'S YOUR FAVORITE PLANT?
"My favorite plant would have to be aloe vera. They are easy to grow, brighten any windowsill, and the pinch of a leaf will heal small cuts and burns."
WHAT'S YOUR BEST GARDENING TIP FOR BEGINNERS?
"Don't give up. There is a plant out there for everyone. In my time gardening, I killed many plants as part of my continuing learning process."