Social Style
Social media style pointers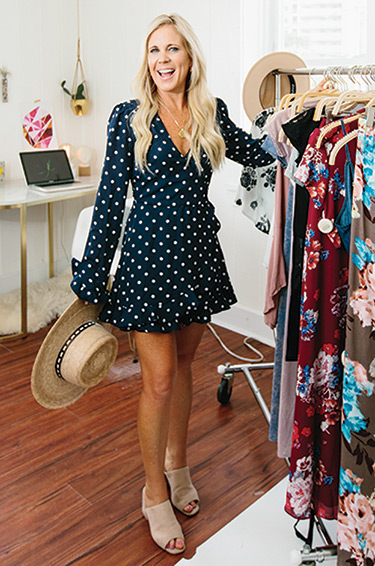 With influencers taking over Twitter, vloggers filling YouTube with beauty tips, and fashion ideas spreading on Instagram, social media has helped democratize style trends. One early adopter shares how to make the most out of your feed.
Back when Facebook was all there was, back when "Like Us" was the only social media link on retailer's websites, Wrightsville Beach native and HALLELU owner CATHERINE YEARWOOD spotted something on the horizon. A newcomer had quietly entered the scene. Its name was Instagram.
"We definitely got in there early, which was a great advantage," says Yearwood (above).
Instagram was simple. Instagram was pretty. Instagram was where all the young fashionistas were at.
Hallelu on Instagram was like delivering a Hallelu catalog onto its customers' front door steps every day, only this was delivering it into the palm of their hands.
"The greatest is at Christmas. Boyfriends or moms will get tagged in posts, and they'll come in holding their phones with screen shots saying, 'So you have this?'" laughs Hallelu owner Catherine Yearwood.
Today, Hallelu, Wrightsville Beach's beachy chic boutique on Waynick Boulevard housed in a former laundromat building, ­touts 20,000-plus followers. Since jumping on Instagram, Hallelu's sales have soared, many of which are done through the app.
"I have customers DM (direct message) me all day. They'll say, 'Hey, can you put a small on hold or can you get this dress in a different color?'" Yearwood says. "I really try to listen to our customers. It's there for them. That's why social media is such a great thing for us because you get feedback directly."
Yearwood's Instagram strategies include being consistent and averaging four to five posts per day. That frequency allows her to stay in front of customers so they can be the first to see new inventory coming in.
Hallelu's Instagram posts each list prices and item numbers and a link to the store's website in its descriptions.
Nordstrom uses Like2Buy on its Instagram that directs followers straight to the product page of any clothing that browsers see on a post and want to purchase.
(inset photos courtesy of Abby Oliver Photography/Hallelu)
Choose an aesthetic and use high-quality photos to gain followers, says Insta gurus. Pick one filter and stick with it.
Downtown Wilmington's EDGE OF URGE, which is up there with Hallelu at nearly 24,000 followers, uses a mix of photos, quotes, and cartoon images – yet all with the same filter. Apps such as UNUM, Planoly, and Preview can help create a theme for Instagram posts to build a consistent look and offer a variety of filter packages.
At Hallelu, posts are from photo shoots taken and styled by Hallelu's in-house photographer at various Wrightsville Beach locations. Yearwood says authenticity is a big part of Hallelu's Instagram account.
"I really love using local girls, real beach girls. Most all of our models have come into our store shopping," she says. "We try to stay true to who they are … if they have scabs on their knees because they went skateboarding the day before or they're sunburned, we don't edit that out."
A recent Instagram post from Yearwood's trip to the Las Vegas Market, where retailers and designers can see seasonal trends, asked shop customers to follow along on the boutique's Instagram Story and to chime in about what she should buy for the store.
The new Instagram Stories feature, not unlike Snapchat's format, is where users can post short, current video clips that disappear the next day allowing customers to virtually travel to market buying trips or be on set of a social media shoot.
Other tips: Click on tags to find out what hashtags are trending and select ones that align with your interests or business and have 500- 1,000 posts. And, set reminders to post – Yearwood does.
Today, "Like Us" is joined by "Follow Us" and "Tweet Tweet". But, Yearwood says she still has faithful Facebookers including, good ol' dad.
"He just joined," Yearwood points out. "He'll say, 'I just saw that dress on Facebook!'"
To view more of photographer Lindsey A. Miller's work, visit www.lindseyamiller.com.
To view more of Abby Oliver's work, visit abbyeoliver.com.