Sketch Study
Melissa Smith makes science accessible and pretty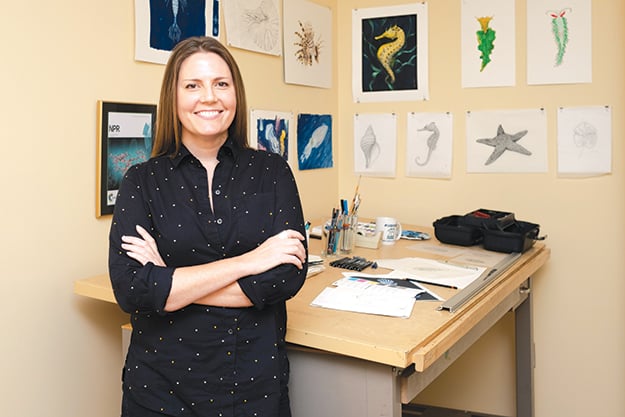 Many people believe art can't be taught, that painters and illustrators are simply born knowing how to wield a brush or pen. MELISSA SMITH, the scientific illustrator at UNCW's Center for Marine Science, disagrees – and with good reason.
"I was predentistry when I started college," she says, "and I remember sitting in my comparative anatomy class and having an epiphany. Being a dentist wasn't what I wanted to do."
Smith was still interested in the sciences but wanted to find a less competitive, more creative way to immerse herself in them. The University of Georgia, where the Chicagoland native attended college, offered a major in scientific illustration, and two of Smith's roommates were art majors.
"They assured me I would be good at it and that the faculty could teach me the art part. It was a risky decision, but I learned what I needed to know," she says.
Smith moved to Wilmington in 2000, but at the time no one was hiring a scientific illustrator. She decided to take matters into her own hands and emailed the head of every science department at the University of North Carolina Wilmington. Dan Baden, the director of the Center for Marine Science, was the only one who sent her a reply.
"He didn't know he needed an illustrator," Smith says, "but I've come in handy."
This is perhaps an understatement, especially considering that Smith has now been working at UNCW's Center for Marine Science for eighteen years. As a scientific illustrator, her job is to serve as a bridge between the esoteric world of science and the more general public through illustrations and artwork that help explain concepts and research. Or, as Smith likes to joke, "It's my job to make science pretty."
Because of the nature of this work, her nontraditional path actually helps.
"I had no background in marine science when I started at UNCW," she says. "Often, I have to figure out how to understand what the person I'm working with is trying to say, so that I can then explain it to other people. It's almost like being a kind of translator."
Rather than language, Smith relies on mediums such as pencils, paper, and Adobe Illustrator.
"A lot of what I do, particularly for teaching work, is start with a pencil sketch and then make that digital using Adobe Illustrator. If I'm actually painting, I'm old school and use gouache paint," she says.
Smith's illustrations have appeared in journals, textbooks, posters, and masters theses.
"Some of my work, I never see out in the world," she says. "I'm very behind the scenes. I've done work for people on campus for fifteen years and have never met them. It's cool to be a part of the science world in that way."
When it comes the nuts and bolts of scientific illustration, there's no such thing as a typical day. This is something Smith appreciates.
"I do so many different things," she says. "One day I'll be making maps, the next I'll be helping someone make a poster prettier, the next I'll be working on figures and charts. I just never know.
"I learn something new every day,"  adds Melissa Smith, the scientific illustrator at UNCW's Center for Marine Science, "I don't know that a lot of people can say that about an office job. Right now, for example, I'm researching anglerfish, and they're very interesting."
Of course, not every aspect of the job is easy. Smith is still the only scientific illustrator in her department, which means she's the go-to person for everyone who needs artwork to complement their research or project. Luckily, she's gotten good at balancing her workload and staying positive.
"The good news is that there aren't a lot of graphic emergencies – nothing is life or death," she says. "It's really just a matter of prioritizing, and remembering that the students always come first."
Once people find out that scientific illustration is a viable career path, they often ask Smith how they can follow in her footsteps and make the leap themselves.
"I always tell them to think outside the box," she says.
Coming from a woman who sketched her own career, it's sound advice.
To view more of photographer Kevin Kleitches work, go to kevintitusphoto.com
Want more WILMA? Sign up for our WILMA Weekly email and announcements at WILMAOnTheWeb.com.