Skating Toward a Goal
idea of all-girls ice hockey team gains momentum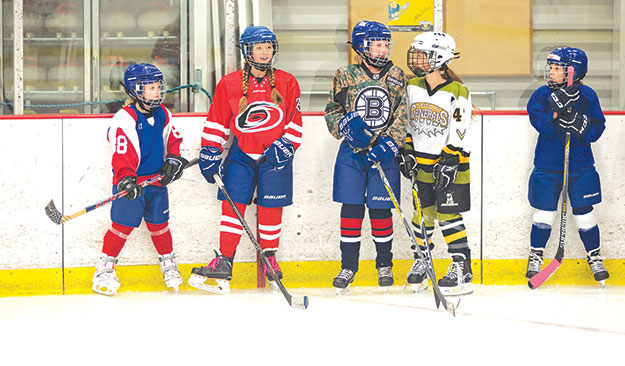 A group of parents and a former women's hockey player are working hard to put together Wilmington's first all-girls ice hockey team.
PAUL HOCKADAY and PATRICK LYDON both have daughters on the co-ed youth Wilmington Ice Hawks team. Together with SIDNEY HINSON, a former collegiate hockey player, they are in the beginning stages of recruiting interested local girls to start our area's first all-girls team.
Once they reach the age of 16, players can start "checking," which involves more physical contact and exposure to injury. An all-girls team does not allow checking. Since there is no girls' hockey team in the Cape Fear area, local parents make the tough decision to risk their daughters' safety once checking is added to the game. "This is not to say girls can't hold their own on a co-ed team," Hinson says. "They definitely can, but it's not ideal."
Hinson was one of those girls who played check hockey on a co-ed team during her youth. "It was a challenge, and I found myself more worried about getting hit than focusing on the finesse and skills involved in the game," Hinson says.
Besides being safer, a local all-girls team would benefit the community in other ways. Since there is such a small number of girl hockey players in general, there is a higher chance for girls to get opportunities through hockey, such as scholarships to colleges.
"Being able to start up the girls' hockey program here in Wilmington would open up doors for these young ladies… I think that is the driving force behind the start-up of this program," Hinson says.
Currently, access is a problem for girls who want to play on a single-sex team.
One local girl, Lauren Smith, began traveling with her mom to Raleigh several times a week so that she could play hockey for the Carolina Eagles Hockey Organization. Now that she has her driver's license she can drive herself, although her mother had to overcome concerns about Lauren's safety on the road.
"Hockey has had an indescribable effect on my life. It has given me the opportunity to meet some of my best friends and learn how to work as a team… it has made me the person I am today," Smith says.
One mother, Melissa Kulas, explains her support of an all-girls hockey team: "An all-girls hockey team would give Mallory [her daughter] and the other girl players another outlet and more hockey opportunities."
Currently, the program is in its early stages of development. The parents and Hinson are working with Wilmington's rink, The Ice House, on hosting an all-girls clinic to give interested girls a chance to comfortably test the ice.
Hockaday started #passthepuck and passthepuck.org, a local business that promotes youth hockey. "The most difficult part is that girls are playing other more established sports," Hockaday says. He would love for more local girls to give ice hockey a chance. While an all-girls team has garnered interest, it would need at least thirteen players to form a proper team.
If enough girls are interested, Hinson would like to see two teams develop that could compete with one another on a weekly basis.
While co-ed teams are more common, many parents are hopeful for change. "Let's face it, at some point, it won't be the standard to have a mixed team," Kulas says.
Hockaday's daughter, Peyton, is also hopeful for the chance at a local all-girls team. "Girls wouldn't have to travel far and worry about being checked or holding other players back," Peyton says. "On an all-girls hockey team, everyone would change in the same locker room and the girls would be able to bond and hang out. When you're separated from a team like that, you don't really play with the team. When everyone is included and knows one another, that's when you play like a team."
Hinson and the Ice House have plans for introducing the local public to the sport.
"We are hoping to get local girls on the ice all together this summer for clinics… and then in the coming months we hope for the opportunity to play with or against some of our neighboring girls' teams in the Carolinas," Hinson says. Parents of interested girls can contact Sidney Hinson at sidneyhinson@gmail.com. If any girls or boys are interested in hitting the ice, The Wilmington Ice House and the CCHA (the Wilmington hockey association) will be hosting a "try hockey for free" day on May 5th.
To view more of photographer Michael Cline's work, go to www.michaelclinephoto.com.
Want more WILMA? Sign up for our WILMA Weekly email and announcements at WILMAOnTheWeb.com.