Sizing Up
April Men's Room column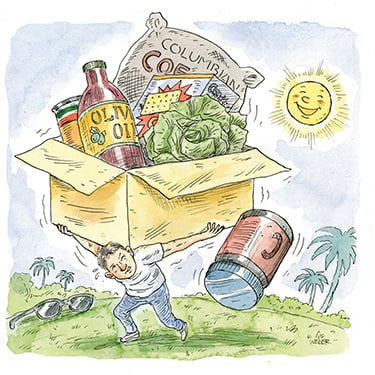 There I stand, hoisting two bags of coffee beans, each as big as a loaf of bread and heavy as a dictionary. I've spotted sesame-seed crackers and olive oil, but I bypassed the carts out front, figuring I was here just for the coffee. In and out, you know?
Not so. I've just gotten this price-club membership, and already I'm dizzy in the endless aisles with their warehouse shelves overburdened with anything I need and much of what I don't.
And, all of it is big. Seriously big. Extra-jumbo-mega-massive large.
The crackers look scrumptiously crunchy, and I can't go a day without drizzling olive oil on something – soon to be all over those crackers, no doubt. If only I had four hands. Actually, five, because I see almonds that could complement the olive oil and sesame-seed crackers for a salad. Which reminds me: I need lettuce. So, make that six hands. Big ones, too. The cracker box looks like it could hold a microwave oven. The lettuce is larger than the shrubs in my yard. The almonds come in a can as big as a flower pot. And, the olive oil bottle looks like it should hold detergent. (Meanwhile, the detergent fills a 55-gallon drum.)
At this point, I need half a dozen extra-jumbo-mega-massive hands.
I need vitamins, too – and, I see stacks of them, all stuffed into bottles the size of 2-liter Mountain Dews.
The cart rack lies a football field away, by the front sidewalk on a concrete pad as long as a landing strip. Even if I make it that far without spilling the beans, I'll have to go out through the entrance doors, and who knows if they'll open for a guy walking the wrong way. To get back in, I'll have to fish my membership card out of my pocket, show it to the door monitor for the second time in five minutes, and push back down here to the crackers and olive oil and lettuce and almonds and vitamins.
This is when I understand that my price-club membership comes with a price.
"You're going to save a ton of money," my friends say.
Maybe. But, I'm also going to buy a ton of crackers, most of which will go stale before I can dig to the bottom of the bottomless box. I'll have an orchard of almonds in my cupboard and enough vitamins to get me into the Olympics. If I manage to maneuver that rolling boxcar of a shopping cart back here – everything in this place is big! – I'll be able to load it with double my weight in navel oranges, two dozen cinnamon raisin bagels, enough lemon pepper to last three lifetimes, and a giant box that holds not one but two oversized packages of Honey Bunches of Oats.
And, I can buy a set of tires. And, get fitted for eyeglasses. And, snag my dog 4,000 flea pills – that works out to two pills per flea.
Twenty minutes and $259.63 later, I make it through the check-out lane.
"Need a box?" the cashier asks. "Several," I reply. "Big ones, please."
By the time I get to my car, I wish I'd bought a forklift and a tractortrailer. I'm sure I saw them in there, just beyond the wall of coffee.
To view more of illustrator Mark Weber's work, go to markweberart.blogspot.com.
Want more WILMA? Click here to sign up for our WILMA newsletters and announcements.