Simply Elegant
Belle of the Barn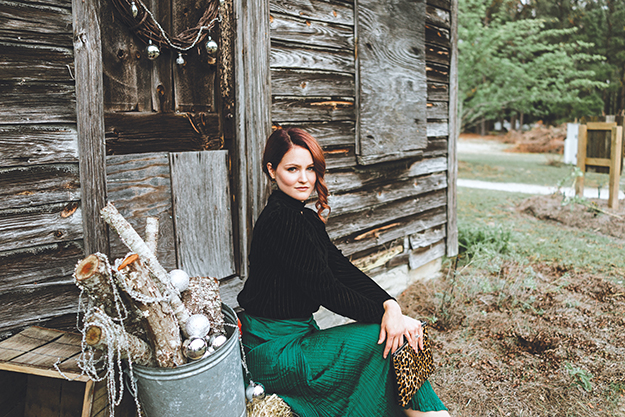 The season of giving is in full swing, but don't overlook one of the most important gift recipients – you. We all deserve to treat ourselves once in a while, and if you're looking for a little fabric fix, satin is indeed a treat. And, no, it's not just for pajamas.
Usually a summer trend, silks and satins are holding fast into the winter months. With a variety of weights from duchess to charmeuse, it's more versatile than you'd expect. You can easily elevate a casual outfit to elegant status by adding a sleek satin piece – think silky blouse paired with a pencil skirt, jeans with satin pumps, or even layering a summery dress over pants.
Better yet, look to this luxe textile for your upcoming holiday festivities. Don't be afraid of bold color choices, though black is always a welcome staple. No matter the color, satin will always make you feel like a million bucks. Now there's a gift worth getting. Cheers!
– Nina Bays Cournoyer
14-karat gold cylinder cuff RING ($890), pleated tie-front SKIRT ($285), velvet gold CAMI ($215), all available at Oliver
(Below, left) Rachel Allan GOWN ($279) and Jim Ball EARRINGS ($28); both available at Camille's of Wilmington
(Above, right) Metallic velvet TOP ($375) and velvet gold CAMI ($215), both available at Oliver
MODEL: Kathryn Keefer (UC Models)
HAIR: Brandy Alexander (Groove Jet Salon Co.)
MAKEUP: Chelsea Lile (Alice Lawson Salon + Spa)
STYLE ASSISTANTS: Tyler Moore & Gabriella Vitagliano
LOCATION: White Feather Farm available for photography rentals by appointment only (whitefeatherfarmnc.com)
WARDROBE: Oliver, 1055 Military Cutoff Road; and Camille's of Wilmington, 7134 Market Street
To view more of photographer Melissa Hebert's work, go to melissahebertphoto.com.
Want more WILMA? Click here to sign up for our WILMA newsletters and announcements.