Silicon Beach
From her spot at the beach, Kimberly Griffiths works for software giant Adobe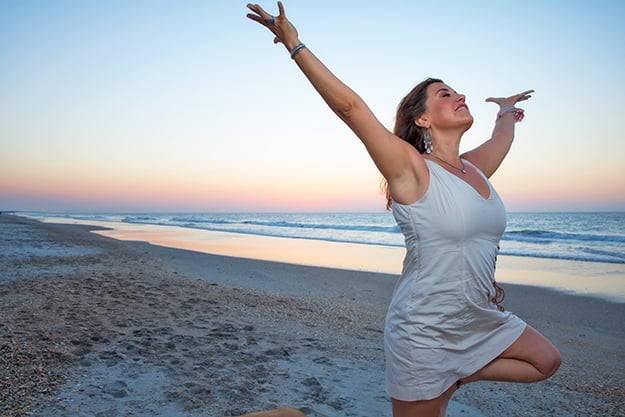 KIMBERLY GRIFFITHS, who works remotely from the Wilmington area for Adobe as a senior solutions specialist, is a multifaceted woman who focuses on balance between her professional, creative, and spiritual sides.
After attaining a degree from the University of Central Florida in photography, Griffiths discovered paid photography work wasn't quite what she was looking for.

"I started in photography and realized quickly that it was a sacred art for me, a creative outlet," she says. "After working in the industry a couple years, I soon learned I was never going to be happy as a commercial photographer, a photojournalist, a food photographer, a wedding photographer, or a fashion photographer."
She returned to school to become a graphic designer. After which, her first job was with Chase Bank – then called First Chicago Bank.

"I highly recommend working for a marketing department of a financial institution. It was truly my stepping stone into the exciting world of technology," Griffiths says.

Chase paid for her computer career programming certificate from DePaul University, which led to her master's degree.
"Once I completed (the certificate), I realized that I was already halfway through a master's degree so I decided to finish what I had started," she says.

That's one of the tips Griffiths gives to young women entering the workforce.

"My number one advice for women is to finish. I believe that the reason I have been so successful in my career is because my colleagues, managers, and clients know I will finish any project I commit to. Finish your bachelor's and finish your master's degree. Don't sell yourself short, ever," she says.
Griffiths was with Chase until 2000, then held a couple of different positions before landing at LendingTree, the online lending exchange.

"The company was under SEC investigation when I was hired in 2005 – I didn't know this upon accepting the position. There was a tremendous amount of added stress from this, and then in 2007 much of the company was laid off because of the oncoming 2008 real estate crash," Griffiths recalls.
Hewlett-Packard hired her within a week, but that same year – 2007 – she filed for divorce. Griffiths missed the ocean and dealt with the strain of recent events by visiting different beach towns with her dog.

Eventually, she found somewhere she felt she belonged.
"I came upon a beach house on Sandpiper (Street) in Wrightsville Beach one weekend in 2008, and even though I didn't know anyone here, I knew it felt like home," she says. "I needed to be close to an airport, and I wanted to be able to practice yoga on the beach. I still practice at (nearby beach) Access 12 every sunrise I can."

Griffiths remained with HP until 2010, when Adobe recruited her.
"The call from Adobe made my heart flutter," she says. "Adobe is the best technology company in the world, and I knew I was ready for them."

Now as senior solutions specialist for the San Jose, California-based software company, a program Griffiths built to manage global client retention has become the template used in Europe and Australia.
Griffiths says that Adobe is not only a strong technology company to work for, but it has been helpful in other way for her.
"I have been fighting blindness for twelve years due to a congenital disease called pseudoxanthoma elasticum," she says. "There are roughly 4,000 people in the world that have this genetic disease; we are referred to as 'PiXiEs.' An invisible disease is the worst because people have a hard enough time understanding what fighting blindness means, nonetheless understanding what I'm going through. I will not die from this disease, but my quality of life is a challenge.

Adobe officials have been working with Griffiths to assist in any way they can, and she isn't going to let anything slow her down.

"In the business world, I'm considered visually impaired, but I am far from being disabled," she says.
Griffiths says she let the company know about it four years ago.
"My manager, HR, and I are doing the best we can to navigate this very hard, unchartered, path together," she says. "I am now being retrained in technology by LightHouse for the Blind (and Visually Impaired) in San Francisco, and New Hanover County Services is training me how to use a white cane in congested places that I travel to such as airports, convention centers, cities, etc. I do drive, but only in my ten-mile radius."
Griffiths, who describes the experience as a humbling journey, says she receives support from work that helps.
"My employer is doing everything they can to support me through all these changes. I still travel internationally for work," she says. "I was in Sydney last November launching the retention program I run, and in January I spent six weeks meeting the team that supports me in India for work as well as doing my once-in-a-lifetime opportunity to do my yoga pilgrimage to the ashram with which I'm affiliated."
Even with her travel, yoga, and photography, Griffiths still finds time to mentor young women and volunteer time to the community in the form of speaking engagements at tekMountain and University of North Carolina Wilmington through Cape Fear Women in Tech in the hopes of encouraging more young women to join the tech field.

"There is so much growth and advancement opportunities in technology for women," Griffiths says. "It's truly a new frontier to be explored. Nearly every professional job today touches technology in every industry. Today in my role, I interface with every industry: education, FSI, media, retail, travel, and the public sector."
To view more of photographer Chris Brehmer's work, go to www.chrisbrehmerphotography.com
Hair/makeup by Tess Cash