Signs of the Times
It must be a sign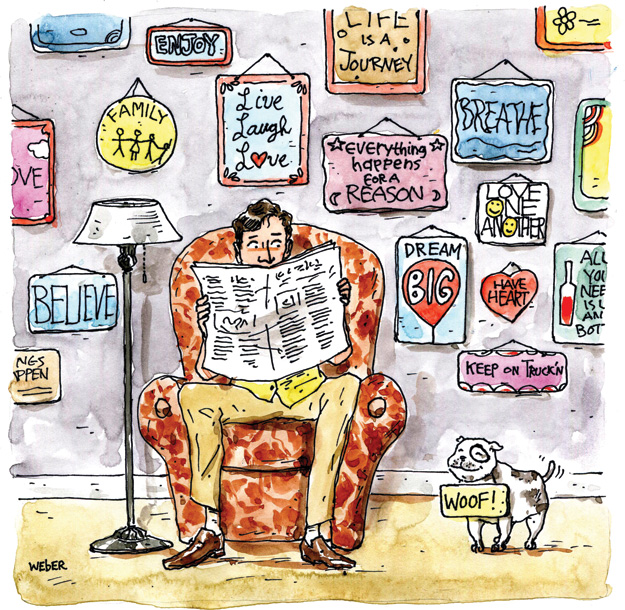 For decades, we Americans have worn our opinions on our chests and bumpers via T-shirts and stickers (think KEEP ON TRUCKIN' and VISUALIZE WORLD PEACE).
Now, a new home decorating trend brings our slogans into our homes. You can't go to a farmers market, a cutesy shop, or a big box store these days without seeing painted wood signs announcing, often in bold capitals, LOVE or EVERYTHING HAPPENS FOR A REASON or DREAM BIG.
As an English teacher, I stress the difference between text and subtext, meaning we shouldn't take everything we read literally, right? KEEP ON TRUCKIN' isn't about eighteen-wheelers. What it really means is simple: "Never give up!"
With that in mind, I'd like to share a selection of popular signs and offer my sense of what people are really saying when they hang them on their walls.
LIVE LAUGH LOVE: "In college, I was so carefree and spontaneous. What the hell happened?"
ENTHUSIASM: THE MOST POWERFUL WEAPON ON EARTH: "Sure you lost your job, Honey, but is lying on the couch smoking pot and watching Family Guy reruns going to fix that?"
FAMILY: "I'm not crazy about my new stepchildren, especially the sixteen-year-old, but I'm trying to make the best of it."
LIFE ISN'T ABOUT WAITING FOR THE STORM TO PASS; IT'S ABOUT LEARNING TO DANCE IN THE RAIN: "I'm fifty, bald, my knee's shot, and I have chronic hemorrhoids, but I've still got Tuesday night bowling."
BELIEVE: "Despite barely going to the gym and refusing to change my diet, I will lose weight this year."
EVERYTHING HAPPENS FOR A REASON: "Terrified that life lacks deeper meaning, I'm counting on this sign to quell my existential horror."
CHANGING THE TOILET PAPER ROLL WILL NOT CAUSE BRAIN DAMAGE: "I've abandoned the whole 'clear expectations and consistent consequences' school of parenting and have gone all in on snarkiness."
BREATHE: "I have a vague (and probably fleeting) interest in yoga."
DREAM BIG: "When I fail to write the great American novel or launch my Internet startup, I will quietly sell this sign on Craigslist."
LOVE ONE ANOTHER: "I'm terrified that my parents' disaster of a marriage is a paradigm I'm destined to repeat."
YOU CALL IT CHAOS. WE CALL IT FAMILY: "We're experimenting with taking Jimmy off his Ritalin."
IN THIS HOUSE, WE DO REAL. WE DO MISTAKES. WE DO I'M SORRY. WE DO LOVE: "I cheated on my husband while I was at a CPA conference in Des Moines."
BE THE PERSON YOUR DOG THINKS YOU ARE: "Because if I'm the person my wife thinks I am, then I'm an emotionally distant control freak."
ALL YOU NEED IS LOVE (AND A BOTTLE OF WINE): "But if you force me to choose, I'll pick the wine."
Dylan Patterson is a writer and filmmaker who teaches English at Cape Fear Community College.
To view more of illustrator Mark Weber's work, go to www.markweberart.blogspot.com