Shopping Savvy
Jean Guinup's work with retail centers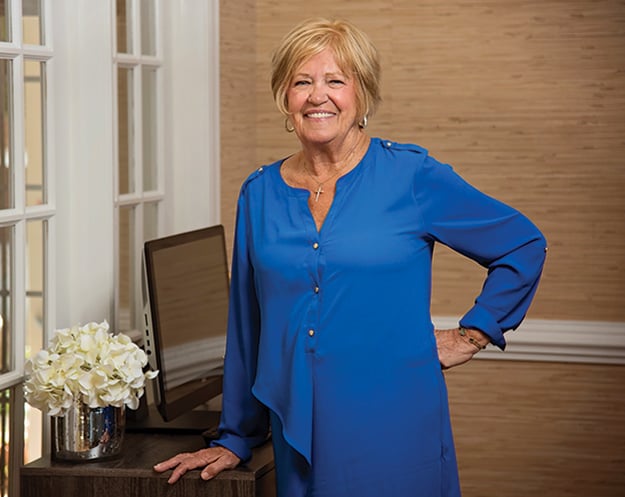 In a day and age when it seems like you can purchase anything and everything with just one click from the comfort of your home, it's clear that the retail world is changing, fast. JEAN GUINUP knows this well.
Guinup, of Wilmington, worked and excelled in shopping center management for a total of twenty-five years. As new shopping trends transform the industry, many businesses are closing their doors. "Businesses have to be in tune with the current market. Successful retailers understand the speed at which everything changes, including how and what customers buy," she says.
A New York City native, Guinup got her start in the retail industry as general manager of Woodbury Common (now Woodbury Common Premium Outlets).
With experience in tourism marketing, Guinup was hired to position the shopping center as a destination attraction. Taking a holistic approach to the role, Guinup worked her way to becoming vice president of marketing for the Northeast Region of Simon's Premium Outlet Division. Under her direction, Woodbury Common began the process of ultimately becoming a world-renowned destination shopping attraction, bringing in over 13 million visitors a year.
"It didn't happen overnight," Guinup says, "and as with all businesses, there were ups and downs. (But), we never stopped focusing on the goal of expanding the notoriety of the centers' brands in the global travel market."
To do this, Premium Outlets developed a global marketing strategy, assigning different overseas markets to specific personnel. Guinup had oversight of Europe and traveled frequently to the U.K. and other European countries to attend international trade shows and meet with travel industry representatives.
Guinup worked with these agencies to create familiarization tours to key Premium Outlet Centers in the U.S., coordinating their accommodations, dining, and customized shopping tours at the various centers, and encouraging select retail brands' participation by providing gifts or special discounts. It's not just about reaching the consumer, Guinup explains – it's about reaching the people who will recommend and sell the destination product.
Guinup worked with airlines, hotels, resorts, credit card companies, tour operators.
"(It's about) integrating a shopping product with the travel industry; it's all interconnected," she says.
In her career at Premium Outlets, Guinup was involved in the opening of shopping centers in or near major U.S. cities, including Chicago, Orlando, Boston, D.C., Atlanta, and Philadelphia, implementing growth strategies to drive visitor traffic and highlight brand awareness to international travelers. This meant also working closely with national and international retail brands.
"We always recognized that the centers' success was the result of how well the brands did – they were the 'stars,'" says Jean Guinup of her time with Premium Outlets.
She points out that while shopping is the number one activity in all visitor statistics, the fact remains that people still need to arrive at a particular destination before they shop, so it's in the interest of a business to be involved in the marketing of that destination.
In 2014, Guinup relocated to Wilmington to be closer to family.
She says the Port City has "so many attributes that are appealing to the visitor market – art, culture, a vibrant downtown, new restaurants … amazing beaches."
Guinup is now self-employed at GC Communications, the company she founded and co-manages with her business partner, Coleen Conklin. GC Communications works for clients in the U.S. and Canada, helping them to create a vision and strategy for positioning their centers in the marketplace.
The company also creates pitch packs for leasing to select brands, to show how each brand fits into the vision of the shopping center.
"This requires extensive research into the history, background, and other nuances of each brand," Guinup says. "Our desire is to create a 'retailer-centric' center."
With the continued growth of social media and online sales, Guinup says brands that represent the future in retailing understand that the market is expansive and fluid.
"Those that succeed will offer shoppers a deeper experience of their brand culture in an authentic and personalized way," she says.
People want the kind of curated selection of products from a large retail brand that they would get in a small boutique, she says, and people want an experience when they shop.
This could mean dining at a restaurant within a store, having a unique dressing room experience, engaging in activities like shooting hoops while shopping for sportswear, watching a mini fashion show, or simply being on the receiving end of exceptional customer service.
Guinup adds that sustainability and giving back to the community are also important to today's consumers.
"It requires a great deal of vision," she says, "developing strategies to build business for today and tomorrow and the flexibility to change with the times."
To view more of Michael Cline Photography's work, visit www.michaelclinephoto.com.