Shining Moment
The making of Miss North Carolina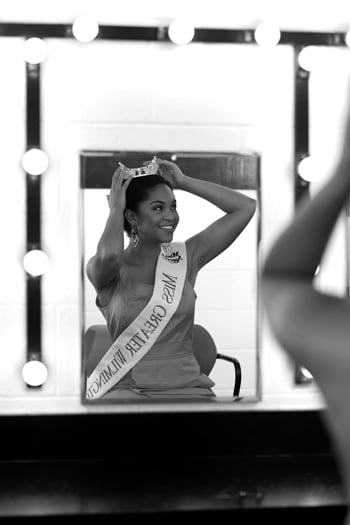 Nowadays with many more options open for women to earn recognition, leadership skills and still much-needed scholarships, it begs the question of pageants' relevance today. Judges at the 2012 Miss Greater Wilmington pageant earlier this year lamented how numbers are down in terms of contestants entering the pageants and local communities sponsoring the events. At one time, 50 communities throughout the state held local pageants to offer up a contestant for the Miss North Carolina pageant. But, the Miss North Carolina pageant celebrating its 75th year this month has 36 contestants this year.
Miss Greater Wilmington
Alexis Gonzalez, 22, is one of the contestants vying for the Miss North Carolina title. It is part of the Miss America Organization whose pageant is in January.
Gonzalez is the first ethnic minority to represent the area as Miss Greater Wilmington. She was crowned at UNCW's Kenan Auditorium this past January.
"My knees buckled. And I was so thankful and excited, I cried," said Gonzalez, who is of African American and Puerto Rican descent. "It's such a ground-breaking win. I'm glad it was me."
She graduated last month from UNCW with a bachelor's degree in criminology. She has been admitted into Charlotte School of Law, where she will pursue her law degree if she is not crowned Miss North Carolina.
Raised by a single mother in Indian Trail outside of Charlotte, Gonzalez entered the pageant world when she was in high school. She is the first in her family to compete in pageants. A dancer, performer and naturally outgoing person, she was drawn to pageants as a way to earn scholarship money for college.
"That's just the way I was raised: always think about the end result. 'Begin with the end in mind, is what [my mom] is always telling me,'" she said.
Over the past eight years of competing, she has earned $8,150 in scholarships. But, she recalls almost dropping out of her first pageant.
"I think I was looking at these other girls who clearly knew what they were doing. It was not their first rodeo," she said. But, in the end she placed fourth out of 200 contestants.
"I think that's when I realized, 'Hey, I can really do this.' Clearly the judges saw something in me. That was when the match was struck. And I was on pageant fire. I could not stop," she said.
Since then, she has won eight titles including a national title in 2009 – America's National Miss for America's National Teenager.
What it takes to win
Contestants in the Miss America pageant are judged on several categories: on-stage question and answer, talent, evening wear and fitness, also known as the swimsuit competition.
"I'm five-foot, four. I'm curvy. I'm not your typical thin girl," she said. "I'm fit. I just have a different body type."
To stay in shape, Gonzalez works out every day including twice a week at 6 a.m. with trainer LaMaine Williams.
However, some people question why contestants must don a swimsuit and high heels to win a scholarship.
"Tell me, where is the inherent connection of civic engagement, scholarship and how one looks in a bathing suit and heels? I don't think that I have ever seen a woman leading her community in a bikini and stilettos," said Michelle Scatton-Tessier, director of the UNCW Women's Studies & Resource Center. "It is time for scholarship pageants to truly distinguish themselves from the conventional beauty pageant circuit."
And, some pageants have eliminated the bathing suit portion of the competition. But for the young women strutting their stuff on stage, it can mean something different.
"Honestly, you've worked so hard for that day, you're more excited about the swimsuit competition than anything else," Gonzalez said. "Yes, give me that swimsuit, I'm ready to put it on and show you all how hard I've been working."
Gonzalez's talent is tap dancing. She drives or flies to Atlanta several times a month to practice her routine with her choreographer.
Thus far, the best part of being Miss Greater Wilmington has been becoming a leader and role model for the area, especially at events such as the Azalea Festival.
"Little girls think I'm a rock star," she said.