Shark Tale
Kara Yopak studies what makes the storied fish tick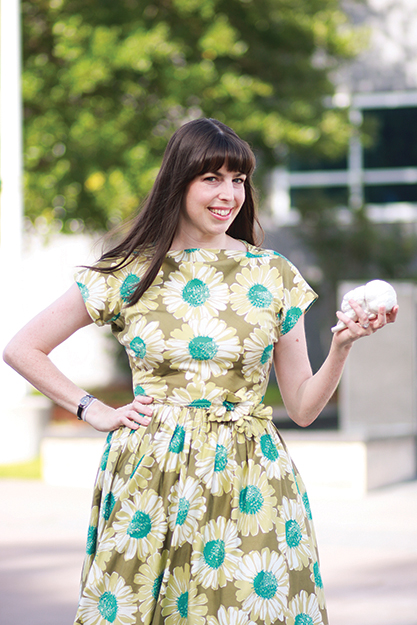 Meet KARA YOPAK, UNCW's assistant marine biology professor and the department's first-ever ichthyologist of comparative neuroscience.
What's an ichthyologist of comparative neuroscience? Yopak studies shark brains.
"The brains of different species (of sharks) look remarkably different than one another. What we've found are differences in morphology reflected behavior and sensory specialization," she explains.
"I wish I could show you some brains. This would make so much more sense," she adds with a laugh.
When a shark washes up on shore at the beach, Yopak is the one asking if she can keep the brain. She collected brains from more than forty different species of sharks for her doctoral thesis and in her lab at the University of North Carolina Wilmington, marine biology students have gotten to examine nearly 180 – there are over 1,200 species of cartilaginous fish in all.
"Every day there's a new discovery; every time I look at a new sample it surprises me," Yopak says. "I don't think we've even begun to capture the diversity in the brains. We have a long way to go."
Yopak's fascination with sharks began at the age of five when she announced to her mother she was going to be an ichthyologist. While friends read Nancy Drew, Yopak was reading research articles on sharks, making Eugenie Clark – a famed female shark biologist – her superhero.
"My mom would joke that when people would be running out of the water saying they saw a shark, I was the kid who ran in," Yopak says.
By the time she got to The University of Auckland in New Zealand for her Ph.D., the reading material on sharks, specifically on their brains, came to screeching halt. That's when Yopak found her calling.
"Every time I read about sensory systems and behavior, there was just so much unknown about the brain, so little done. There had been little research on the way sharks think since the 1970s," she says. "I found a niche of research no one else was doing."
It was a career move that's taken Yopak all over the world and landed her at UNCW in the spring of 2017. So far, she's gotten to dive and swim with sharks at least forty times – a vital component to understanding how they think, she says.
"If you are lucky enough to see a shark in its natural habitat, it's an incredible experience," says Yopak, who describes the experience as "peaceful".
"One common misconception is that sharks are 'mindless eating machines,'" she says. "But, we've shown that sharks have a battery of highly developed sensory systems (and) are capable of a wide range of complex behaviors including learning."
This summer, Yopak and two of her students were off to Brazil for an international conference about research and conservation of sharks that happens only once every four years. Before leaving, she was more than just a little bit excited.
"Imagine a bunch of shark nerds getting together and talking about nothing but sharks, who are just as excited about sharks as you are," she says.
Meanwhile, inside Yopak's shark brain dissecting lab at UNCW, the research continues.
"Who knows what we will discover tomorrow," she says.
To view more of photographer Chris Brehmer's work, visit www.chrisbrehmerphotography.com
Want more WILMA? Sign up for our WILMA Weekly email and announcements at WILMAOnTheWeb.com.
WHAT FIRST INTERESTED YOU IN SHARKS?
"When I was five I announced to my mom I wanted to be an ichthyologist and study sharks. While everyone else was reading Nancy Drew, I was reading anything and everything I could get my hands on about sharks."
WE HEAR YOU'RE A BRAIN COLLECTOR.
"That's one way to put it! My research interests lie in the evolution of the brain. In my lab, we have examined the brains of over 180 species and find that brain morphology reflects an animal's ecology and behavioral complexity."
WHAT WOULD YOU LIKE THE GENERAL PUBLIC TO KNOW ABOUT SHARKS?
"One common misconception is that sharks are 'mindless eating machines.' But, we've shown that sharks have a battery of highly developed sensory systems, are capable of a wide range of complex behaviors – including learning, and have brain-weight-to-body-weight ratios that are comparable to those of birds and mammals."
WHERE ELSE HAVE YOU STUDIED AND WORKED?
"I went to Boston University for my undergraduate degree and completed my Ph.D. in New Zealand at the University of Auckland. Two subsequent postdoctoral fellowships were at the University of California, San Diego and the University of Western Australia."
AS A SCUBA DIVER, HAVE YOU GOTTEN UP CLOSE TO SHARKS?
"I definitely have. There is nothing like being able to see these animals in their natural environment to realize how majestic and well-designed they are."