Shaping Up
Project looks to spread healthy habits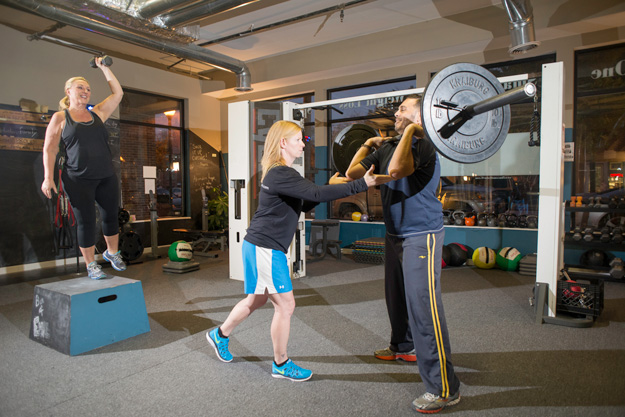 ANITA HARRELL is leading a fitness micro-revolution. In March, the dedicated owner of FITNESS MOTIVATION:PERSONAL & GROUP TRAINING decided to put a dent in the obesity epidemic by starting PROJECT WEIGHT LOSS WILMINGTON (PWLW). The twelve-week group training program featured high-intensity cardio workouts and a healthy diet tracked through the app MyFitnessPal.
Harrell offered her services for free – a decision that falls in line with her pay-it-forward philosophy and that eliminates a major concern for those who want to lose weight but cannot afford training.
This month, Harrell will start looking at contenders for another round.
Round one of PWLW saw double-digit weight loss for all six participants. Anthony Nuzio, who still trains with Harrell, achieved the most dramatic results. By exchanging cigarette smoking and a pasta-laden diet for healthy meals and a two-a-day workout schedule, Nuzio shaved forty-three pounds from his 323-pound frame during the competition and lost more than 115 pounds to date.
Harrell notes the importance of the challenger's mental preparedness to his or her success.
"When somebody comes to me for a consultation, I ask them, 'On a level of one to ten, what is your motivation for doing this?'" Harrell says. "If somebody gives me a number less than seven, I tell them to come back to me when the number is at a seven."
She insists, "if they're not ready, they're not going to (do the work)."
Harrell is making a few adjustments to future rounds of the program. She enlisted the help of client and life coach Audrey Andrysick to help participants learn to make themselves a priority.
Harrell also pledges to host a children's edition of the project, focusing on getting junior trainees physically fit and educating parents on healthy habits.
"(Parents are) the ones who are putting the groceries in the house," she says. "They're the ones who aren't going outside and moving with (their children). They've got to lead by example."
In addition to training her private clients, teaching physical education at Cape Fear Community College, and coaching the college's women's basketball team, Harrell plans to host the adult version of PWLW twice a year going forward.
She says the extra effort is her pleasure if it means putting more Wilmingtonians on the path to wellness.
"That's why I do what I do. I want people to be successful. I don't want people to fail," she says.
Round three of Project Weight Loss Wilmington begins in March. Harrell will start accepting applications at her website (fitnessmotivator4u.com) in January.
RESOLUTIONS FOR A NEW YOU
Personal trainer Anita Harrell shares how to take the first step toward lifelong health – no special occasion required.
•Make exercise a must. Put it on your schedule just the same as you would a salon or doctor's appointment.
•Make healthy eating choices on a daily basis. Indulging in "bad" foods every once in awhile won't hurt. Just make sure that these indulgences don't turn into bad habits.
•Schedule yearly physicals. Sometimes even the seemingly healthiest of people can have undetectable health issues.
•Rethink you definition of "diet." It's not something you go on; it's something you do every day.
Click here for more photography by Jeff Janowski.