Shape Shifters
A cut above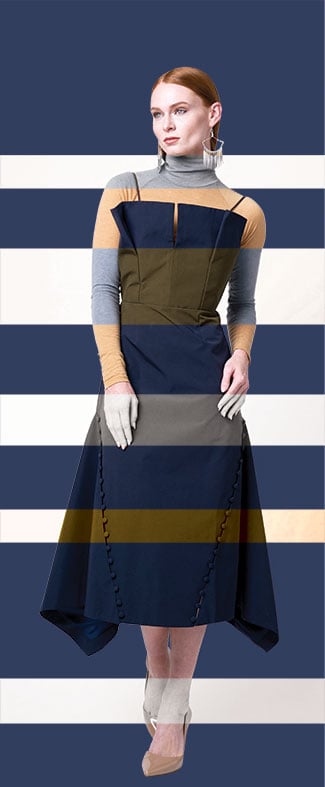 Every inspiring piece of art begins with a strong foundation. A sculpture has its armature, a building has its frame, and you have your wardrobe.
Don't rely solely on color or pattern to liven things up – structure can be just as exciting.
Be it voluminous or tailored, opt for garments with unexpected details like an abstract cutout or a fringed edge to create visual rhythms, making every step you take architecture in motion.
-NINA BAYS COURNOYER
​
Blaque Label wide-legged JUMPSUIT ($194), Iro Birok BOOTS ($640), and Miansai Thin Fish Hook NECKLACE ($215), all available at Oliver
Jack Meets Kate black DRESS ($110) and Zadig & Voltaire green JACKET ($398), both available at A La Mode; Luv Aj crystal HOOPS ($38), available at Elle
Goldie black and white net DRESS ($30), Zadig & Voltaire fringe black SKIRT ($400), Amy DiGregorio Seaport EARRINGS ($124) and Amy DiGregorio Temple Place Gem BRACELET ($65), all available at A La Mode
MODEL: Leigh Tyndall, Neon Fox Studio studio owner
HAIR: Brandy Alexander (Groove Jet Salon Co.).
MAKEUP: Rachel Davis
STYLING ASSISTANT: Tyler Moore
LOCATION: Neon Fox, 2 North Front Street, Fourth Floor
See more photos by Melissa Herbert Photography at www.melissahebert.com
​