Shall We Dance
Dance in the Port City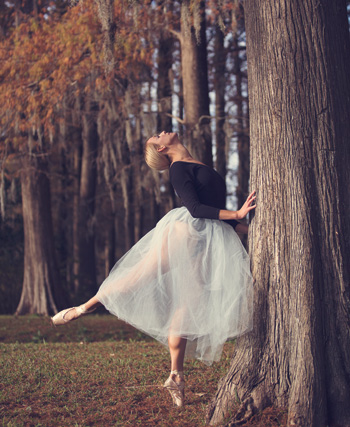 From TV to stage to YouTube, dance is enjoying a broad audience these days. Close to home, the local dance community shows its range year-round in productions ranging from classical to avant-garde. WILMA talks with a few of the women who have built their lives and careers around their love of dance.
AMBER PATEE ADAMS
Artistic director, Cape Fear Dance Theatre
Part of Adams' work with Cape Fear Dance Theatre combines dance and film, with the company producing films that screen for live performances and events. She also teaches dance at Cape Fear Academy, Dance Cooperative, Wilmington School of Ballet, and Techniques in Motion.
Adams, who studied ballet and contemporary dance at the University of North Carolina School of the Arts, received her BFA in ballet from Marymount Manhattan College. She also studied with American Ballet Theatre, Juilliard, Joffrey Ballet School, Peridance Capezio Center, and The New York Conservatory for the Dramatic Arts, among others.
Her original choreographies have performed at venues from Gorilla Tango Theatre in Chicago to Thalian Hall.
How did you get interested in dance?
"This question is more suitable for my very patient parents. I was told I 'couldn't sit still.' I was just always moving around. My mother enrolled me in Susan's Dance Unlimited in Kernersville, North Carolina at age three. As soon as the dance studio door opened, I was completely absorbed in dance class…
The performing aspect is what really interested me in dance. For me, it's the definition of presence.
Theaters have a pleasantly haunting air about them that electrifies me. When I step on stage in the infinite darkness, before the lights and curtain go up, I feel most present, most alive. When the music and dance begins, I know I'm connecting with the audience.
I suppose that's what keeps me interested in dance. Feeling alive, present, and active."
What style of dance do you enjoy most or specialize in?
"Classical ballet. The day in and day out ritual of daily ballet class instills a sense of honesty, self-discipline, and teaches you to take care of your physical body in order to be available to do anything. Ballet technique helps you discover a heightened version of yourself."
What type of projects do you want to take on in the future?
"I'm working on producing a full-length original ballet called Carolina. I take pride in being a North Carolinian with its rich history, specific culture, beautiful landmarks, and charming people.
I'm working on producing more dance films. Dance film brings dance to audiences who wouldn't otherwise be interested or have access to dance. I want the average American to understand dance beyond Dancing with the Stars. I want to make work that many people can see and digest as high art.
I'd like for dance to become a topic for public administration in Wilmington. I'm eager to find possibilities for more dance performance in the new (CFCC) Humanities and Fine Arts building opening in downtown Wilmington."
BRITTANY DANIELLE MCGINLEY
Dancer, choreographer, singer, actress
Locally, McGinley, who is an instructor and choreographer at SEDA, South East Dance Academy, has danced in Dance-a-lorus, part of the Cucalorus Film Festival, and with the contemporary company The Story Collective. She also has been a choreographer for Riverfest and Azalea Festival events.
Along with her dance work, McGinley has been pursuing acting as well, with extra credits in locally filmed productions from One Tree Hill to Tammy. Sometimes the two intersect, such as when she was a principal dancer in the films A Cinderella Story: Once Upon a Song and Heart of the Country.
How did you get interested in dance?
"I first became interested in dance when a friend of mine at preschool started to take lessons. She was older than I was, and I looked up to her and wanted to do everything she did.
I started lessons at age two-and-a-half and have to give a shout out to all my teachers at Baylin Dance Studio. They taught me the basics and how to love dance.
I think that is the most important thing when you are first starting out. It's not about how many dance classes you can take or competition dance, it's whether or not you learn to love dance and then you can decide if you want to make a career of it."
What style of dance do you enjoy most or specialize in?
"Being so passionate about dance and all its genres, it's hard to pick a certain style that I like most. A lot of dancers focus on one style, but thankfully I had teachers that pushed me in all of them.
If I had to choose a certain style I like the most, I would pick contemporary because you use your ballet, jazz, and even your hip hop elements in contemporary. You never stop creating, you never stop finding out who you are and what you style is. It's so rewarding to the soul."
What type of projects do you want to take on in the future?
"In the near future I hope to be able to take on more performance opportunities. I'd like to move to LA or New York or even Atlanta to be closer to where the biggest things are happening in the industry.
I love teaching and hopefully can continue to place choreography on students while traveling and pursuing my dream of performing."
ASHLEY BARNES (not shown)
Owner and artistic director, The Dance Element of Wilmington
Barnes, who earned a BFA in fine arts and dance performance from East Carolina University, has nearly twenty years' experiencing teaching. Besides running The Dance Element studio, as artistic director she also has worked on productions adapting classic children's stories including Where the Wild Things and How the Grinch Stole Christmas.
Barnes previously was a senior company dancer with the Goldsboro Ballet and Artistic Productions of Goldsboro and Kinston. She was accepted to the North Carolina Governor's School for Dance.
In Wilmington, she is a corps member of Forward Motion Dance Company, frequently performing in the area.
What style of dance do you enjoy most or specialize in?
"I have extensive training in Cecchetti Method Classical Ballet, as well as teaching certification, and ballet is probably closest to my heart.
I think I most enjoy teaching ballet, because I really enjoy watching the rate at which students learn, understand, and perfect the technique.
I love to choreograph in a contemporary ballet style, which adds a little freedom to the movements, and makes ballet a little more tangible for the general public.
Personally, I think my favorite style to dance is modern, which I also enjoy teaching."
How did you come to own your own studio?
"I had been employed as a teacher at The Dance Element for several years, and in 2009 the owner confessed to me that she was thinking of selling the business.
I had never really considered that I would someday own my own studio, but it occurred to me in that moment that this opportunity was meant for me. I took the business over later that year."
What's it like working with children in dance?
"Working with children in dance, is possibly the greatest profession in the world!
I get much pleasure from knowing how much they look forward to their classes each week, and watching that moment when a tricky new step or turn finally clicks for a child is amazing!
Our philosophy at The Dance Element is that everyone can benefit from learning to dance, and it means a great deal to me to be in a position where I can influence the next generation of healthy minds and bodies with the pure joy of dancing, performing, and having fun."
Who or what have been your dance inspirations?
"As a child, I was inspired by my teachers as well as all the dance legends I wanted to become. I have always loved the Pilobolus Dance Company, and I very much enjoyed having the opportunity to train with them for a week this past summer. As an adult and as a teacher, I am inspired by my students."
To view more of photographer Megan Deitz's work, go to www.megandeitz.com