September Take 5
Gwenyfar Rohler's new literary loft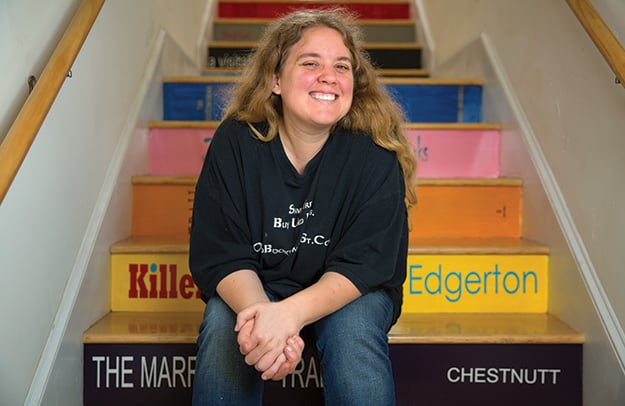 GWENYFAR ROHLER can often be found among the inventory of her store, Old Books on Front Street, a Wilmington institution since 1982. Rohler is known for being an advocate of local arts, especially work by North Carolina authors. Now, she's opening a bed and breakfast loft – The Top Shelf, which is set to start taking guests October 1. Located above the bookstore, it's dedicated to her love for North Carolina literature.
WHAT'S YOUR FAVORITE BOOK? "The Oxford English Dictionary. I have a two-volume set that was a twenty-fifth birthday present from my parents. It's one that you need a magnifying glass to read. You're always going to fnd something new in the OED, especially with eight pages shrunk down to be displayed on a two-page spread at like two-point font." SINCE YOU'RE OPENING YOUR OWN B&B, WHAT'S ON YOUR TRAVEL MUST-SEE LIST? "Next year, for a book, I'm taking a restored '67 Volkswagen camper van, picking up on Route 66, driving to California then to San Francisco then up to Woodstock and back home. Her name (the camper) is Argus, named for Argus who built the boat to take Jason and the Argonauts to the Golden Fleece. What? I'm a nerd. I embrace it." YOU'VE DONE A LOT IN THE LITERARY WORLD. WHAT'S THE NEXT THING YOU'VE PROMISED YOURSELF YOU WILL DO? "I have two books I need to write. They're the two books I'm making a priority. My real love, of course, is theater. But I don't know what the future of that is with me." WHAT ABOUT OWNING A BOOKSTORE BRINGS YOU THE GREATEST JOY? "I have two answers. Every day interesting people walk in the door, and they talk about the interesting thing they're going to do that day. And since we're still unpacking from the move in 2010, every day is like Christmas. It starts with me opening a box." HOW IS YOUR LIFE DIFFERENT BECAUSE YOU OWN A BUSINESS DOWNTOWN? "We get a lot more tourists. We are on the street that tourists walk up and down. I absolutely feel that we're ambassadors of the city."
To view more of photographer Chris Brehmer's work visit www.chrisbrehmerphotography.com.