September Spotlight
Spotlight on area women making news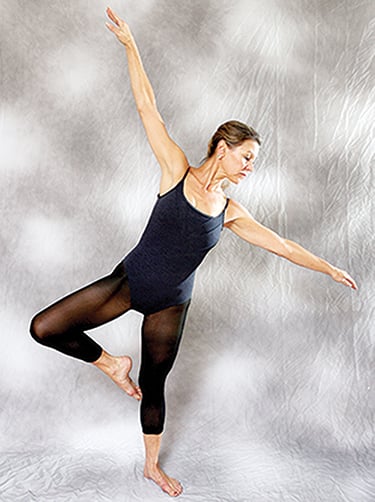 AIW Award Recipients Announced
The Arts in Wilmington group last month released its second annual Arts in Wilmington Awards recipients list, including fields ranging from theater to dance to jewelry design.
The awards recognize "outstanding achievement and contributions to the arts" in Wilmington, says creator Craig Stinson, adding that an outside panel of arts experts reviewed the nominations to make their picks.
ASHLEY BARNES, owner and artistic director of The Dance Element, won the Artist category. Opera House Theatre Company won for Organization. And, the Leland Cultural Arts Center, which is run by the town of Leland, won in the Government category.
Spectrum Fine Jewelry, which is owned by STAR SOSA and marking its twentieth anniversary this year, earned the Business category award. And, TRACEY VARGA (above), founder, choreographer, and director for Forward Motion Dance Company, won the Individual category.
The awards celebration takes place at Expo216 on January 20. Info: ArtsInWilmington.com/Awards
–Vicky Janowski
Area Women Launch Talk Show On CW
LATOYA BARRETT, Purpose Church pastor and motivational coach, has created a new female talk show called Live Free that premiered this summer and is airing on Cape Fear's CW network.
TANYA FERMIN, a local Wilmington filmmaker and director, came on board as a producer and director.
Live Free is a thirty-minute studio production that runs Monday through Friday at 1:30 p.m.
"The goal is to help women on their journey to becoming their true selves," Barrett says. "We want to have a platform for women to not only speak their truth, but to discuss topics with realness, openness, and a vulnerability that isn't seen in this area."
Live Free Talk Show stars the following hosts: Barrett, KHALISA RAE WILLIAMS, author, poet, and co-founder of Athenian Press & Publishing; SAUNDREA LEE, emcee, hostess, and founder of Soul Love Series; and MICKI JACOBS, health and wellness yoga instructor and owner of Eliana's Hope.
–Suzanne Cosgrove
Rhinesmith Becomes WHQR'S Station Manager
MICHELLE RHINESMITH started as station manager for WHQR Public Radio on Aug. 15.
Rhinesmith, most recently an on-air and online fundraising producer for WMFE in Orlando, Florida, replaced Cleve Callison, who announced his retirement in February.
"I am very excited to join such a vibrant station and meet the listeners who make up such a thriving public radio community," Rhinesmith says.
In her position in Florida, she was involved in development activities, fundraising campaigns and special events.
Prior to joining WMFE, Rhinesmith spent twenty years working at WQCS in Fort Pierce, Florida.
She began her career at WQCS as a college intern, subsequently holding almost every role from business manager to programmer and for the final two years serving as the interim station manager.
WHQR Public Radio, broadcasting from Wilmington, serves southeastern North Carolina and northeastern South Carolina with HQR News at 91.3 FM and Classical HQR at 92.7 FM.
–Cece Nunn
Miller To Speak At She ROCKS Event
Editor's Note: Organizers of the upcoming She Rocks lunch have postponed the event due to Hurricane Irma. A new date will be scheduled.
Former Olympic gymnast SHANNON MILLER is the keynote speaker for the fourth annual SHE ROCKS luncheon at the Wilmington Convention Center.
She ROCKS (Research Ovarian Cancer Knowledge Support), a local nonprofit, works to bring awareness to ovarian cancer through funding and research and by helping women who are undergoing cancer treatment.
Miller has won seven Olympic medals, nine World Championship medals, and is a member of eleven halls of fame. She is now an author and entrepreneur who runs Shannon Miller Lifestyle: Health and Fitness for Women, according to a She ROCKS press release.
Other distinguished titles include wife, mother, and cancer survivor. In January of 2011, Miller was diagnosed with a rare form of ovarian cancer that was successfully removed and followed up with aggressive chemotherapy, the release says.
"The reason we chose Shannon is because she is a longtime survivor," says She ROCKS co-founder BETH QUINN, who was diagnosed with ovarian cancer in 2013. "Our message is hope, and Shannon's testimony is one of a champion of hope."
Event and ticket info: www.she-rocks.org
–Suzanne Cosgrove